What can you say about Shrimp Oreganata? It's beautiful, it's easy to make and it's absolutely delicious!
Recipe by The Catanzaro Family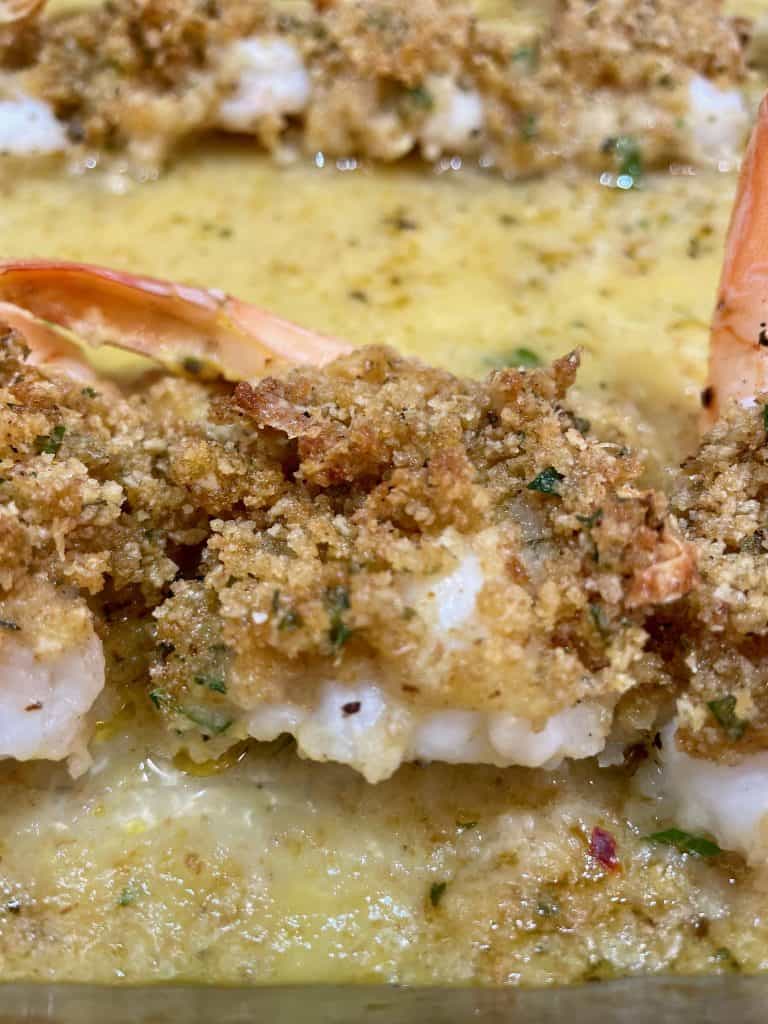 How delicious does this look??? Shrimp Oreganata is such a tasty dish and so easy to make. If you're a shrimp lover, you'll not only love the flavor of this dish, you'll love it's simplicity too!
This recipe has been in my family for generations and is a staple on Christmas Eve at the Feast of the Seven Fishes. I'm sure you'll love it just as much as we do.
If you like Italian shrimp recipes you'll love another one of my family favorites, Shrimp Scampi with White Wine.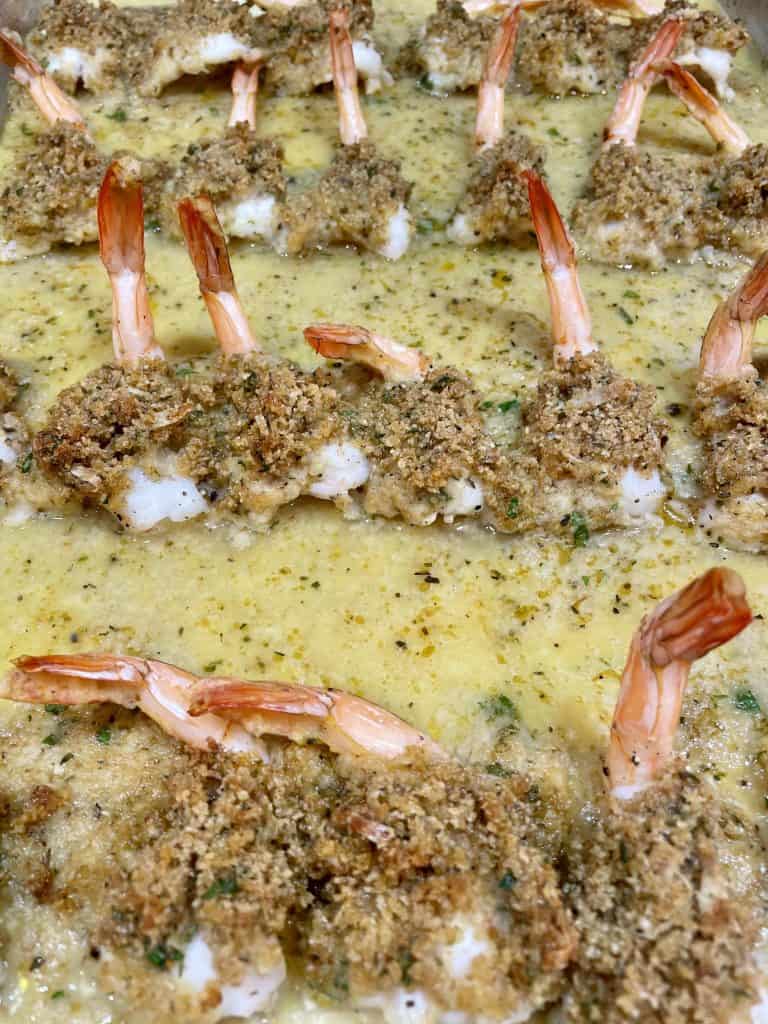 What to serve with Shrimp Oreganata?
You would typically serve Shrimp Oreganata over pasta, but you can also serve it with rice or even riced cauliflower (which I used this time). If you're looking to pair it with some other vegetables, it goes great with a number of them - Brussels sprouts, asparagus, and zucchini to name a few.
Any which way you 'slice' it, this shrimp recipe is one the whole family is bound to enjoy.
---
How do you make it?
It's really one of the easiest recipes to prepare.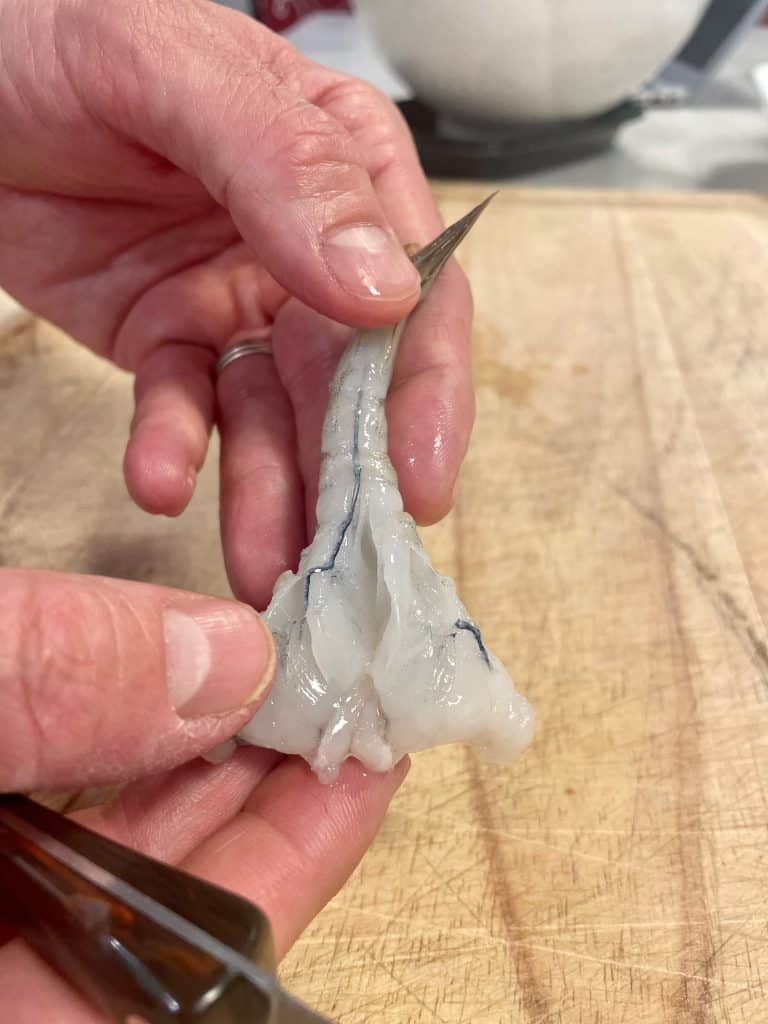 First, butterfly the shrimp (keeping the tails on). This is really the most tedious part to the recipe, but if you get them already deveined, a pound shouldn't take you more than ten minutes. Grab your best paring knife and start slicing.
I like to work from the tail to the head and cut them deep, but not all the way through.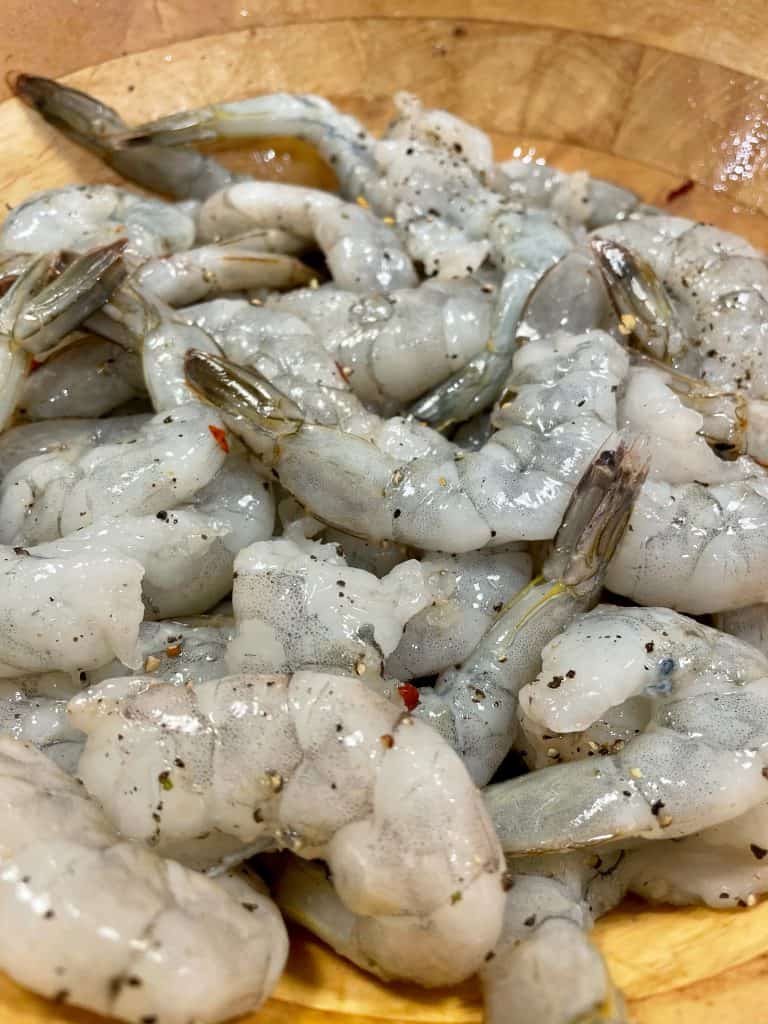 Next, place the butterflied shrimp in a large bowl and season with salt and pepper (you can use some crushed red pepper here too if you'd like) and toss all together.
I sometimes like to add a dash of white wine to this too. If you do, go with a dry white like a Pinot Grigio, which is typically what I'll use when I'm cooking with white.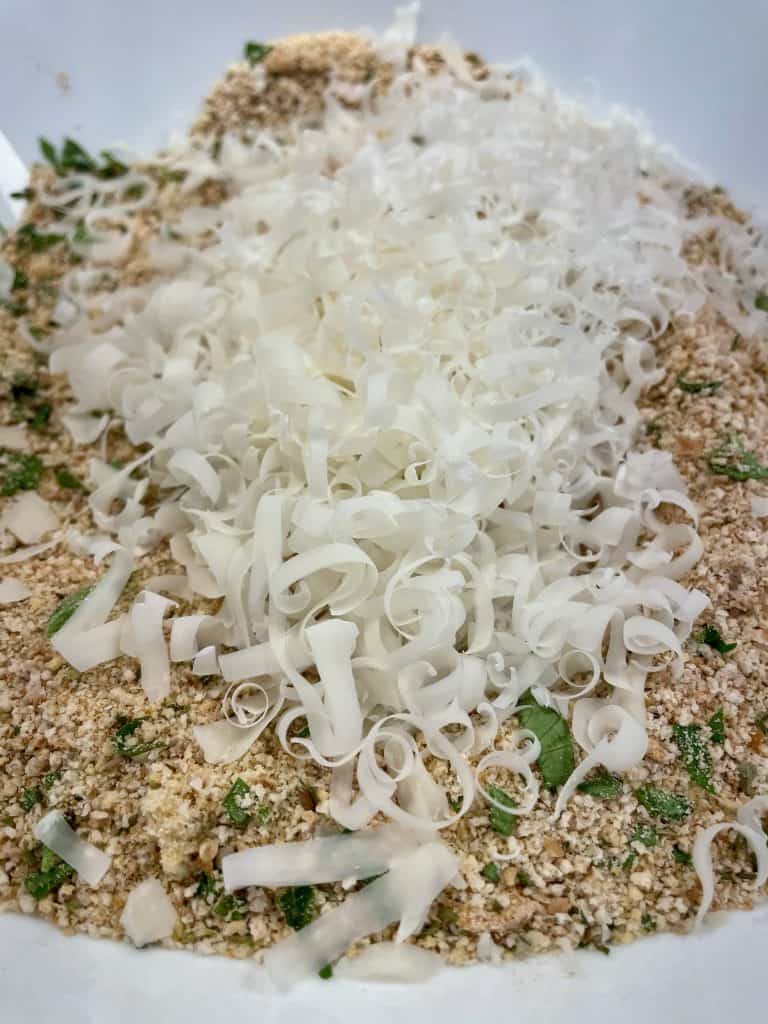 Then, while the shrimp is marinating, combine the breadcrumb, garlic, parsley, oregano, and paprika (you can also add some Parmesan or Parmigiano Reggiano cheese if you'd like) in a large bowl. Then drizzle the olive oil in and mix all together. You'll know you have enough olive oil when the mixture is moist to the touch.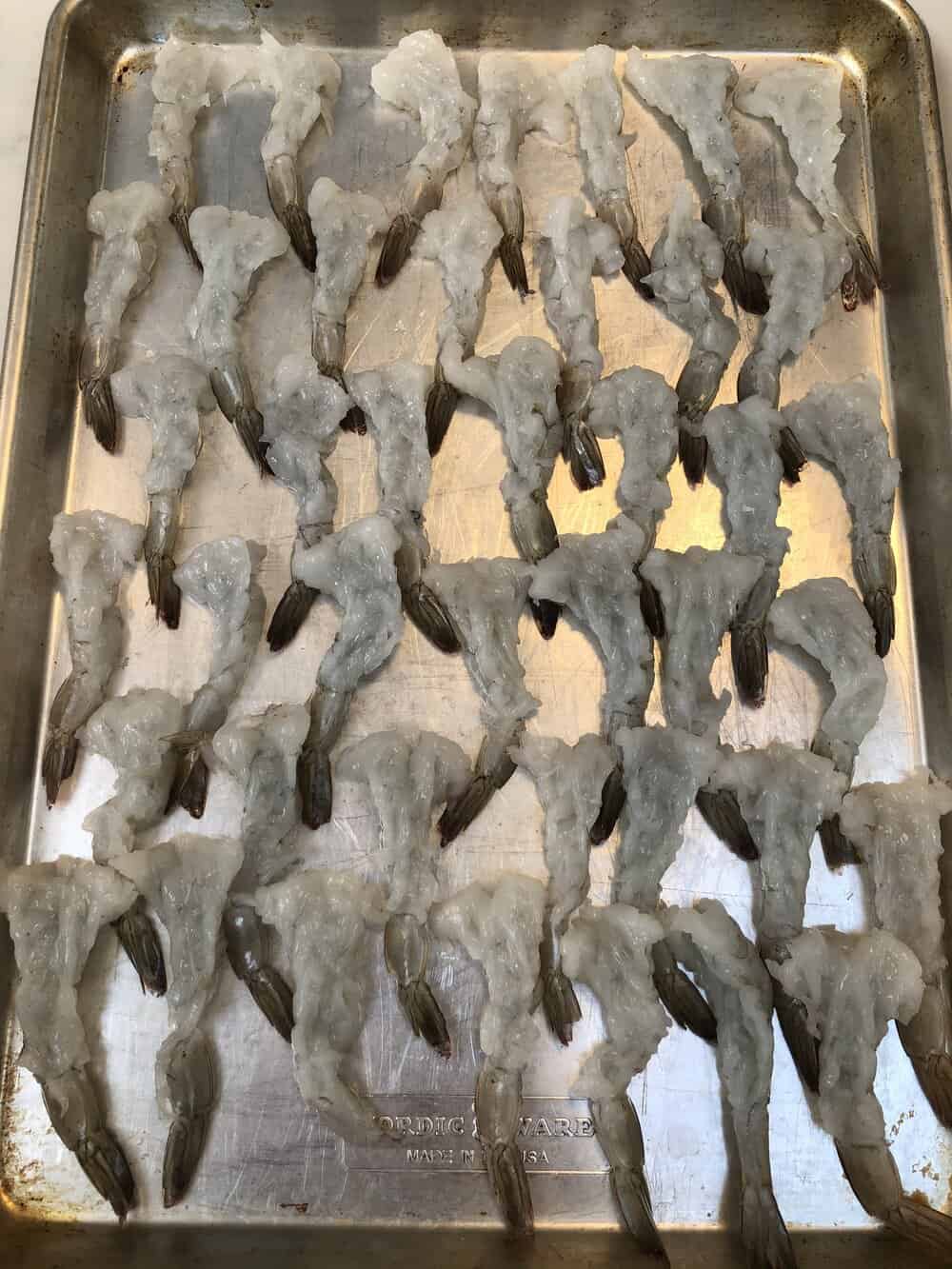 Next, lay the shrimp out on a baking sheet, cut side facing up, and one by one start stuffing the shrimp with the breadcrumb mixture.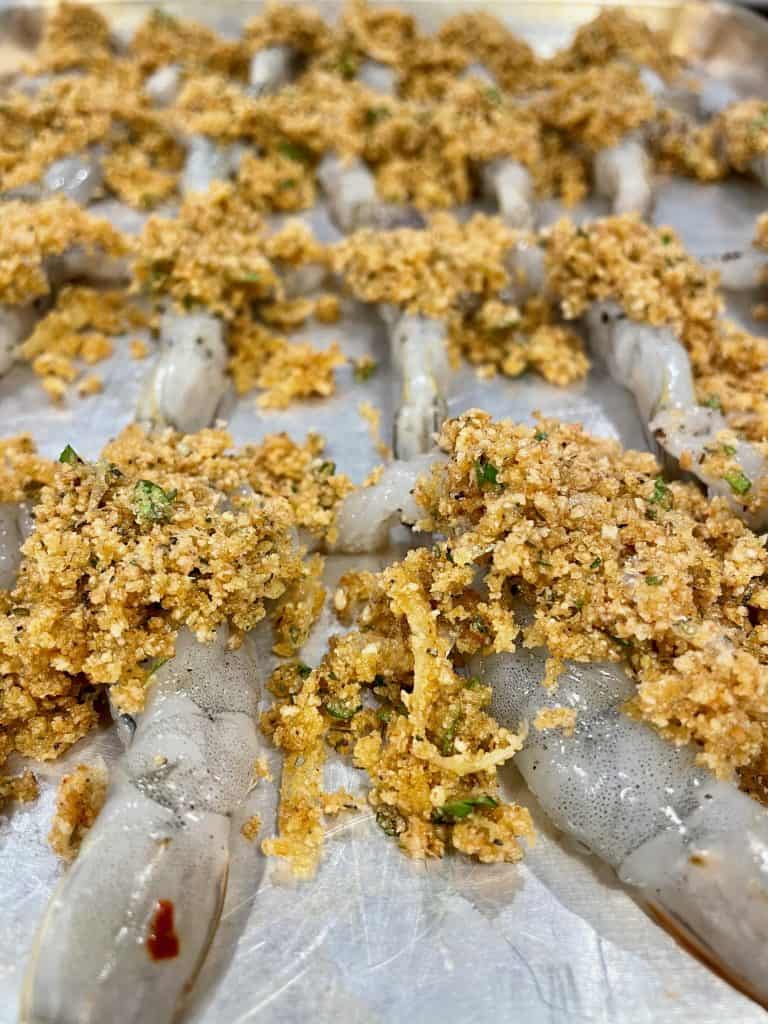 Finally, pour some chicken broth at the bottom of the sheet. Just enough to cover the shrimp, but not wash away the breadcrumbs.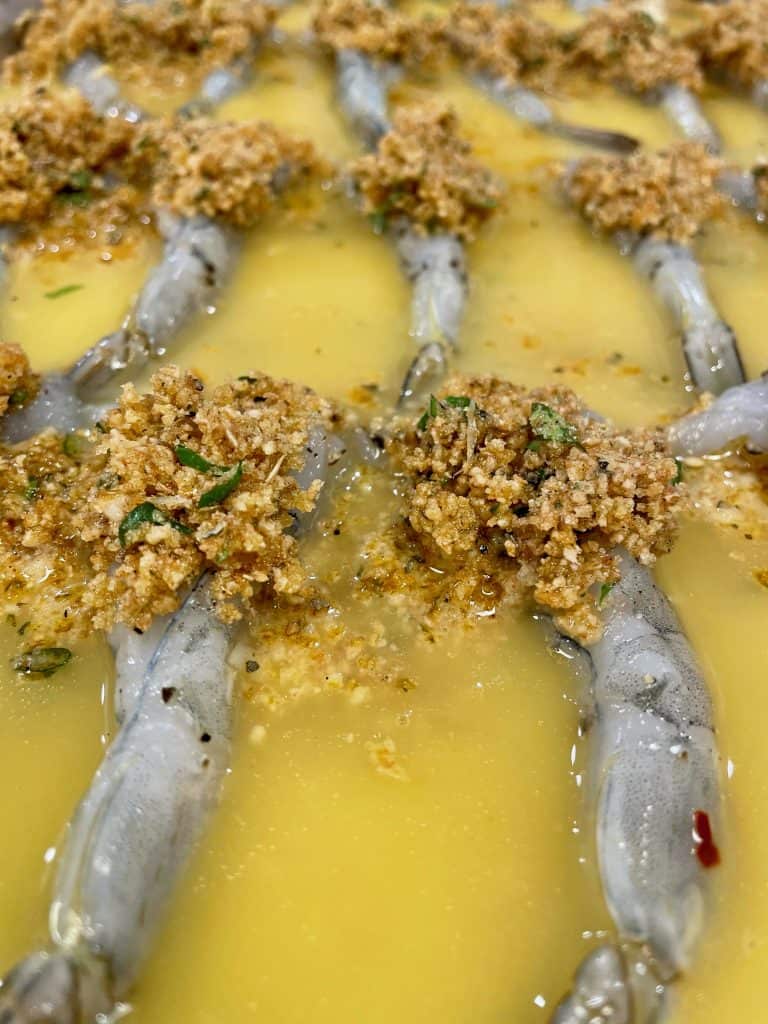 I typically like to use a low sodium chicken broth when I cook, but for Shrimp Oreganata, you have to go with the regular kind which carries higher sodium levels, but you can absolutely taste the difference.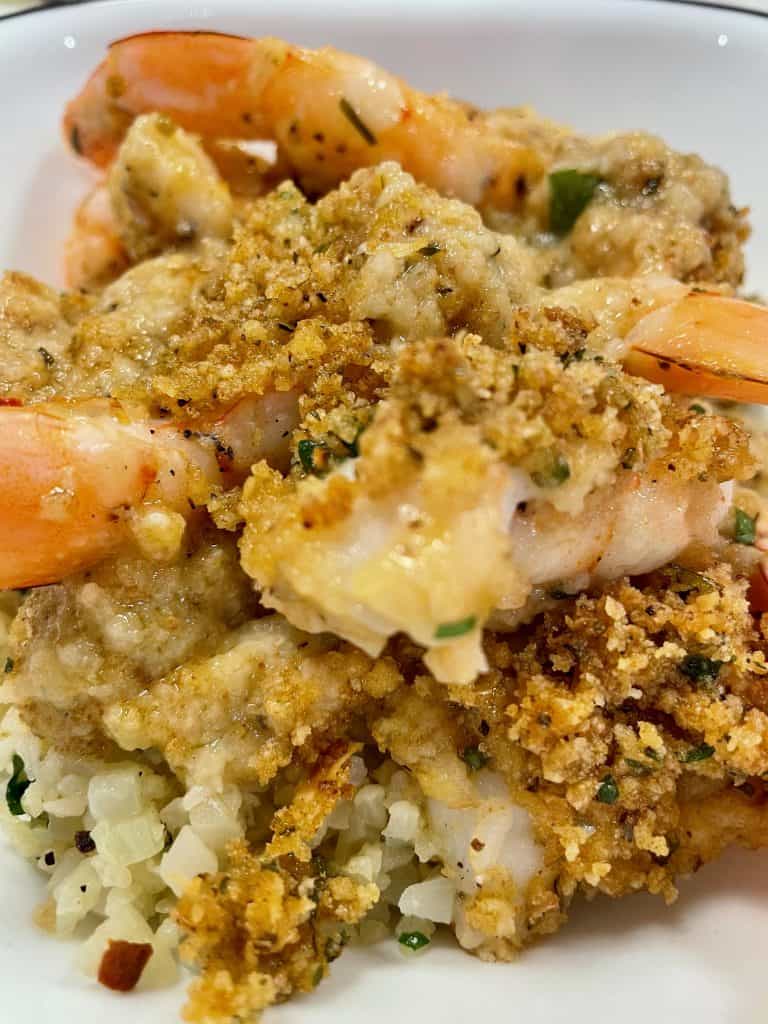 Bake at 375 degrees for about 10 minutes and enjoy!
Beautiful. Simple. And absolutely delicious! Buon appetito!
---
Tools I used in this recipe:
J.K. Adams Butterfly Cutting Board
---
DID YOU MAKE THIS SHRIMP OREGANATA? TAG ME ON INSTAGRAM (@THESKINNYGUINEACHEF) AND FACEBOOK (@THESKINNYGUINEA) SO I CAN SEE IT!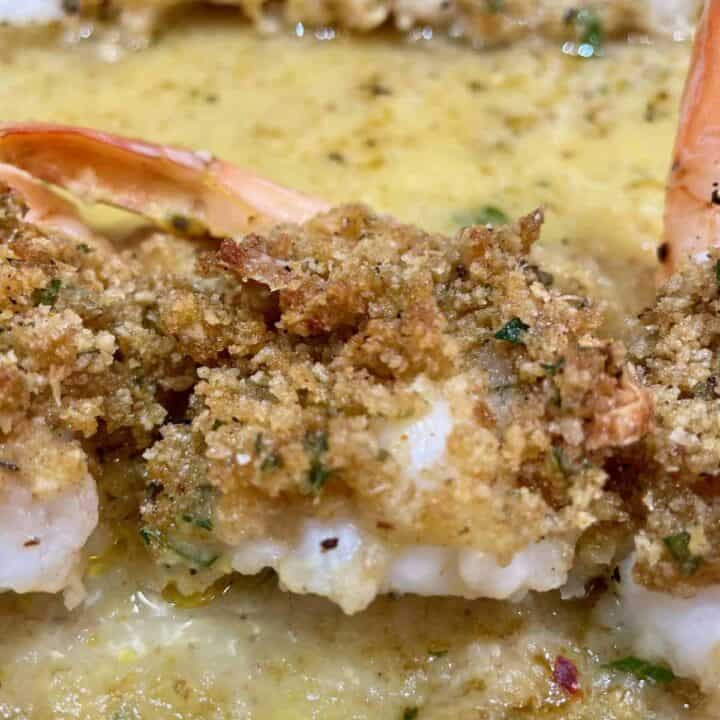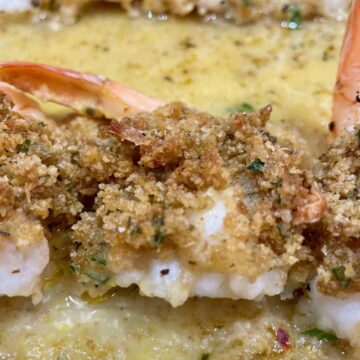 Shrimp Oreganata
How delicious does this look??? Shrimp Oreganata is such a tasty dish and so easy to make. If you're a shrimp lover, you'll not only love the flavor of this dish, you'll love it's simplicity too!
Instructions
Preheat oven to 375 degrees.  Butterfly shrimp then add to large bowl. Season with salt, pepper(s), and white wine (if using). Toss to coat and set aside.

While the shrimp marinates, combine bread crumbs, oil, garlic, parsley, oregano, paprika, and Parmesan (if using) in a medium bowl. Mix together well, mixture should be moist to the touch. Add more oil if need be. 

Place shrimp, cut side facing up, on a large baking sheet. Spoon a portion of the breadcrumb mixture on top of each shrimp. 

Pour broth around shrimp, making sure not to cover shrimp and wash away bread crumb mixture.  Place in oven and bake for about 10-12 minutes or until shrimp are opaque and cooked through.

Transfer shrimp to serving plates and spoon the juice from the baking pan on top.  Cut lemon into wedges and serve shrimp with lemon wedges.  
Notes
Eat on its own or serve over pasta, rice or riced cauliflower.  Buon appetito!
Nutritional information provided is an estimate and will vary based on cooking method and ingredients used.  It's advised you calculate your own nutritional values if needed.
Nutrition
Calories:
511
kcal
Carbohydrates:
31
g
Protein:
40
g
Fat:
24
g
Saturated Fat:
5
g
Cholesterol:
387
mg
Sodium:
1862
mg
Potassium:
337
mg
Fiber:
3
g
Sugar:
3
g
Vitamin A:
231
IU
Vitamin C:
34
mg
Calcium:
408
mg
Iron:
6
mg
---