Ground turkey taco skillet is good to the last bite!
Inspired by Nora at Savory Nothings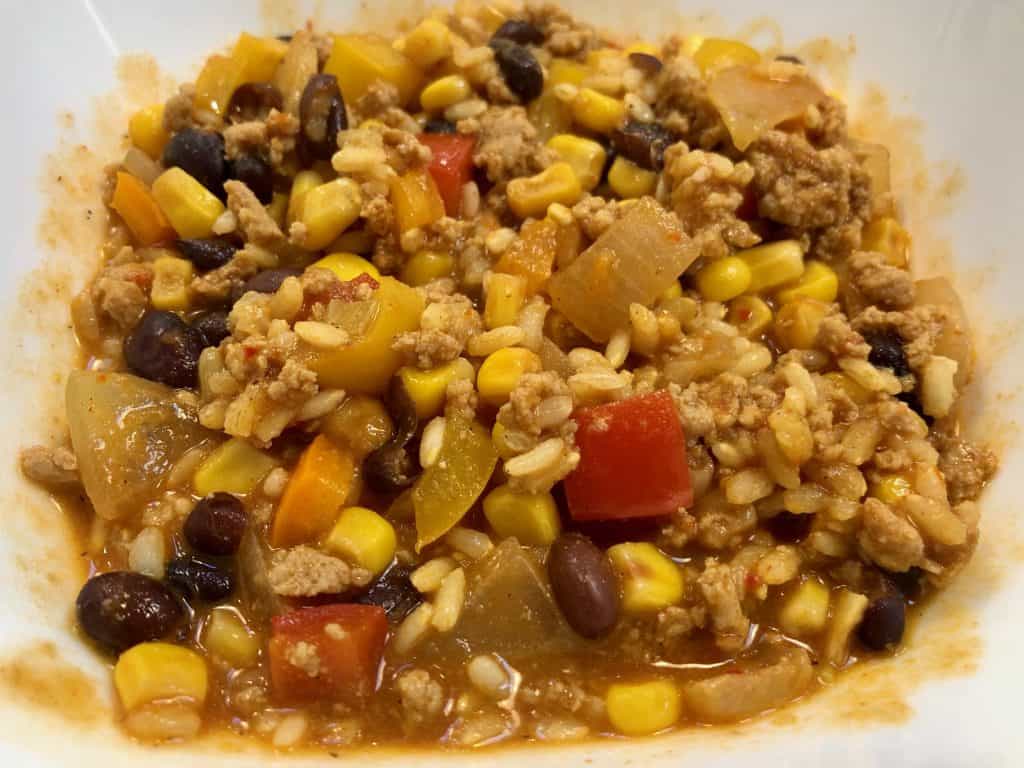 This Tumeric Turkey Mexican Mishmash is another one of those recipes where you can throw everything together in a pot and call it a day. This is where I get my biggest spoon and see how much I can shovel into my mouth at one time. Enjoy…I know I did!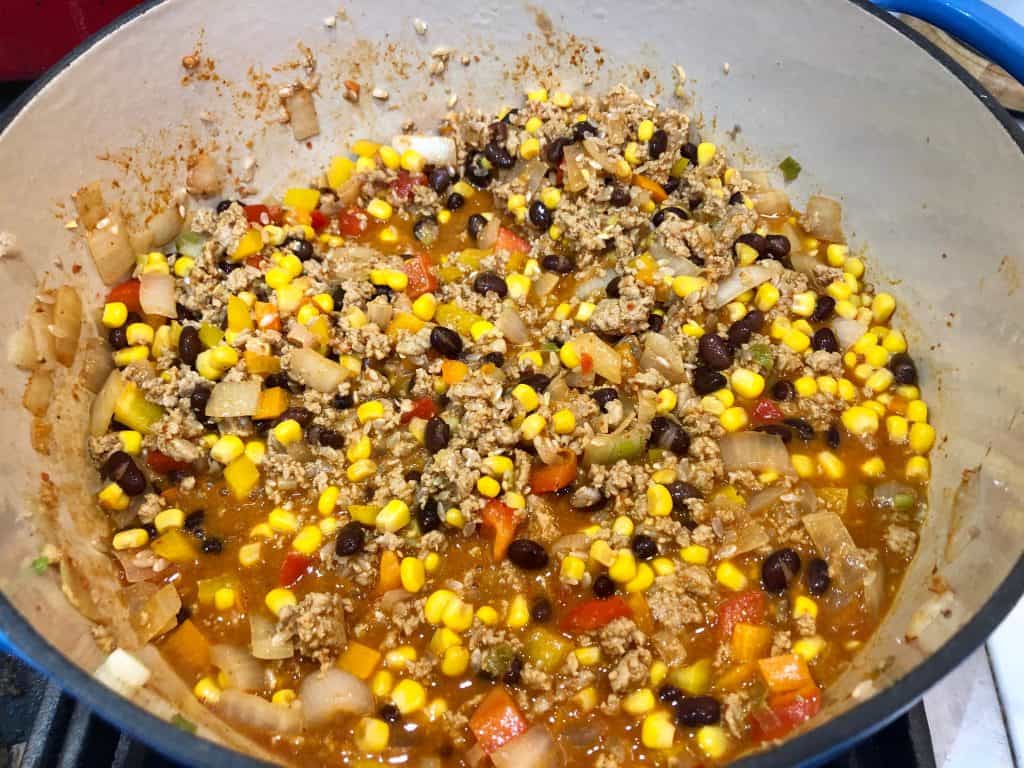 What's in ground turkey taco skillet?
Ground turkey, onion, bell peppers, green onion, garlic, brown rice, black beans, corn, chicken broth, Dijon mustard, and homemade taco seasoning.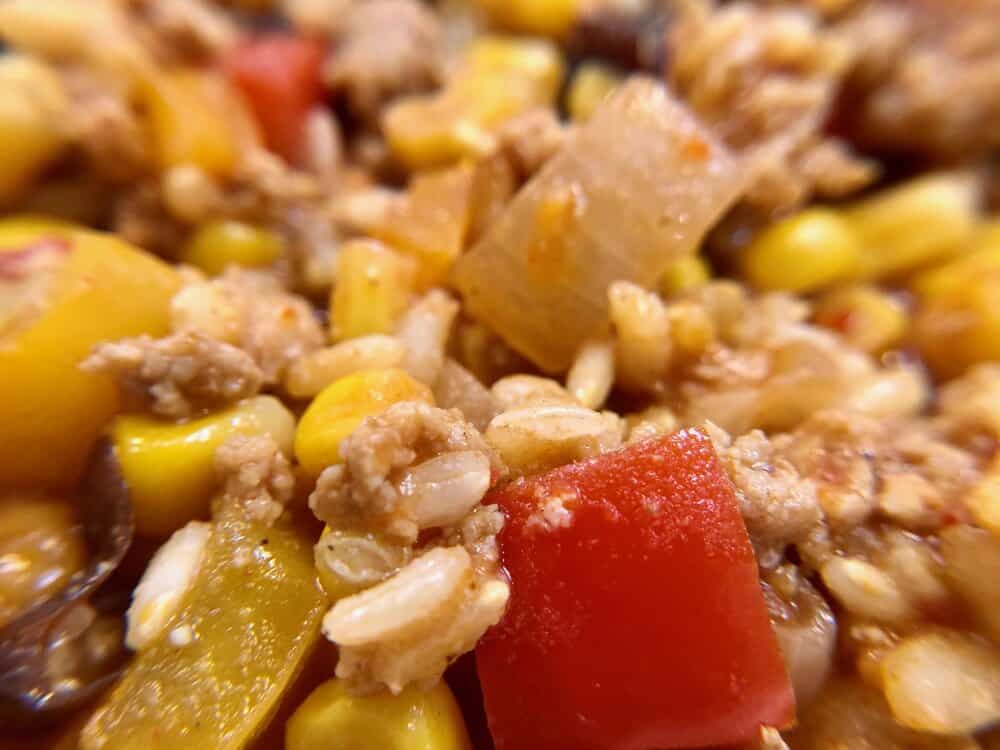 Cooking the brown rice right in the pan and not separate was a bit of a concern for me, but it worked out. Took a little longer than usual to cook the rice, but we got it tender in the end. BOOM!
See that little brown dab in the top right? That right there is Sir Kensington's Dijon Mustard…and a little bit went a long way. Definitely gave it a different flavor and was happy I added it to this ground turkey recipe.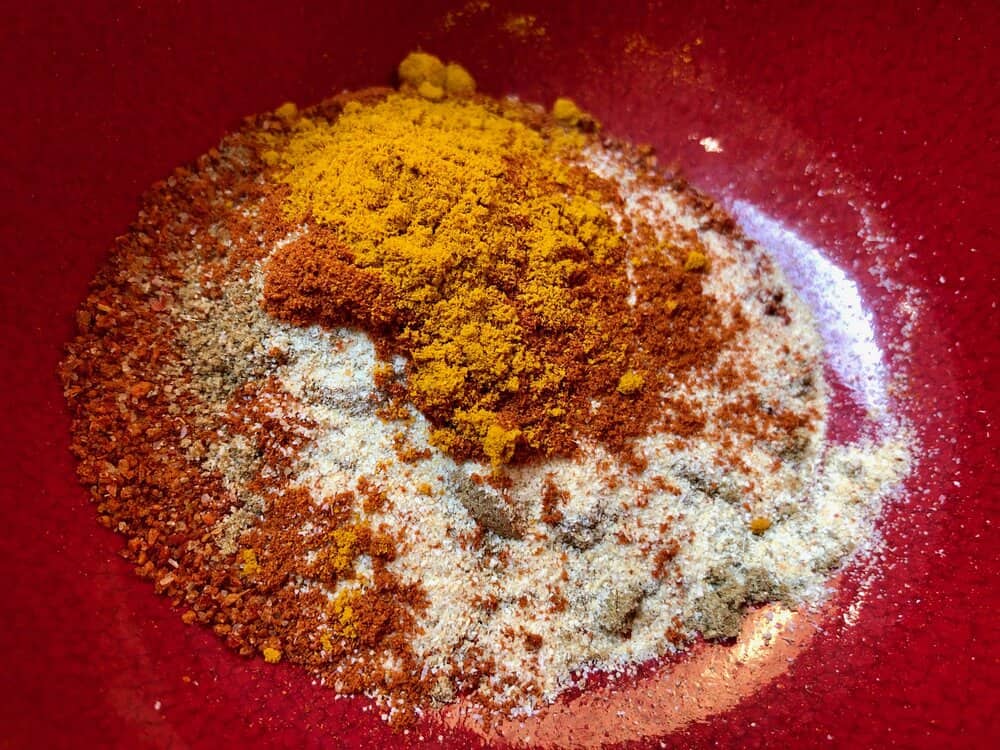 I normally have my "go-to" seasoning when it comes time for Taco Tuesday but I changed it up for this recipe. I added some tumeric powder which gave it a nice change of pace.
For this seasoning I used:
Trader Joe's Chili-Lime seasoning - 1 tbsp
Ground Cumin - 1 tsp
Garlic powder - 1 tsp
Paprika - ½ tsp
Tumeric powder - ¼ tsp
Tools used in this recipe: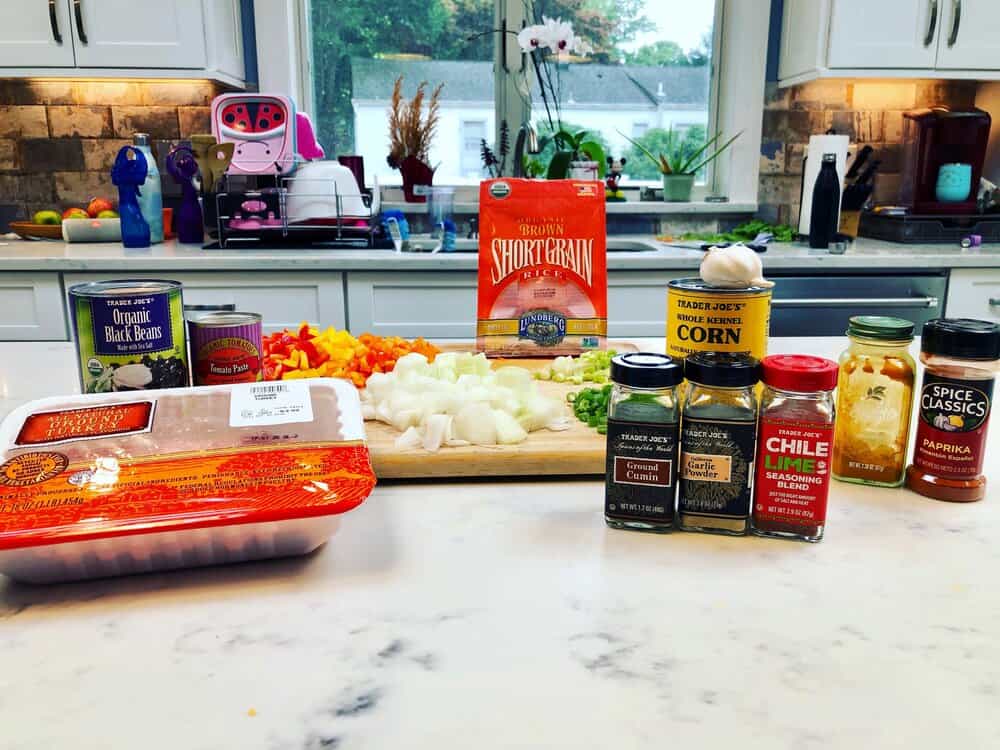 Ground turkey taco skillet
As a food blogger, I love giving credit where credit is due. I know how hard other bloggers work to come up with recipes and put together their blogs, so they deserve credit when they come up with a winner!
For this recipe, I was definitely inspired by Nora at Savory Nothings. Her 'One Pot Mexican Beef & Rice Skillet' looked absolutely delish and though I added some ingredients to mine, I followed her guidance.
So check out her recipe here and follow along.
If you're adding green onions, tumeric, and Dijon, as I did, cook the green onions with the onions, add the tumeric to the bowl of seasoning, and add the Dijon with the rice, broth, black beans, and corn. I did not add salsa to my dish.
My ingredients are below. Optional toppings include shredded cheese, sour cream/Greek yogurt, cilantro, guacamole/avocado, etc.
Enjoy!
---
Ingredients
Onion (chopped) - 1
Green onion (separate white bottoms - chopped) - 2
Garlic (minced) - 2 cloves
Ground turkey - 1 lb
Bell pepper (diced) - 2
Brown rice (cooked) - 1 cup
Chicken broth - 1 cup (add more if needed)
Dijon mustard - 1 tsp
Black beans - 1 can
Corn (canned or frozen) - 1
Seasoning:
Tumeric - ¼ tsp
Chili powder - 1 tbsp
Ground cumin - 1 tsp
Garlic powder - ½ tsp
Paprika - ½ tsp
---