Simple and delicious grilled boneless chicken thighs.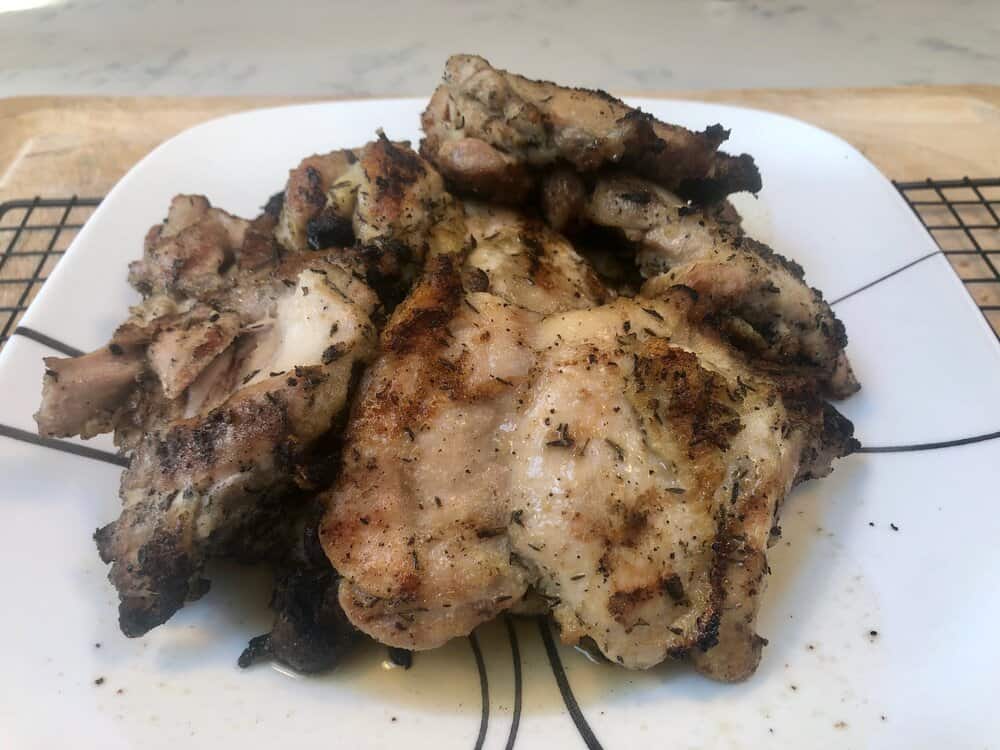 These grilled boneless chicken thighs may be the easiest and simplest recipe I will ever cook. Why overcomplicate it? Keep it simple and enjoy how flavorful this recipe can be.
You can certainly use bone-in thighs or breasts or drumsticks. I personally like using boneless, skinless chicken thighs when I cook on the grill. I like the white/dark meat combo they provide and they cook SO QUICKLY! You'll have this on your dinner table in less than 20 minutes.
What do you marinate boneless chicken thighs with?
Salt, pepper, garlic powder, onion powder, dried thyme, and EVOO. Let it marinate for at least 30 minutes, throw it on the grill, and enjoy!
Don't stress over the marinade...a little seasoning goes a long way.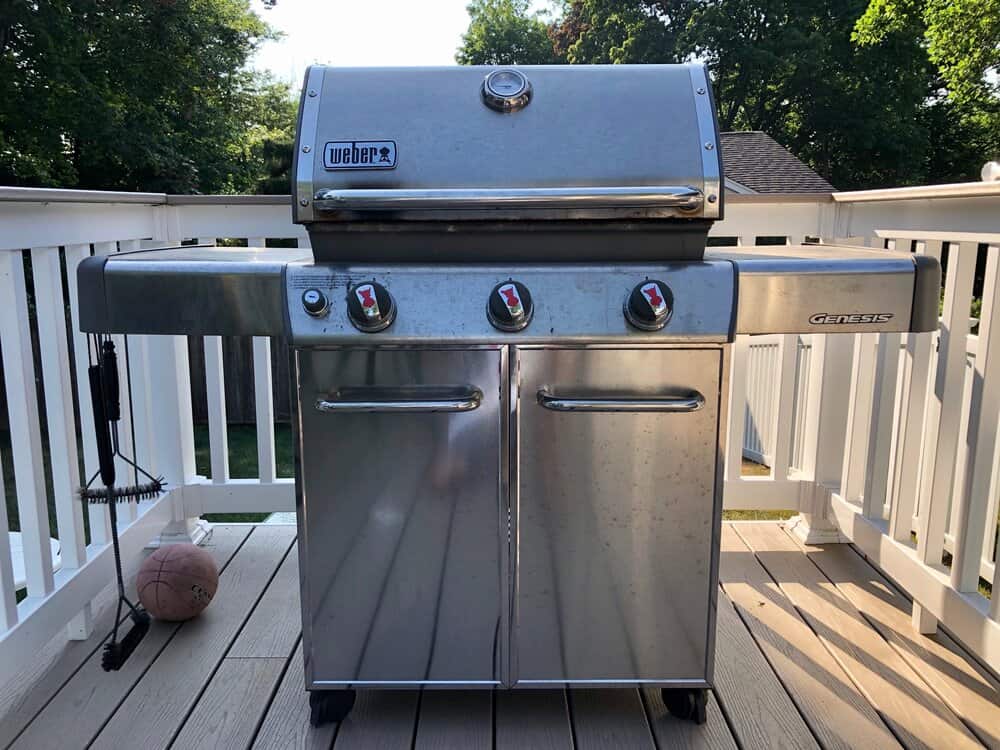 So I do most of my dinner cooking in the kitchen on my Wolf 6-burner Rangetop. It's an absolute beast and I enjoy it so much…but I love my Weber Genesis grill!
I've had it for about 7 years and it's still in great shape. If you have one already or are planning to get one, I do recommend getting a cover for it (this one fits 3-burner Webers). I'm so glad I did because it does a great job protecting it from all the elements we have in the northeast.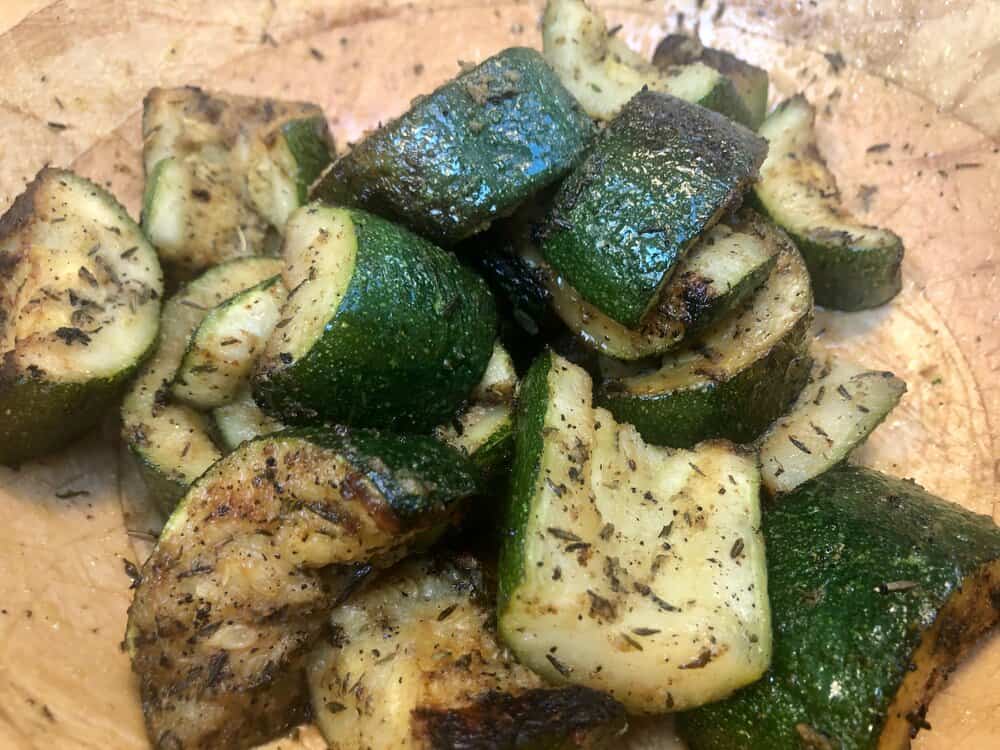 Grilled zucchini makes a perfect side to compliment the chicken thighs. I used the same seasoning as I did for the chicken…very tasty.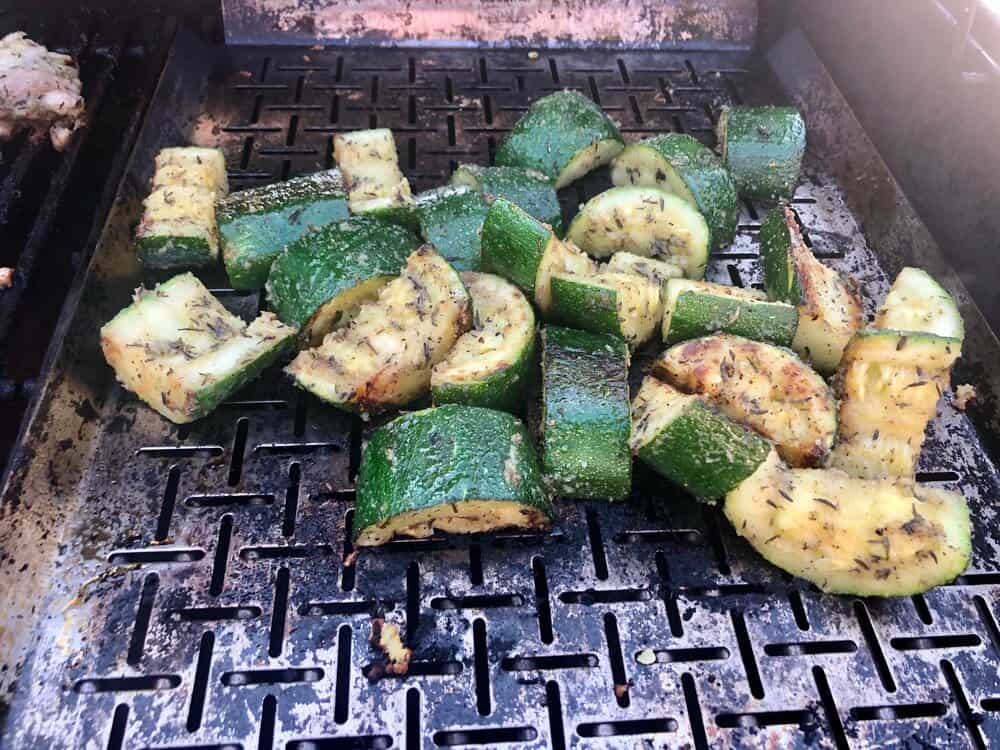 Threw it right on my Weber Grill Pan, turned the burners to medium and grilled away.
Be sure to check out some of my other grilled chicken recipes, including Dr. Baker's famous Cornell Chicken Recipe
Tools I used for this recipe: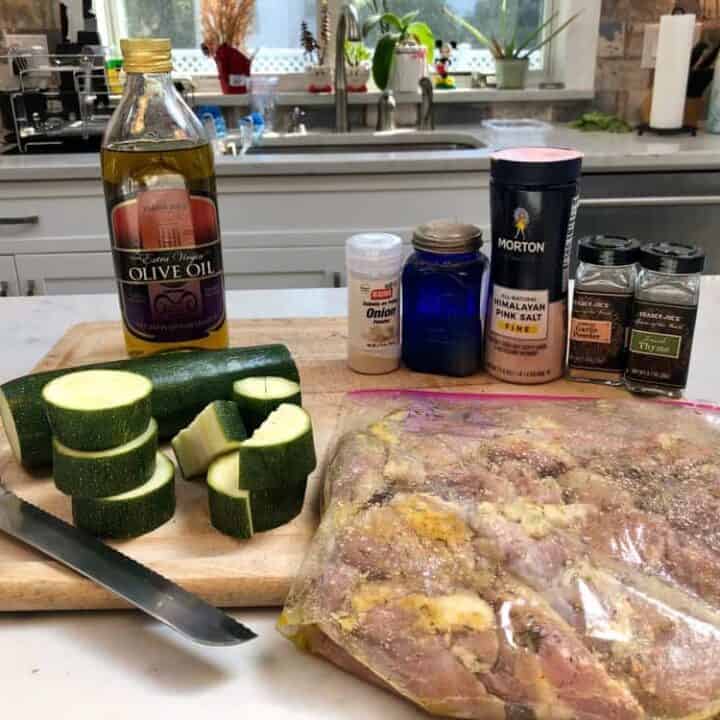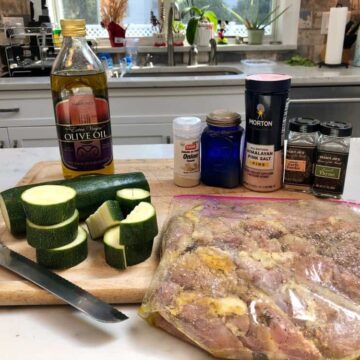 Grilled Boneless Chicken Thighs
These grilled boneless chicken thighs are super simple, and super tasty! Simple marinade and a breeze to cook...not to mention, it'll be on your dinner table in under 20 minutes!
Instructions
Preheat the barbecue to a minimum of 400 degrees.

In a large ziplock bag, add all the seasoning.  Pat the chicken dry with paper towels and season with salt and pepper. Add the chicken to the ziplock and marinate for at least 30 minutes.

Once the grill is heated, add chicken. Cook for about 2-3 minutes, flip once, and cook for another 2-3 minutes until done (or 165 degrees internal temperature). 

Serve hot with a side vegetable.
Nutrition
Serving:
2
thighs
Calories:
288
kcal
Carbohydrates:
2
g
Protein:
19
g
Fat:
22
g
Saturated Fat:
6
g
Polyunsaturated Fat:
4
g
Monounsaturated Fat:
10
g
Trans Fat:
1
g
Cholesterol:
111
mg
Sodium:
89
mg
Potassium:
263
mg
Fiber:
1
g
Sugar:
1
g
Vitamin A:
112
IU
Vitamin C:
1
mg
Calcium:
16
mg
Iron:
1
mg
---