Disclosure: Please note that some of the links below/on the side are affiliate links and I will earn a commission if you purchase through those links. I have used all the products listed and recommend them because they are helpful and are companies that I trust, not because of the commissions that I may earn from you using these products.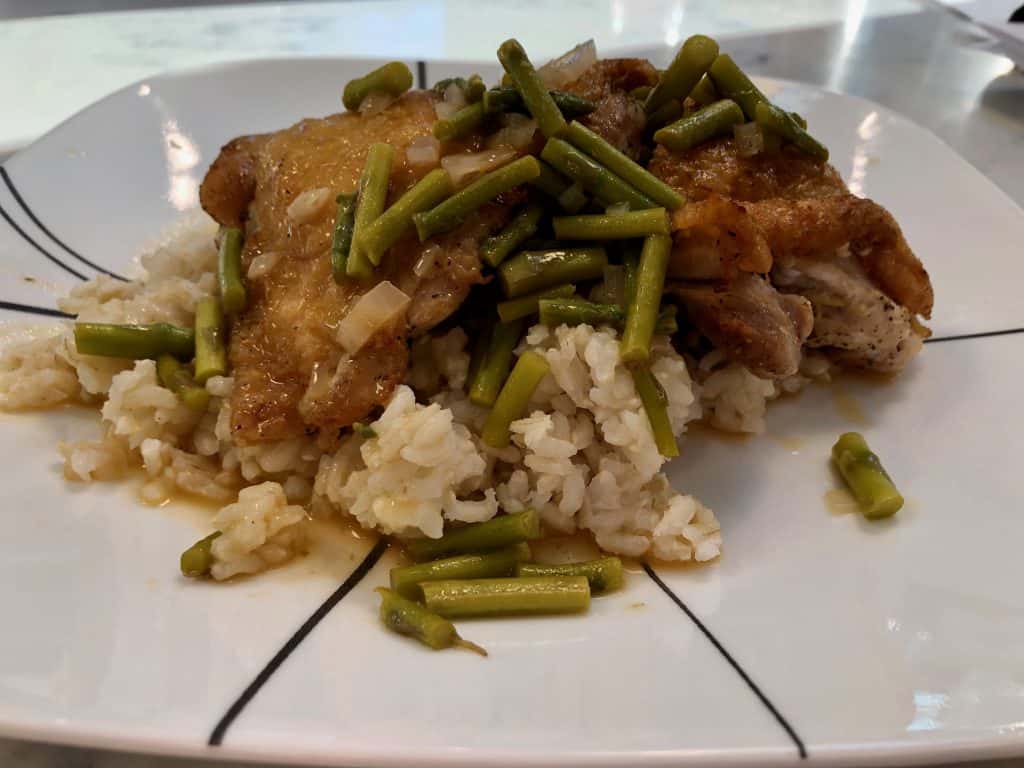 If you like chicken thighs on the bone you'll love this pan seared chicken thighs recipe. Moist, flavorful and easy to cook…this is a chicken recipe you'll keep for a long time.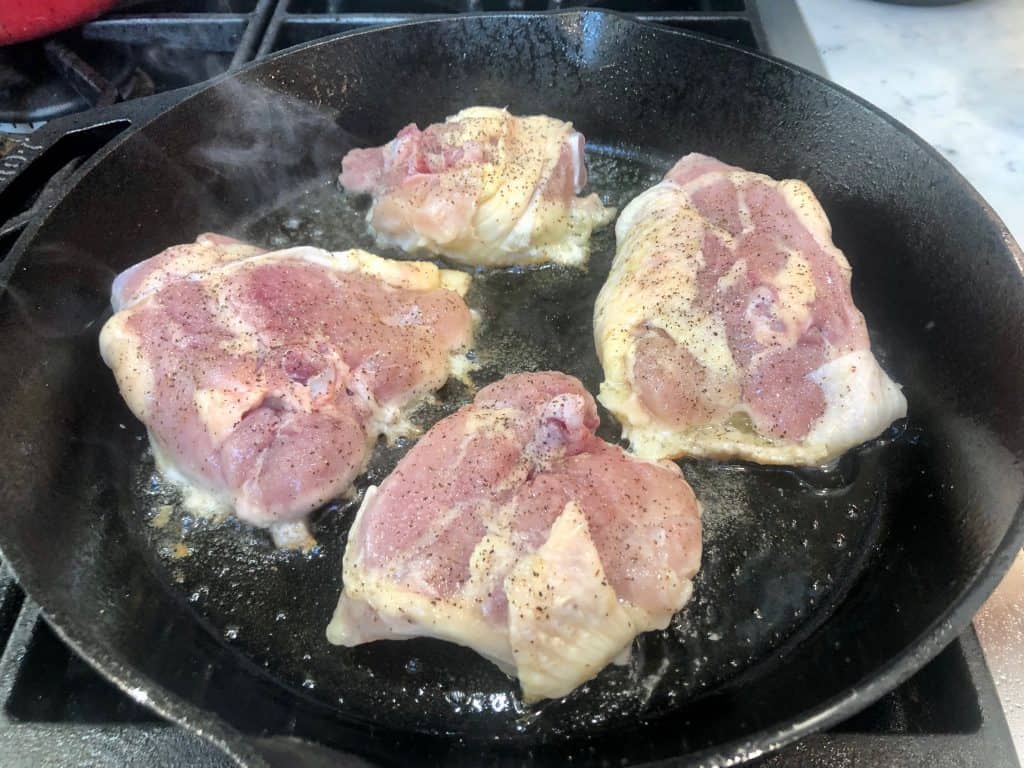 It would probably make sense that we start this pan seared chicken thighs recipe off by pan searing the chicken thighs, right? Right. Grab your best cast iron skillet, throw some oil in it and star frying these babies up…skin side down until browned.
Need a skillet? I use this Lodge preseasoned one. It's a beast and a perfect piece of equipment to use for pan seared chicken thighs. Can't live without it!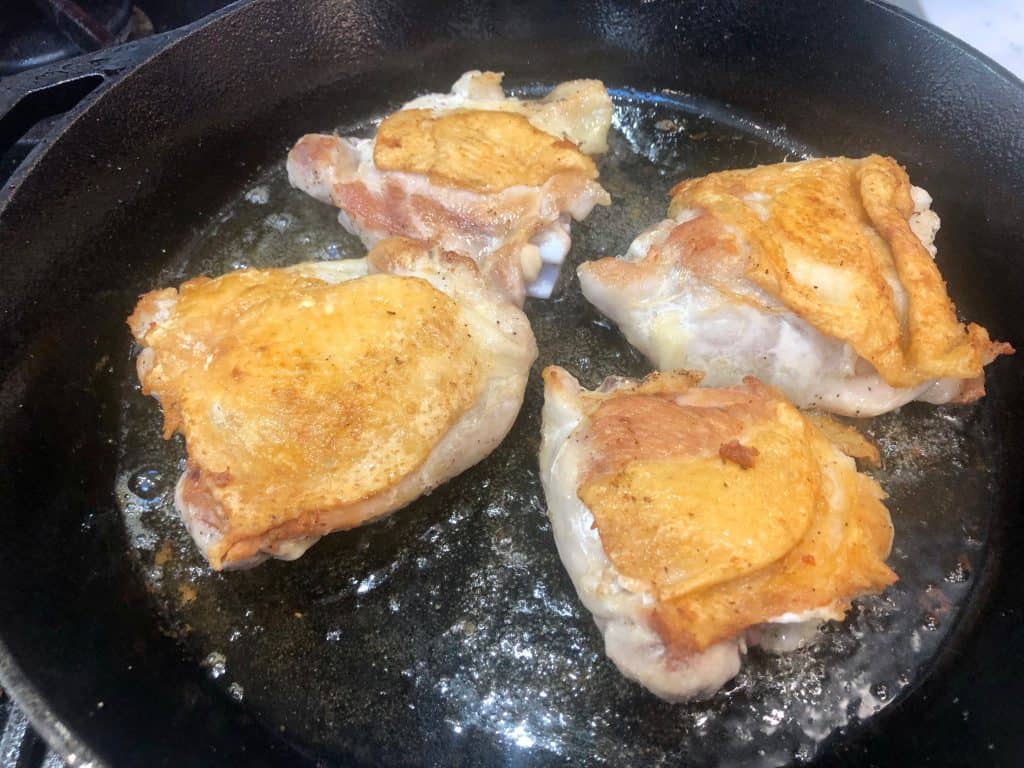 Look at how nice and crispy we get them. Once they get this golden brown color, it's time to throw them in the oven.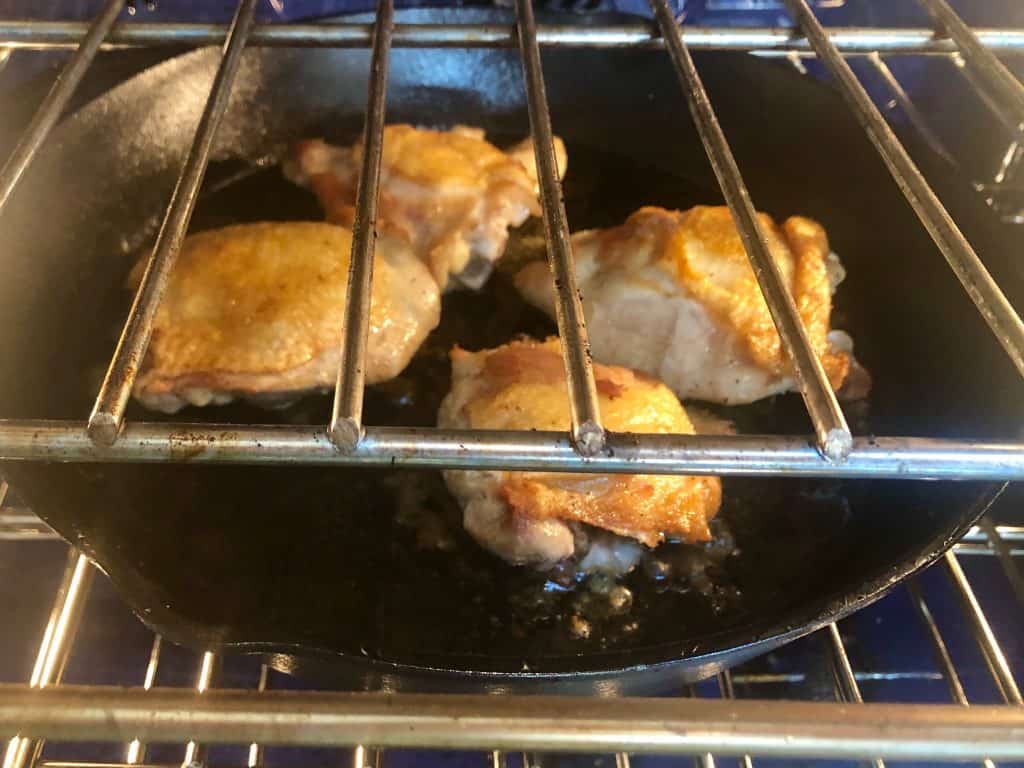 375 degrees for about 15 minutes is all it takes. The reason I love the cast iron skillet for this recipe is that you can fry the skin up on it and just toss it all right in the oven.
Can I use boneless chicken thighs?
I used bone-in, skin-on chicken thighs for this recipe because I just think they're juicier and a perfect fit for the pan searing, but I do get asked if you can use boneless, skinless chicken instead.
You absolutely can! And you have two different options to choose from.
First, you can fry the boneless thighs completely without searing them or throwing them in the oven. Remove them from the pan when they're cooked through, make your sauce with the juices left in the pan and then add the chicken back into the pan at the end to heat it through. You may even want to cut the chicken up before you put it back in the pan to get them nice and juicy. This would be my preferred way of cooking them if I was using boneless.
The other way is to follow the same directions as if you were using bone-in, skin-on but your oven cook time will be less. Probably more like 10 minutes or so. Again, you can choose to cut up the chicken and add it back to the pan after the sauce is done.
---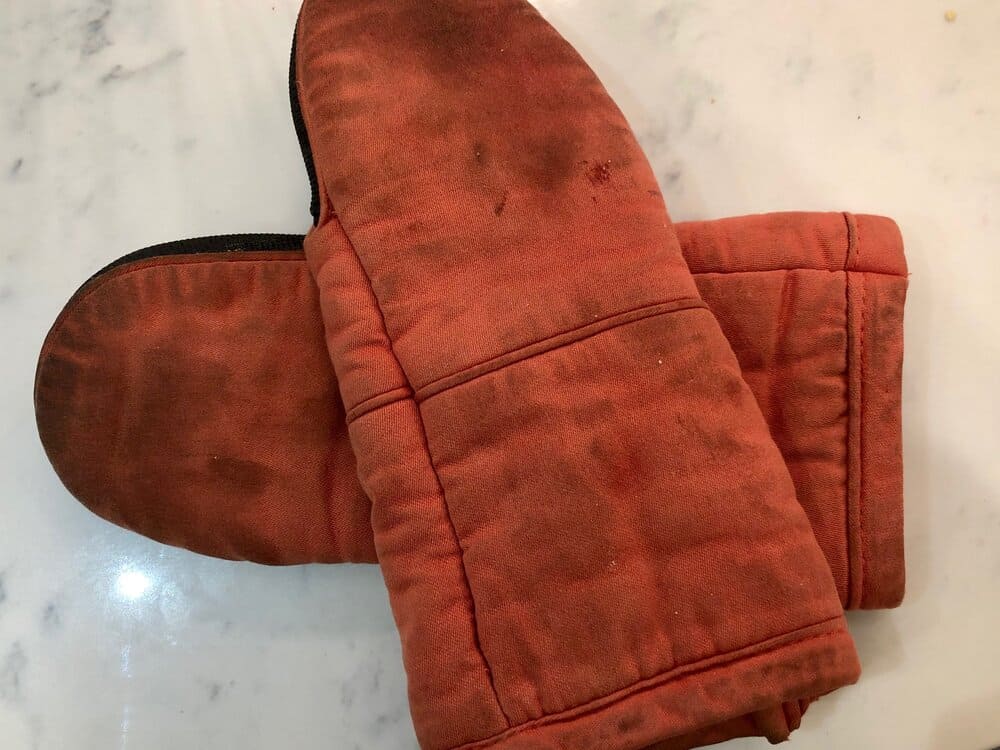 My trusty oven mitts. They've seen better days, but don't forget to wear them when you take the skillet out of the oven. TRUST ME!!!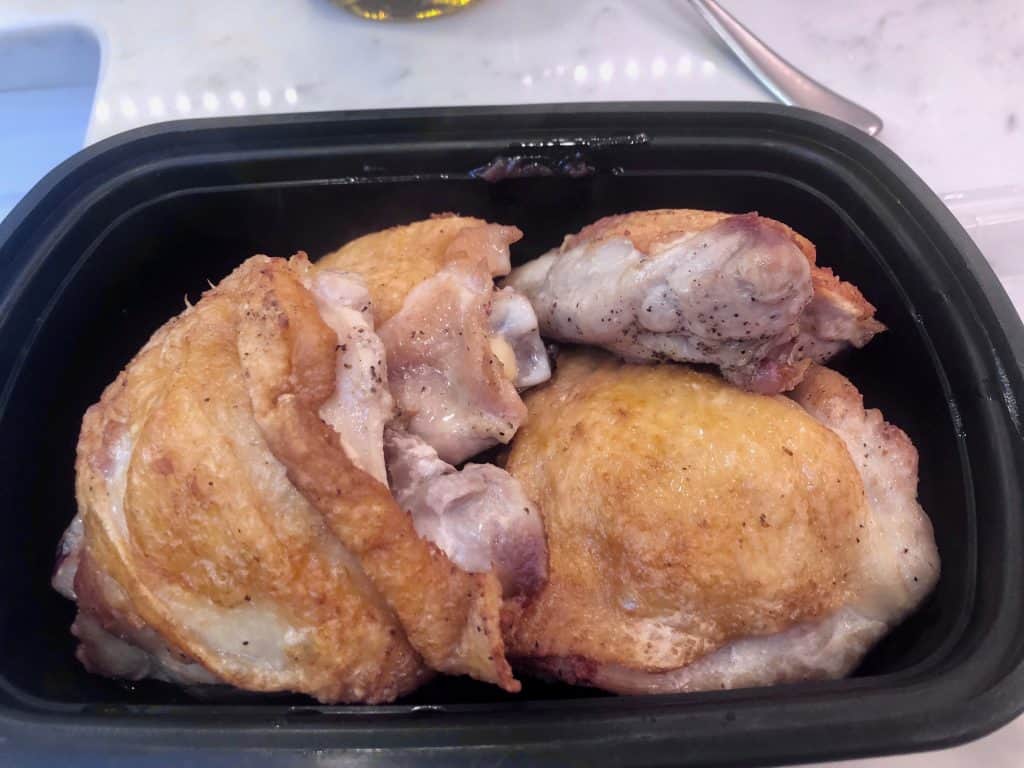 Let's put the chicken aside for now while we start making the asparagus, butter and wine sauce. Keep them warm.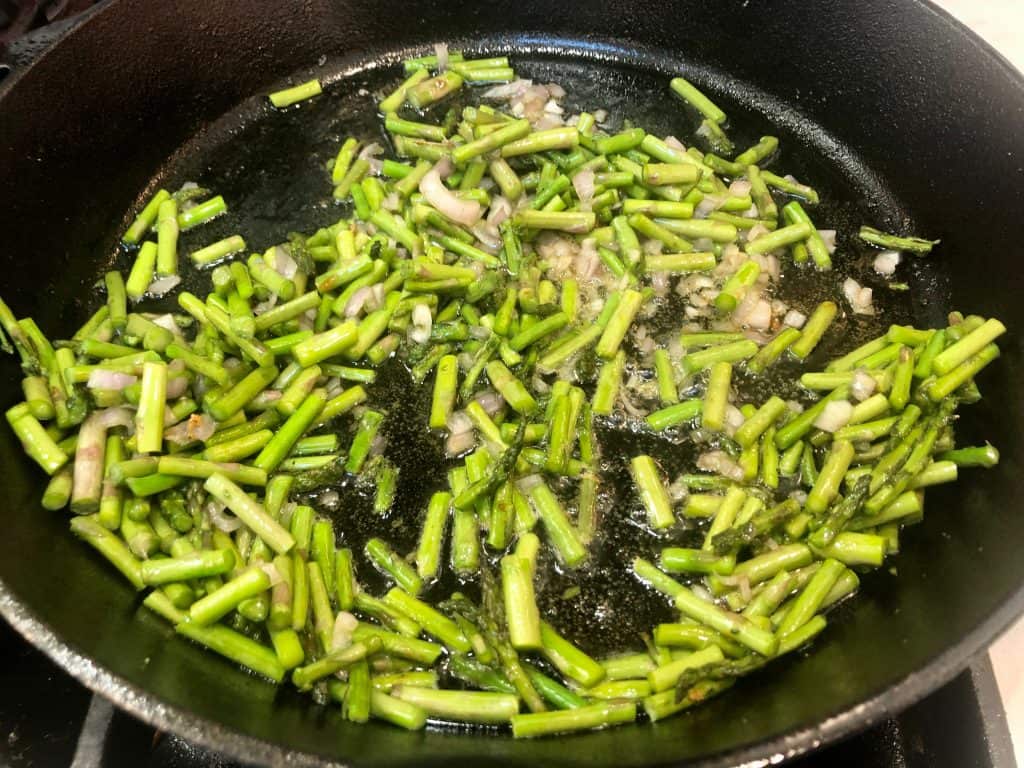 When you remove the chicken, leave some of the juices in the pan. We'll use that as a base to start cooking the shallot and asparagus up. Cook until they're both a bit soft.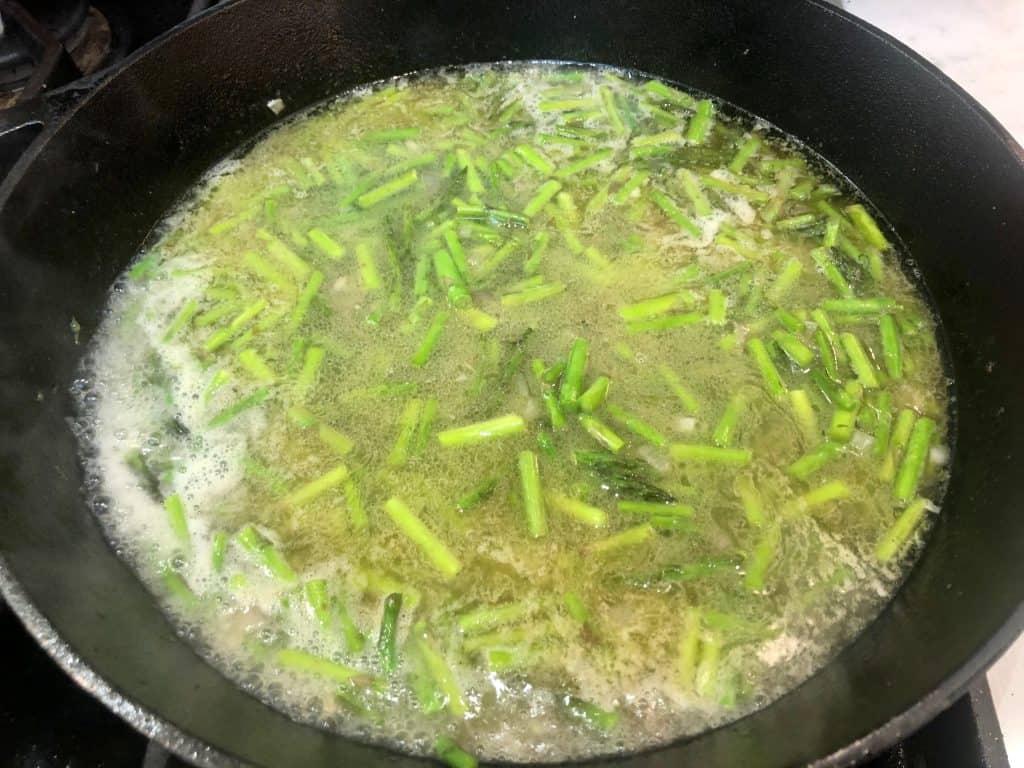 Add the wine and bring to a boil. Lower the heat and simmer for a while…then add the broth. Tonight I used vegetable broth (because I had some left over in my fridge) but feel free to use chicken broth or even beef broth too.
---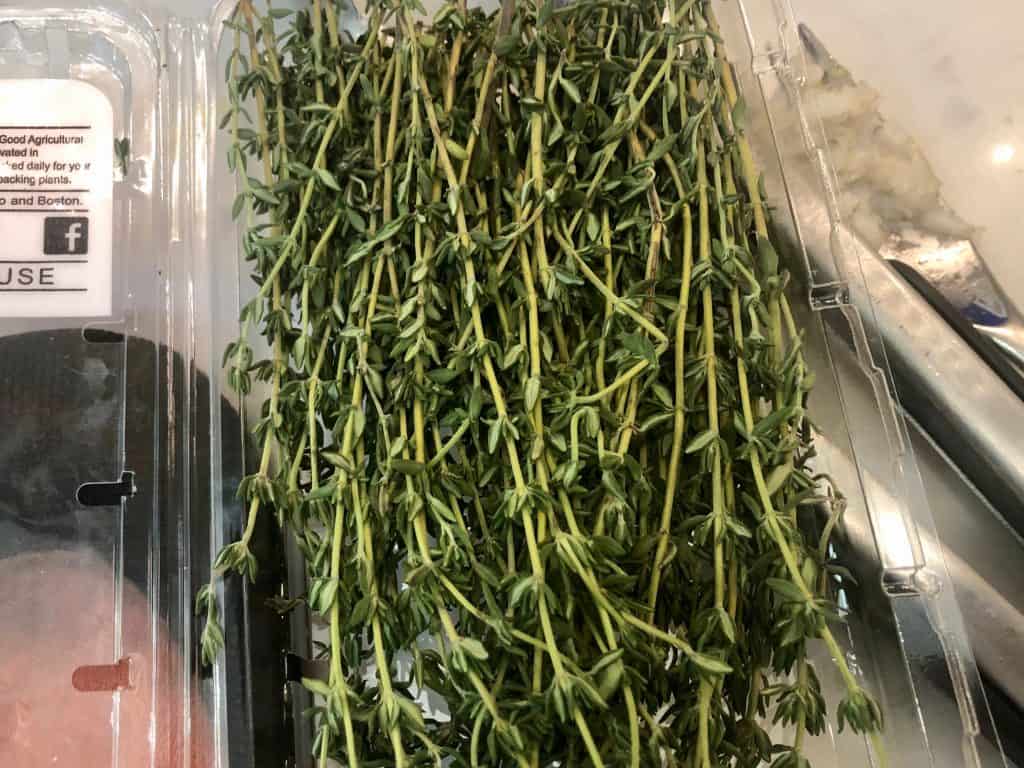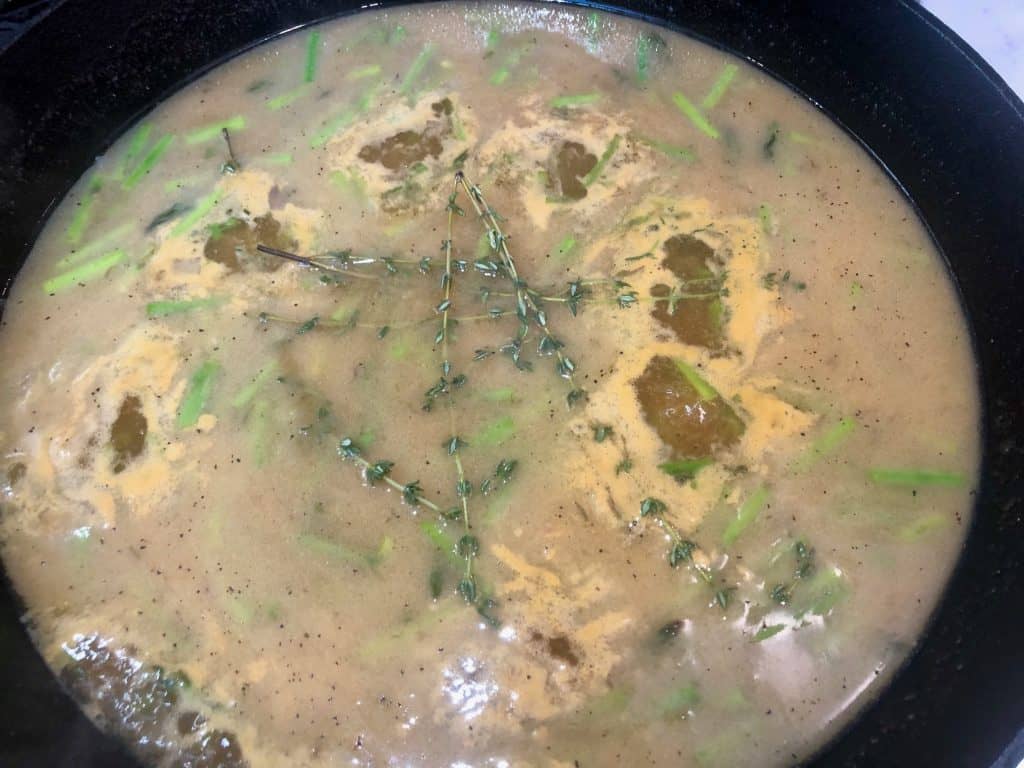 Add the fresh thyme twigs…and then the butter. Serve the sauce over the chicken and brown rice and enjoy!
---
Tools I used for pan seared chicken thighs:
---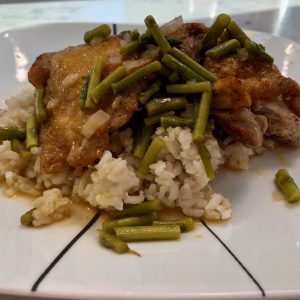 Pan Seared Chicken Thighs
If you like chicken thighs on the bone you'll love this pan seared chicken thighs recipe. Moist, flavorful and easy to cook…this is a chicken recipe you'll keep for a long time.
Equipment
Oven Safe Skillet

Sauce Pot
Ingredients
4

chicken thighs

bone-in; skin-on

½

cup

shallot

minced

1½

cup

chicken broth

low-sodium; can use vegetable or beef broth too

1

cup

white wine

dry, crisp

4

tbsp

butter

2

stems

fresh thyme

8

oz

asparagus

chopped into 1" pieces

1

cup

brown rice
Instructions
WARNING: YOU WILL BE PUTTING A SKILLET IN THE OVEN! BE SURE TO ALWAYS USE A POT HOLDER ON THE SKILLET HANDLE TO PREVENT BURING YOUR HAND (like I did lol)

Cook brown rice per the instructions. Fluff with a fork when done and set aside.

Heat 3 tsp oil in a large oven safe pot, add the chicken skin side down. Cook for about 8-10 minutes or until the skin gets brown and crispy.

Take pan and put it right in the oven and cook for about 15 minutes or until the internal temperature reads 165 degrees on a thermometer.

Take pan out, transfer to a dish, leaving about 2 tbsp of the chicken juice in the pan.

Heat the juices in the skillet and add the shallots and asparagus. Season with salt and pepper. Cook for about 2-3 minutes or until both are soft.

Add the wine and bring to a boil. Lower heat, deglaze and reduce. Make sure to get all the juicy brown bits off the bottom of the skillet.

Add the broth, bring to a boil and reduce until the sauce gets thicker. Add your fresh thyme (include the stems) and cook for a minute or so until the thyme is fragrant.

Turn off heat and add butter.
Notes
Serve hot over the rice, topping everything with the sauce.  Enjoy!
---