Disclosure: Please note that some of the links below/on the side are affiliate links and I will earn a commission if you purchase through those links. I have used all the products listed and recommend them because they are helpful and are companies that I trust, not because of the commissions that I may earn from you using these products.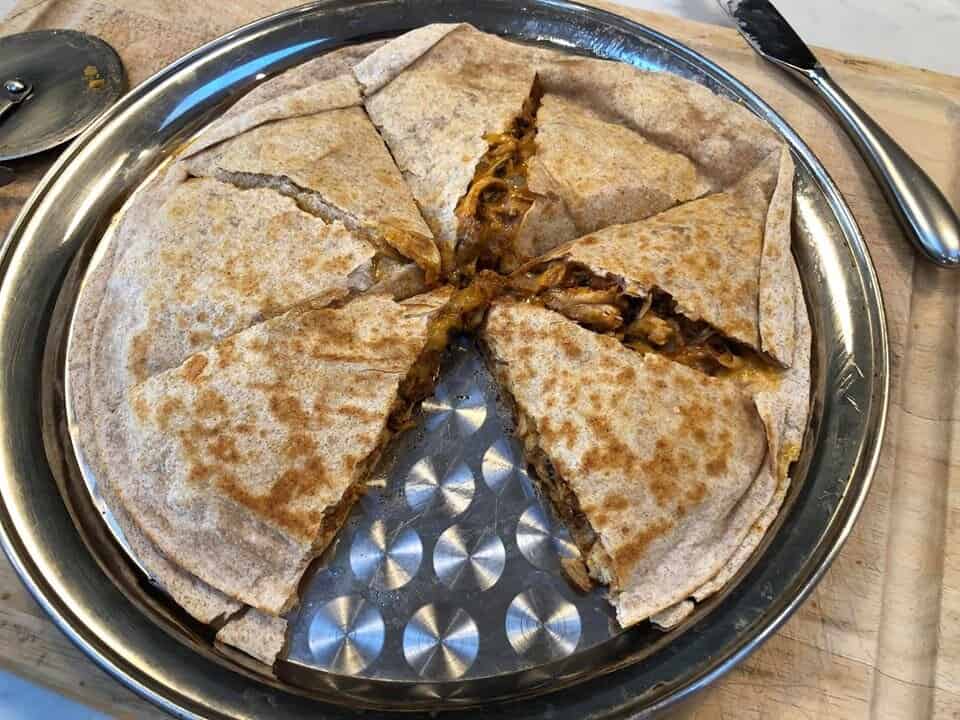 Oh man…enjoy this recipe! This easy chicken quesadilla recipe is not only delicious but fun to make with the entire family. Go big or go home is my motto with this one.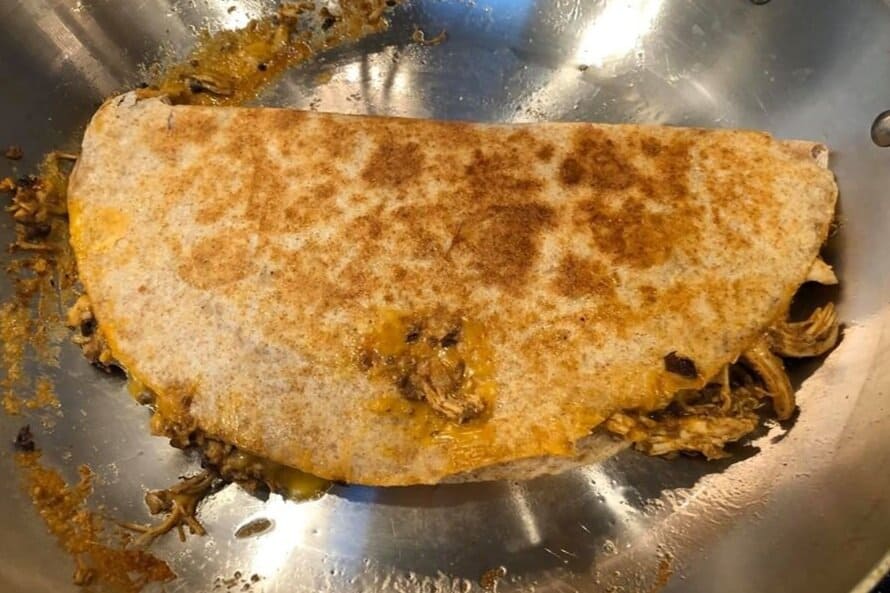 Chicken quesadillas are so tasty and a great way to load up with vegetables too. Swap out the tacos on Tuesday for this chicken quesadilla…you won't be disappointed! Just look at this bad boy…delicious!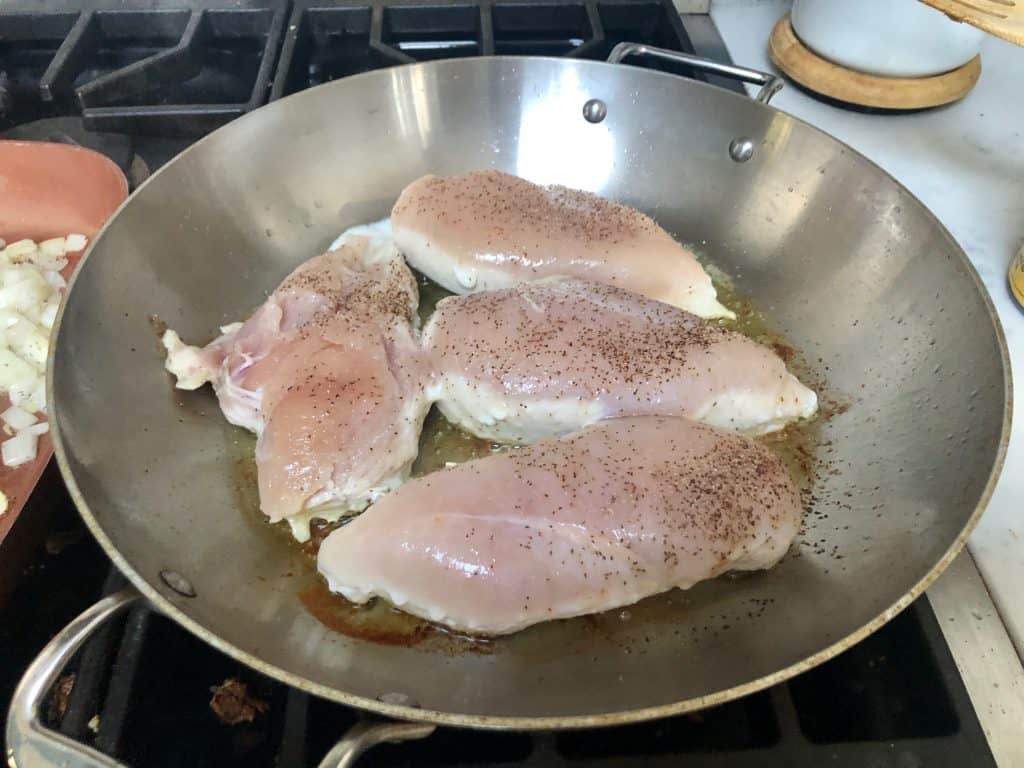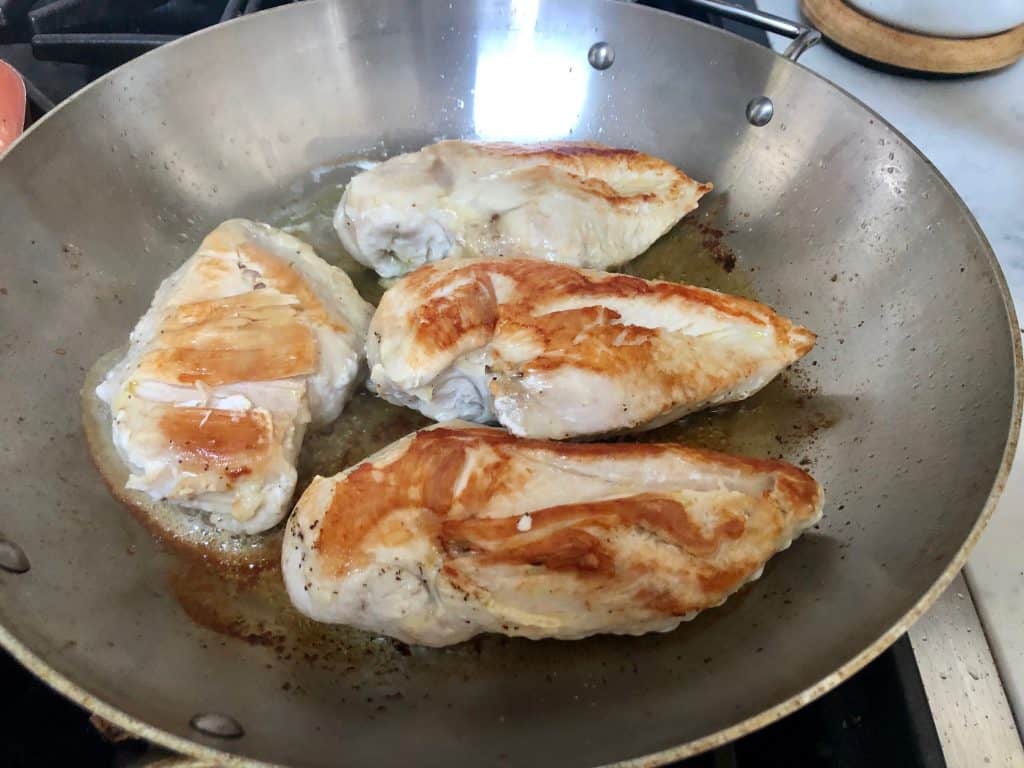 You can fry the chicken breasts, grill them or even bake them. I chose to fry them here. About 7-10 minutes a side for thicker ones like this.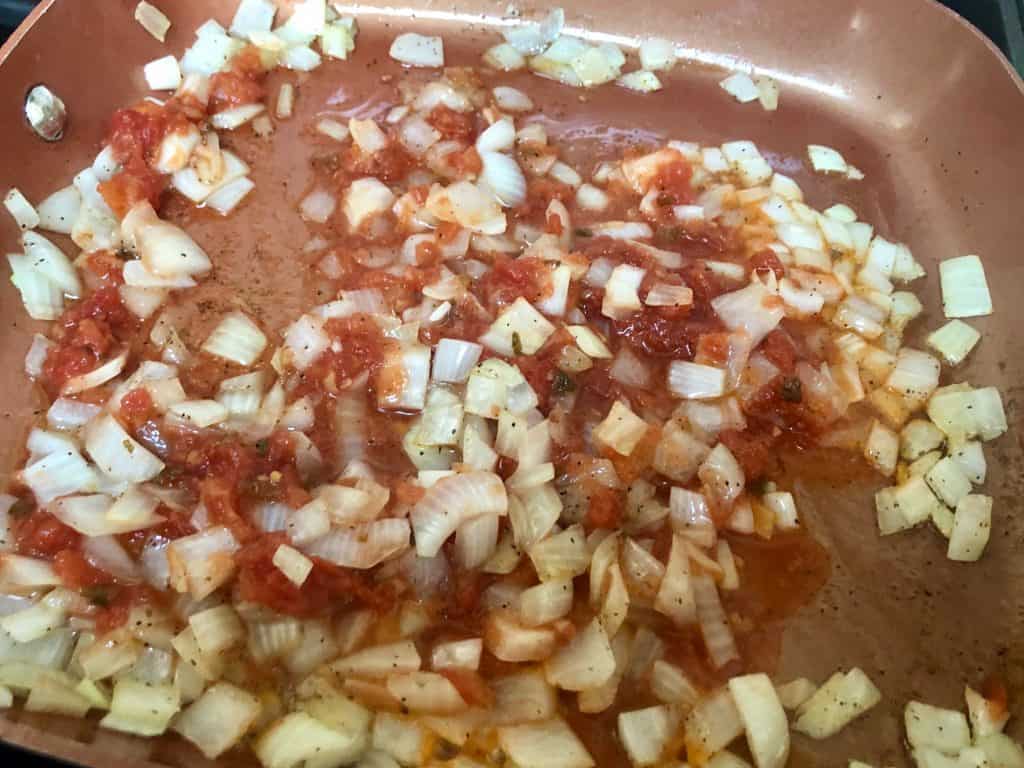 While the chicken cooks, I fried up some onions in a separate pan. Added a little salsa to give it some nice flavor. Once they're done, set them aside for later.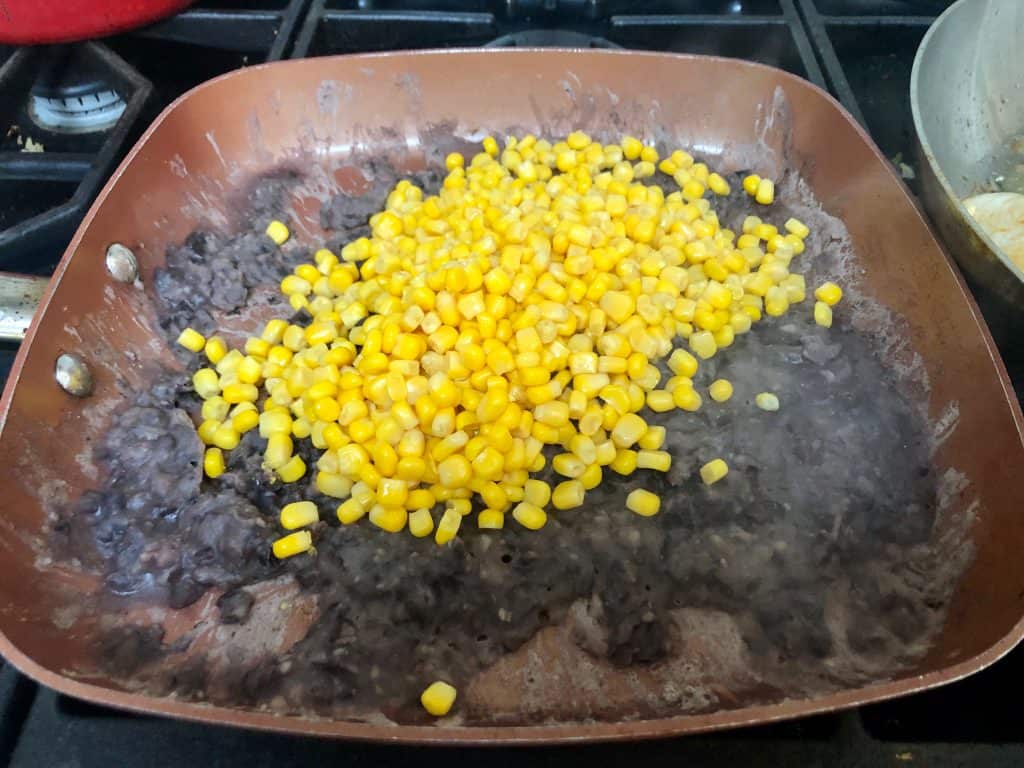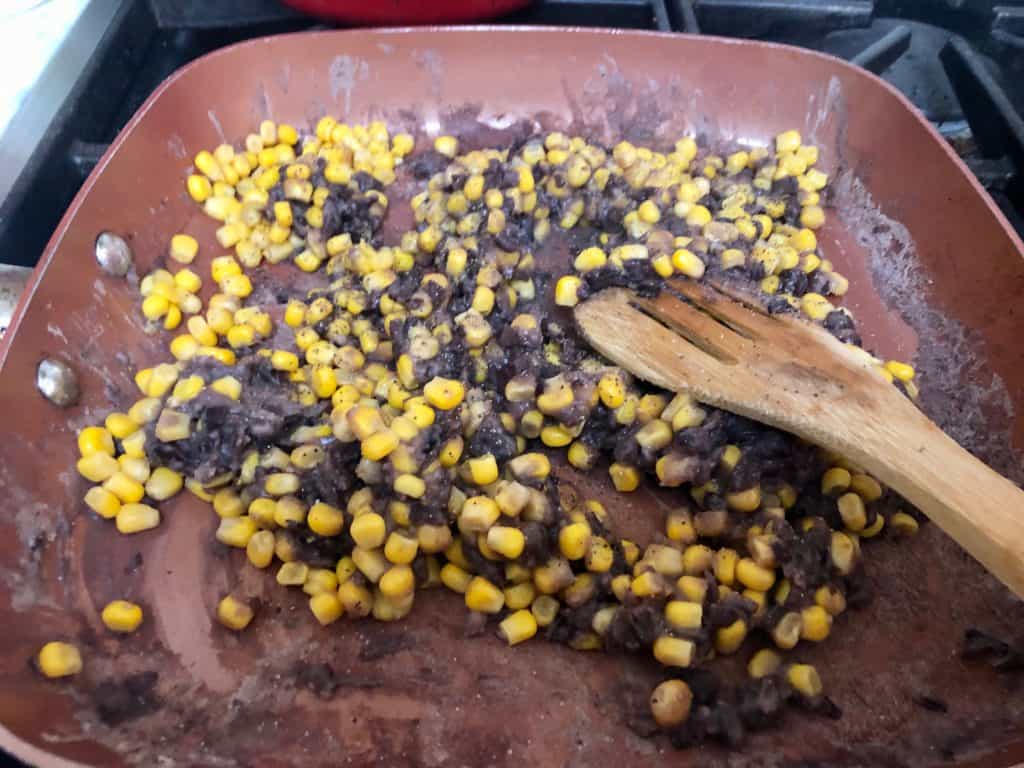 In the same pan I used to cook the onions, I added some black beans and started cooking them up. I like to mash my black beans so my kids don't know they're in there hehehe. It's a good little trick I learned a while back and what's that saying…"if it ain't broke, don't fix it". Add some corn and mix together.
---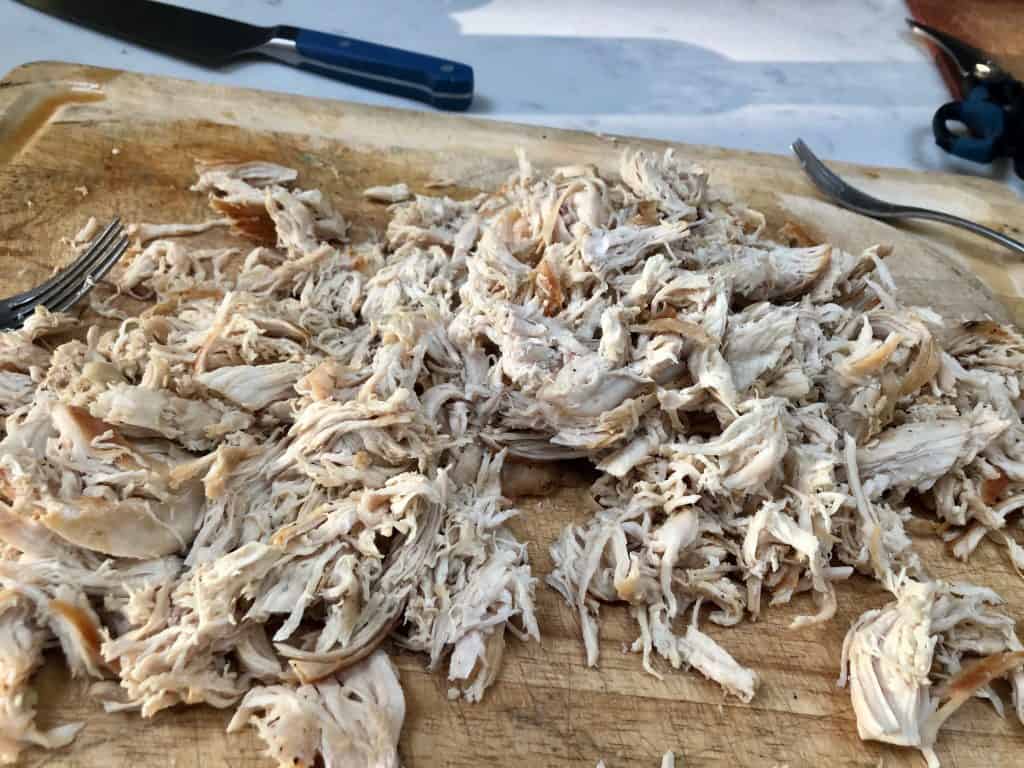 Once the chicken is cooked, let it sit for at least 5 minutes. Then with 2 forks, start shredding the chicken.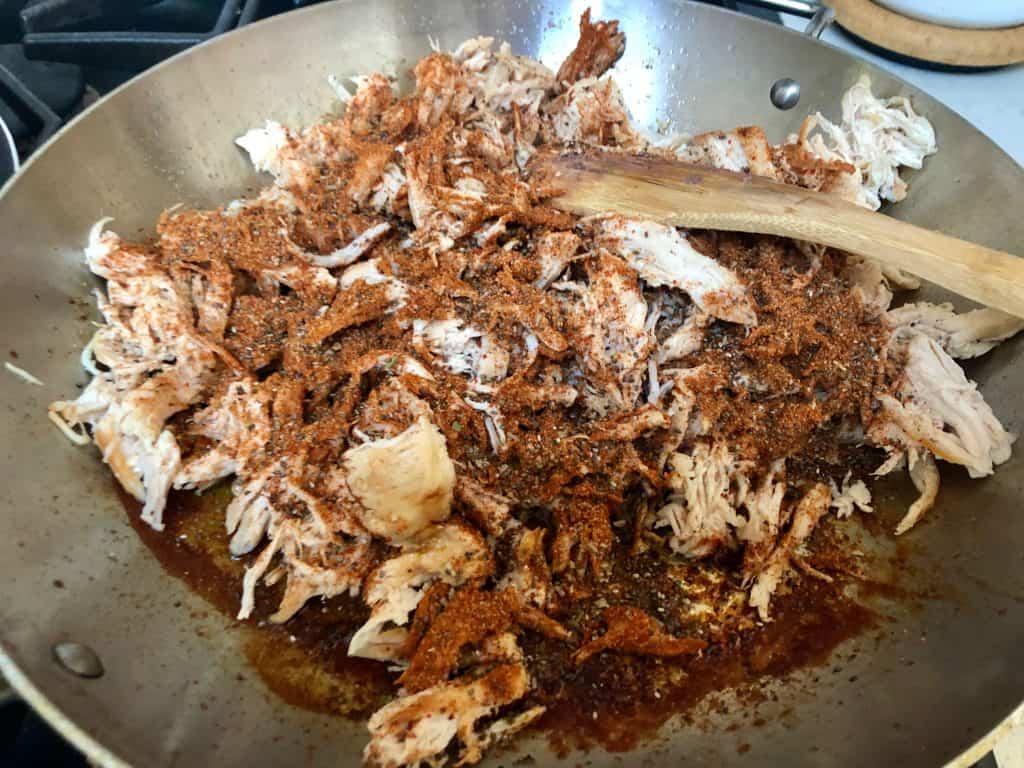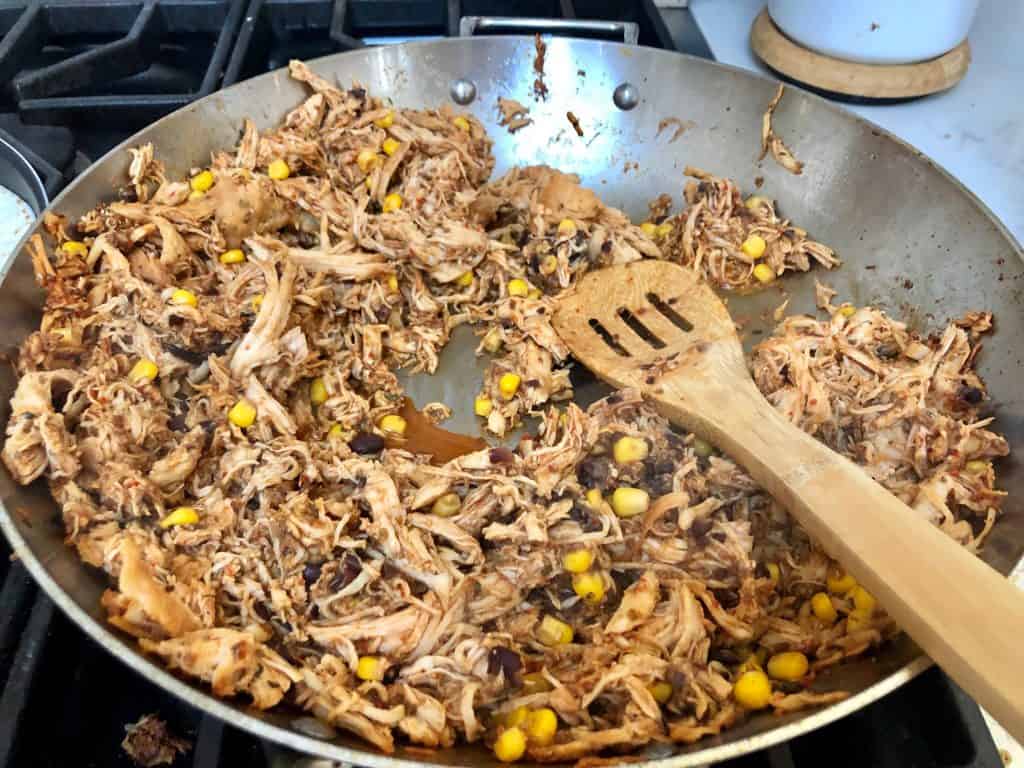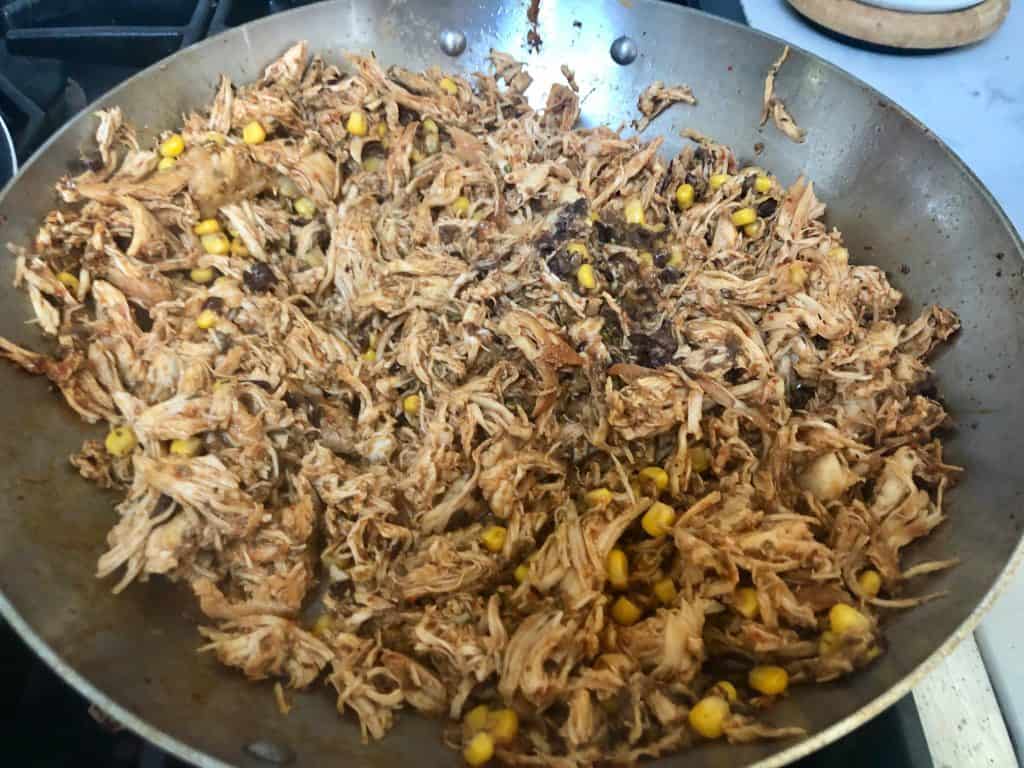 After the chicken is shredded, transfer it back to the pan. Add the seasoning, the corn and bean mixture, and the onions and salsa to the chicken mixture. Mix all together and cook until everything is heated through.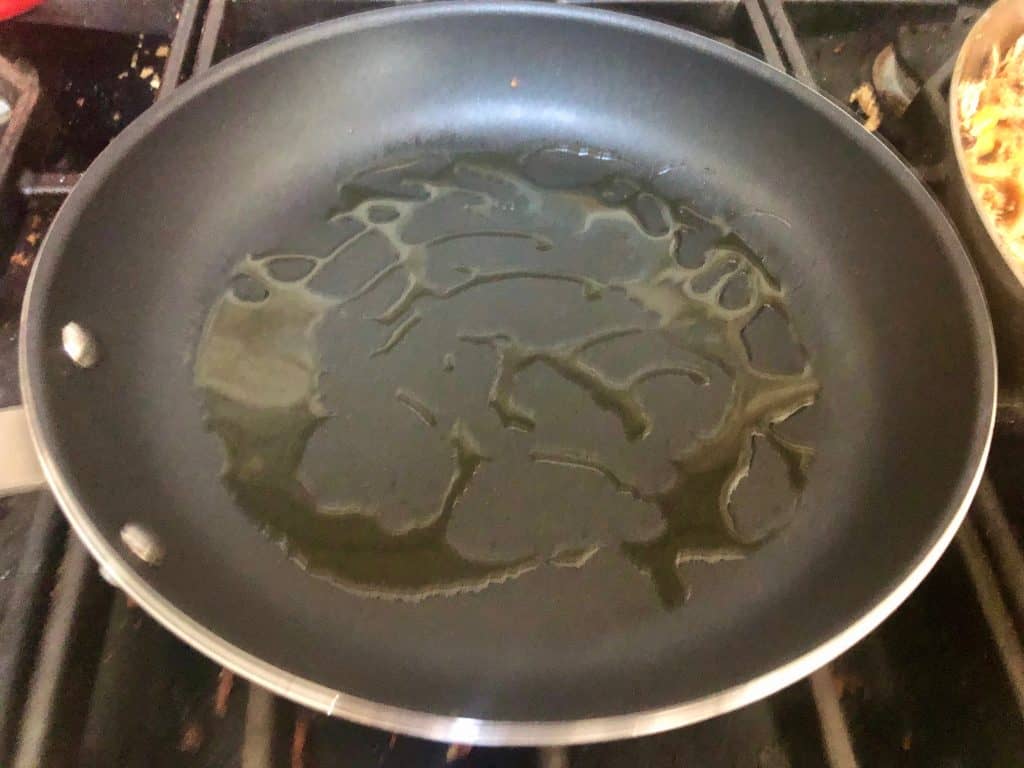 Now it's time for the fun part. Heat some olive oil in your best non-stick pan and start making your quesadilla.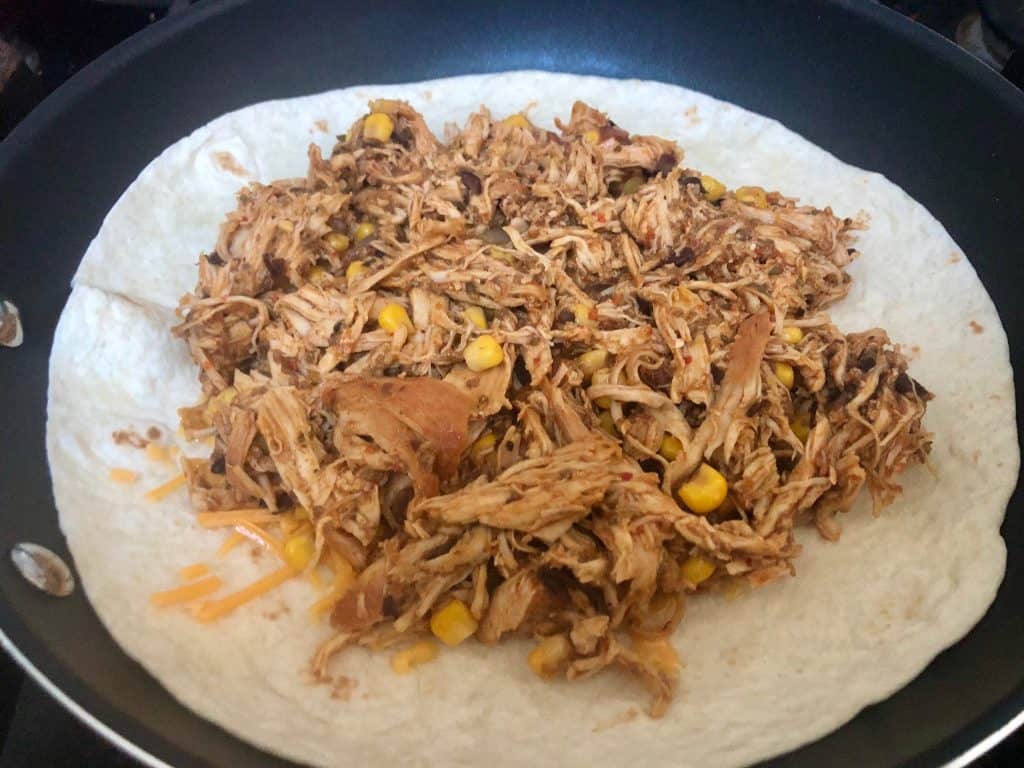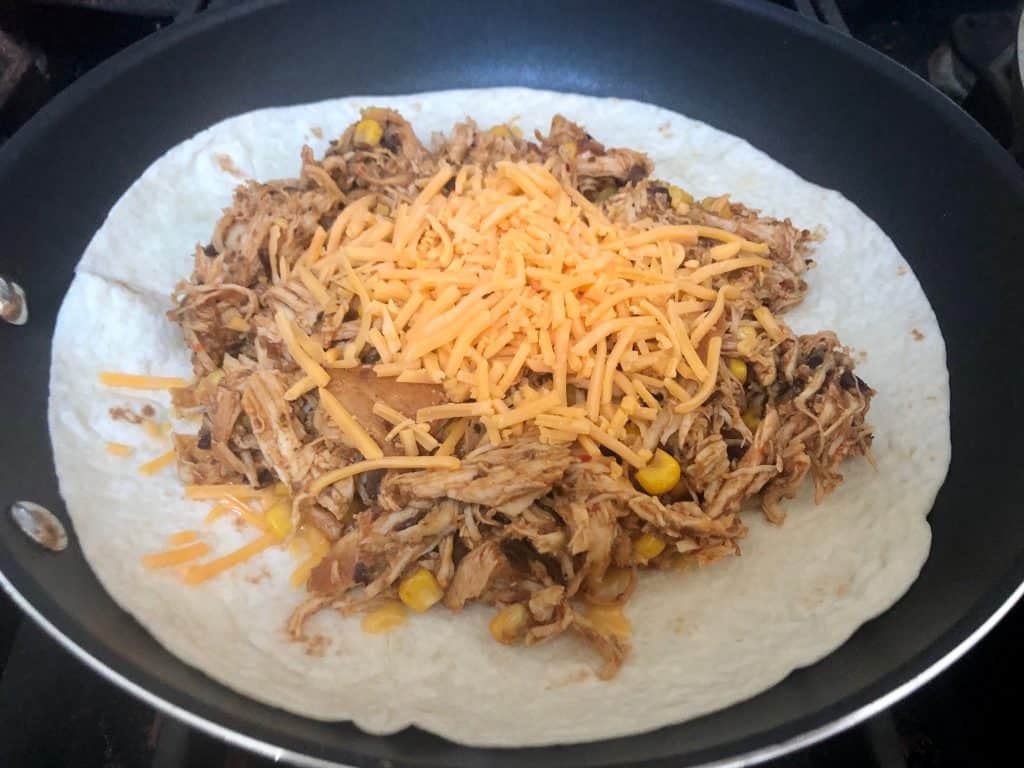 Add one tortilla to the pan with the heated oil and start building your quesadilla. First the cheese, then the chicken mixture with the salsa and beans, and then finally topped with more cheese.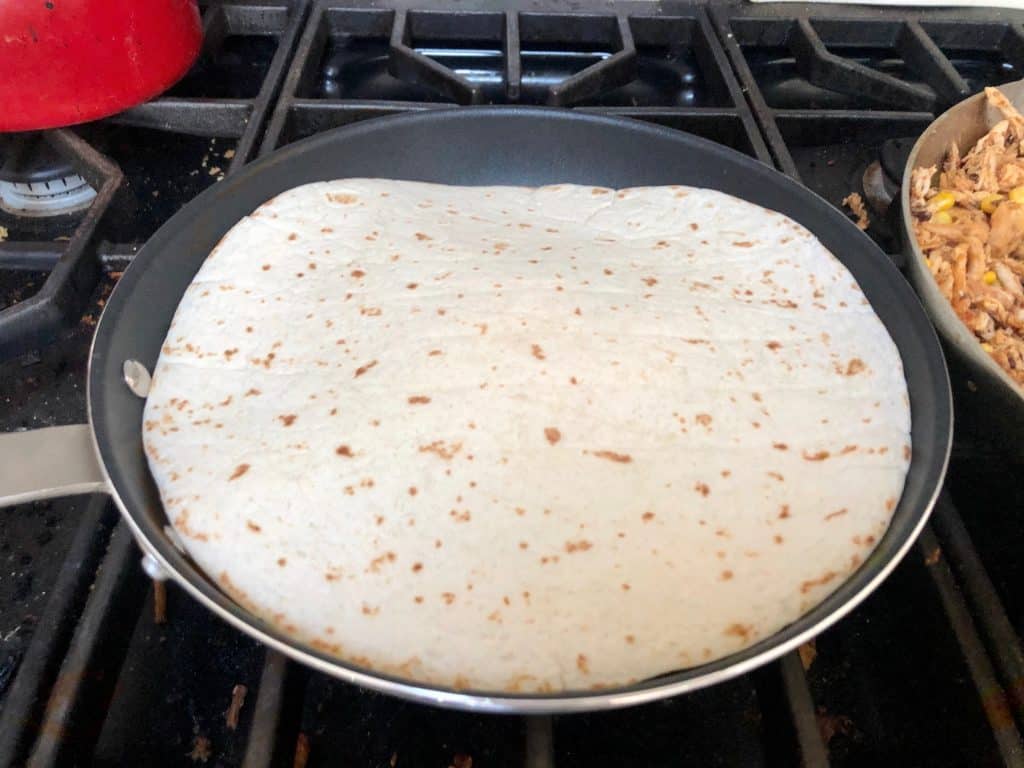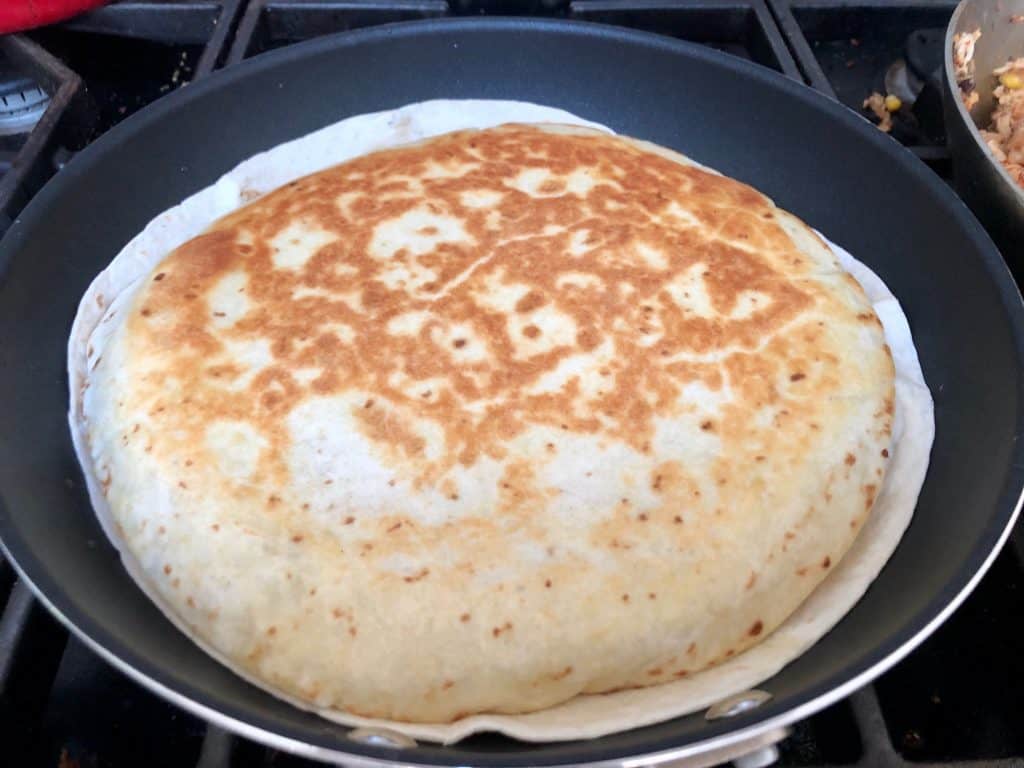 Cover with another tortilla and cook. 2-3 minutes a side, then flip.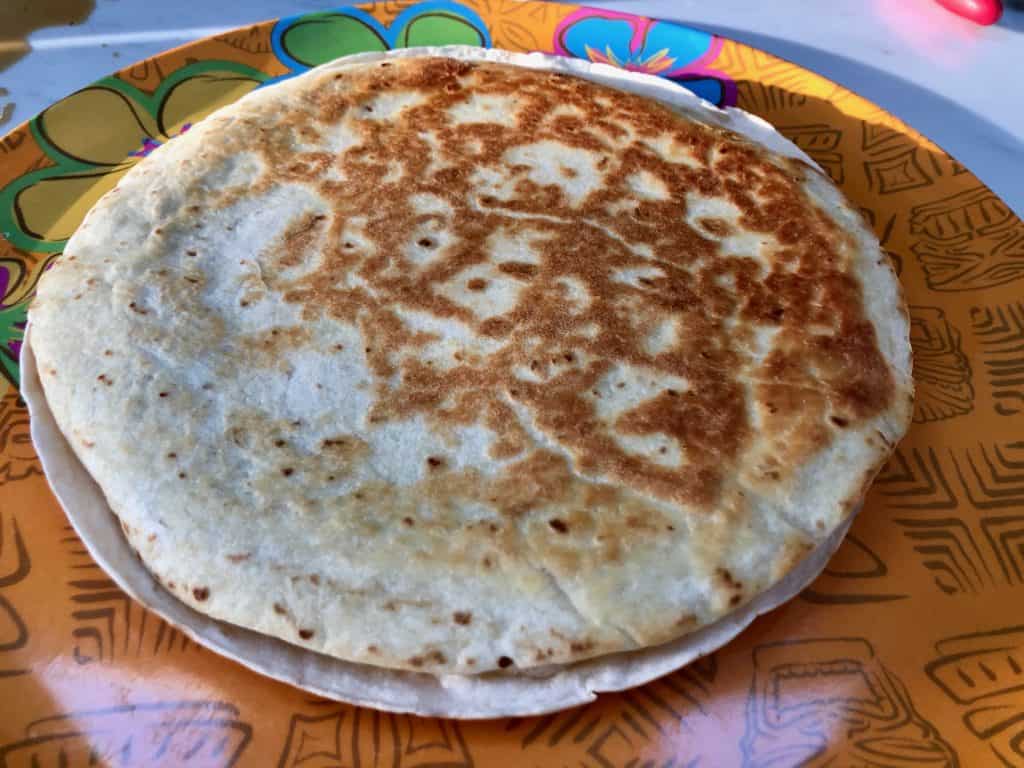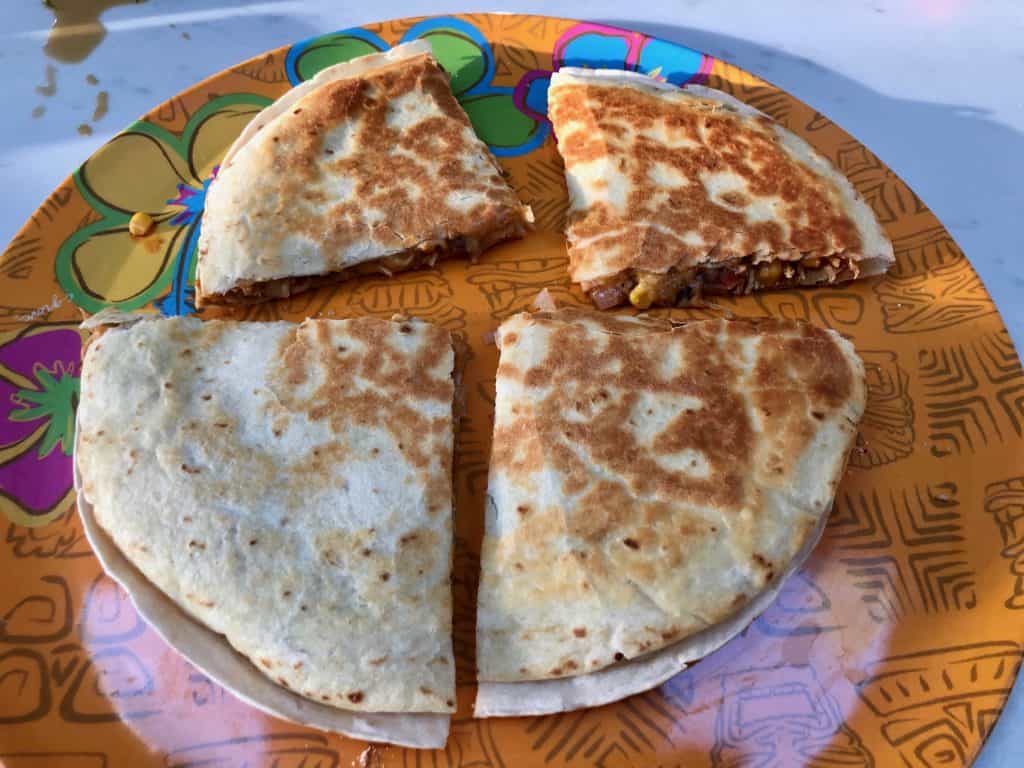 Yummy!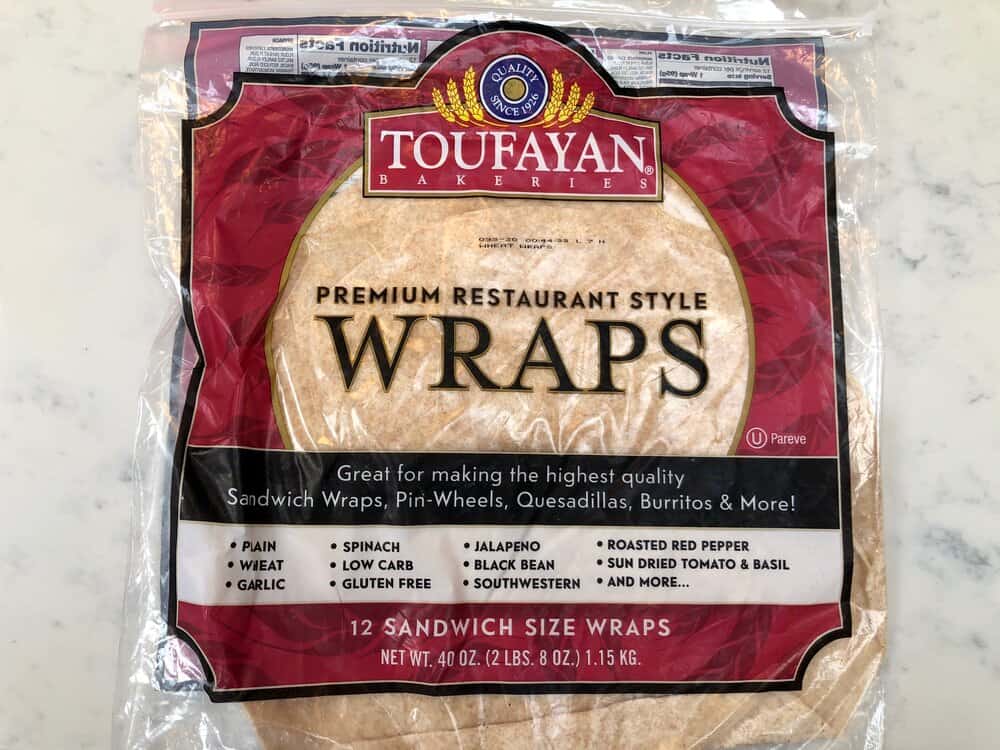 I used these MONSTER wraps from Toufayan Bakeries. I usually don't make my quesadillas with wraps this big, but they worked out great!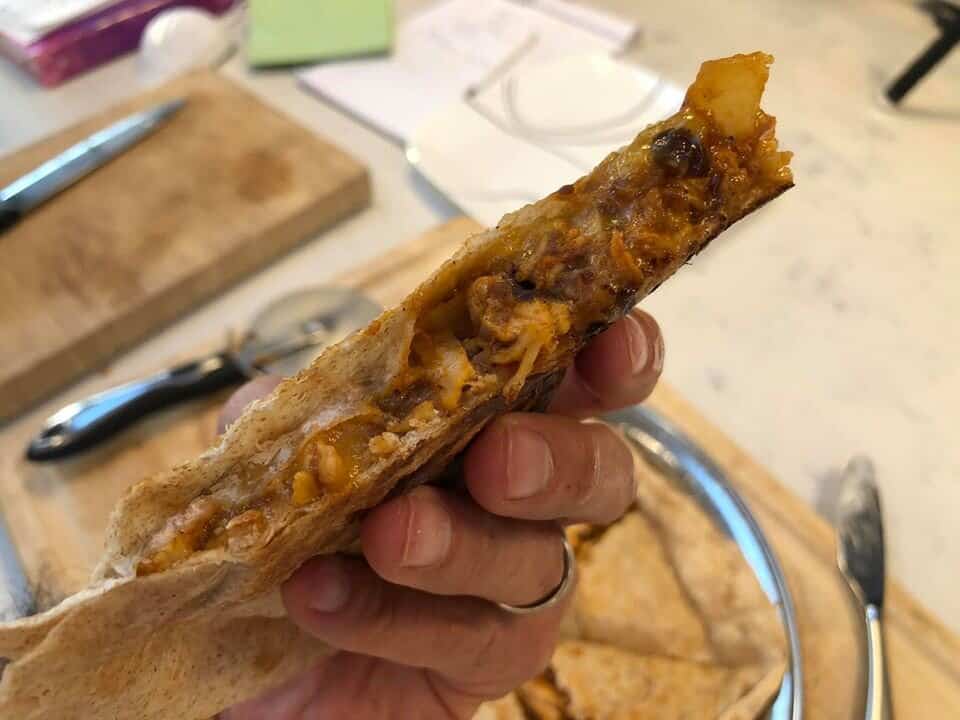 Hand-held dinners are some of my favorites!
---
Tools I used in this recipe:
Riveira Wooden Cooking Utensils
---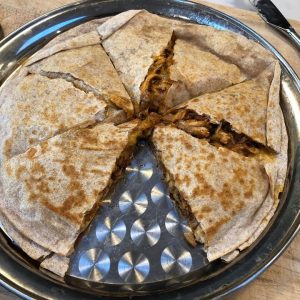 Easy Chicken Quesadilla
Oh man…enjoy this recipe! This easy chicken quesadilla recipe is not only delicious but fun to make with the entire family. Go big or go home is my motto with this one.
Ingredients
2

lbs

chicken breast

boneless, skinless

1

cup

onion

chopped

1

cup

salsa

15

oz

black beans

canned

3

cup

cheddar cheese

shredded; can use other types

2

tbsp

butter

1

cup

water

can use chicken broth too

15

oz

corn

canned or fresh; optional

salt

to taste

pepper

to taste

large tortillas
Seasoning
1

tbsp

chili powder

1

tsp

ground cumin

1

tsp

garlic powder

½

tsp

paprika

½

tsp

oregano

1

tbsp

chia seeds

or flaxseed meal
Instructions
Cook the chicken – pat chicken breasts dry and season with salt & pepper. Heat 2 Tbsp of olive oil over medium heat. Add chicken breasts (working in batches if you need. Cook about 6-7 minutes a side or until cooked through. Set aside and let cool for 5 minutes.

Using the same pan that you used to cook the chicken – heat another 2 tbsp of olive oil. When hot, add the onions. Cook for 2-3 minutes until tender. Add the salsa and heat through.

Add the black beans and cook for another 3-4 minutes (mash beans if your kids are picky, like mine and won't eat a full bean). Add the corn and heat through.

While the beans are cooking, shred the chicken. Taking two forks, start pulling the chicken away from each other until it shreds.

Add the shredded chicken back into the pan. Add the seasoning while slowly adding some of the water or broth (if needed) to prevent the chicken and seasoning from sticking. Toss to cook until the chicken is warm

While the chicken warms, heat 1 tbsp of olive oil in a non-stick pan (large enough to cook the tortilla) on medium heat. Place the tortilla in the pan when oil is heated.

Add a cup of the grated cheese on top of the tortilla, then add some of the chicken, then another layer of cheese and then the 2nd tortilla.

Cook one one side of the tortilla for about 3-4 minutes. Careful not to burn. Then flip (using a plate if need be) to the other side and cook for another 3-4 minutes.
Notes
Cut into small pieces and serve with toppings of your choice.  Enjoy!
---