Adapted from Blue Apron
Disclosure: Please note that some of the links below/on the side are affiliate links and I will earn a commission if you purchase through those links. I have used all the products listed and recommend them because they are helpful and are companies that I trust, not because of the commissions that I may earn from you using these products.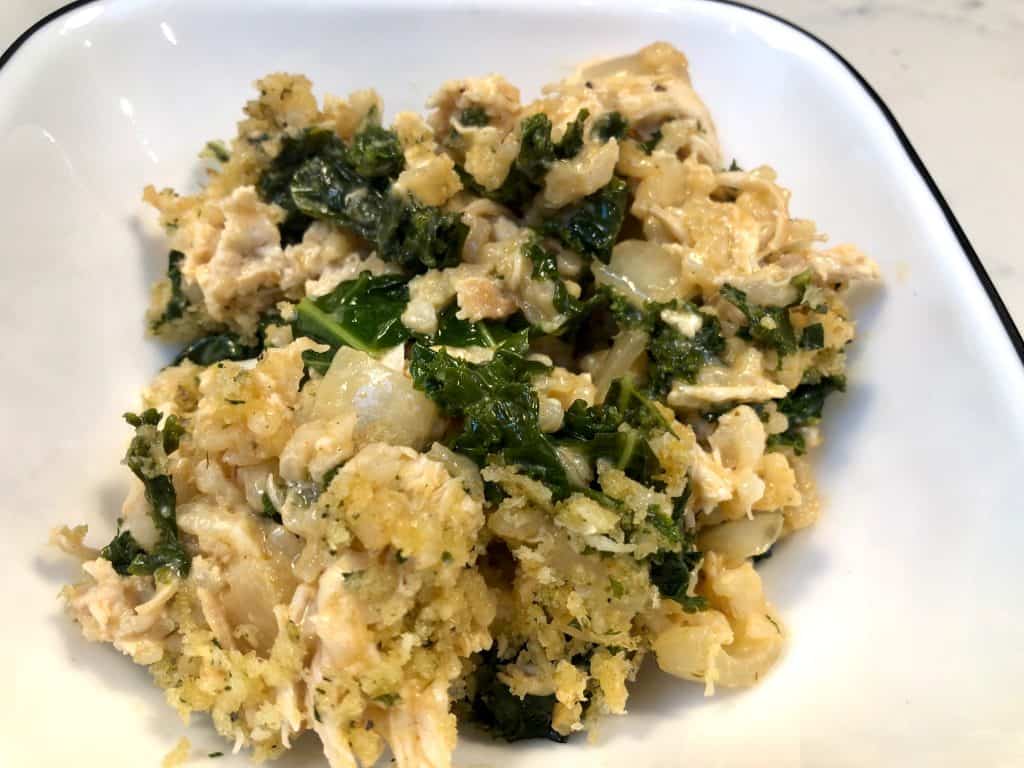 This Chicken and Kale Casserole has been a favorite of ours for years. Blue Apron hit the nail right on the head with this one – tender, juicy chicken, crisp kale, and fluffy rice all smothered in a milky, cream sauce. Hits the spot everytime!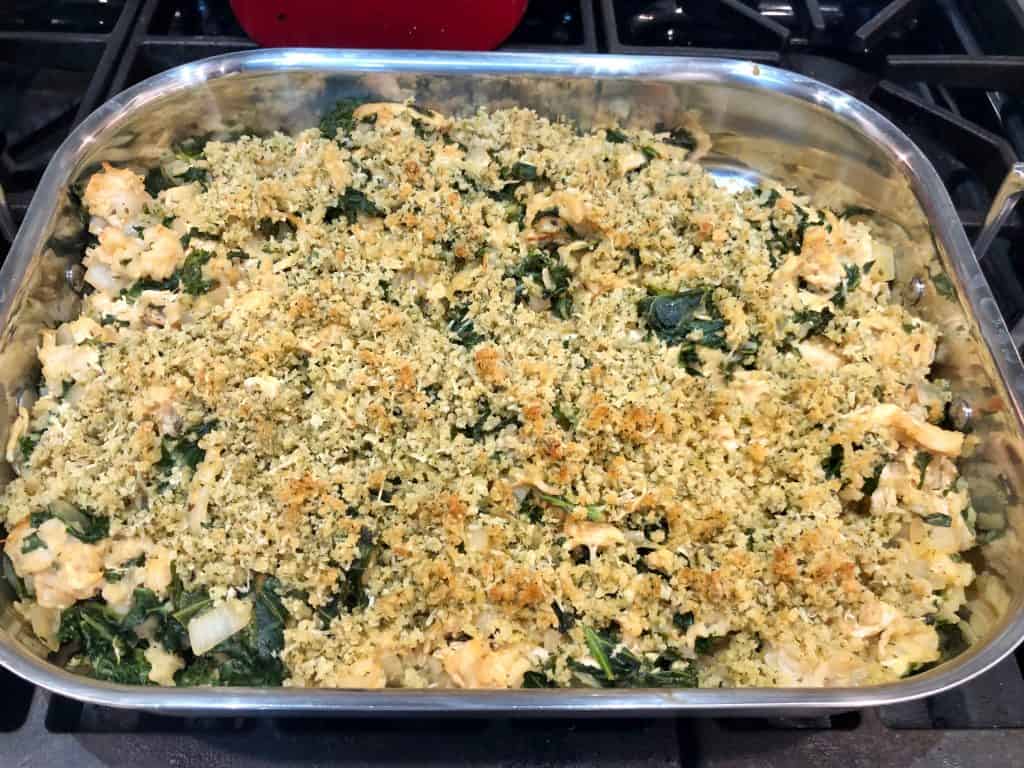 Dubbed 'Chicken Quarantini' by my good friend Joe Fortino and his family, this baked comfort food is likely to become a staple in your dinner repertoire! Bring your appetite.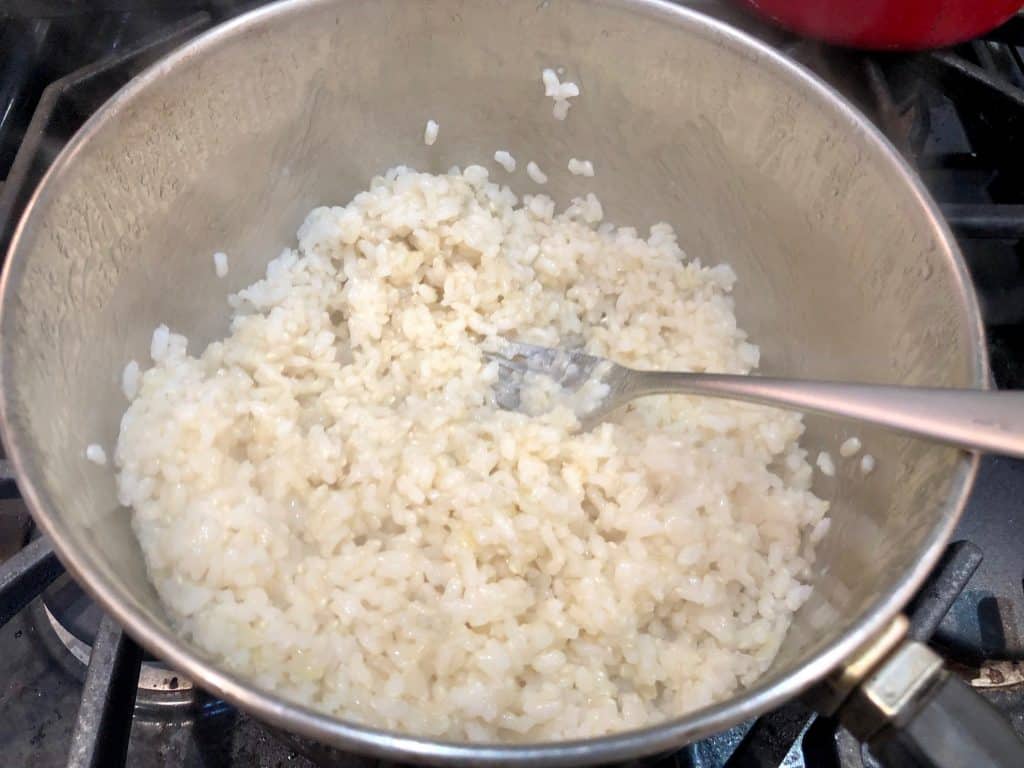 Preheat the oven to 400 degrees and star cooking the rice first. Once it's done, fluff it with a fork, keep covered and set it aside. We'll come back to it later.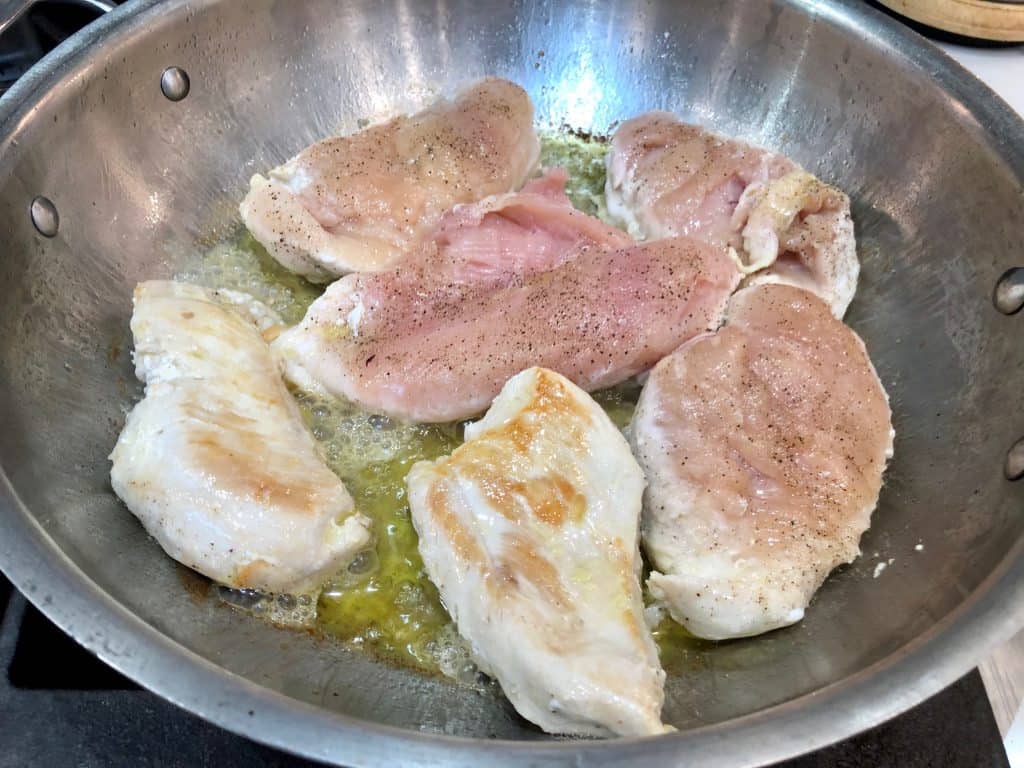 While the rice cooks, grab a large pan and start frying the chicken in a little oil. I used my All Clad Stainless Steel pan for this recipe. I've had it for years…it's taken a beating but keeps on ticking.
I used Olive Oil to fry the chicken, but it's your preference here. Once it's done, remove from the pan and set it aside for at least 5 minutes.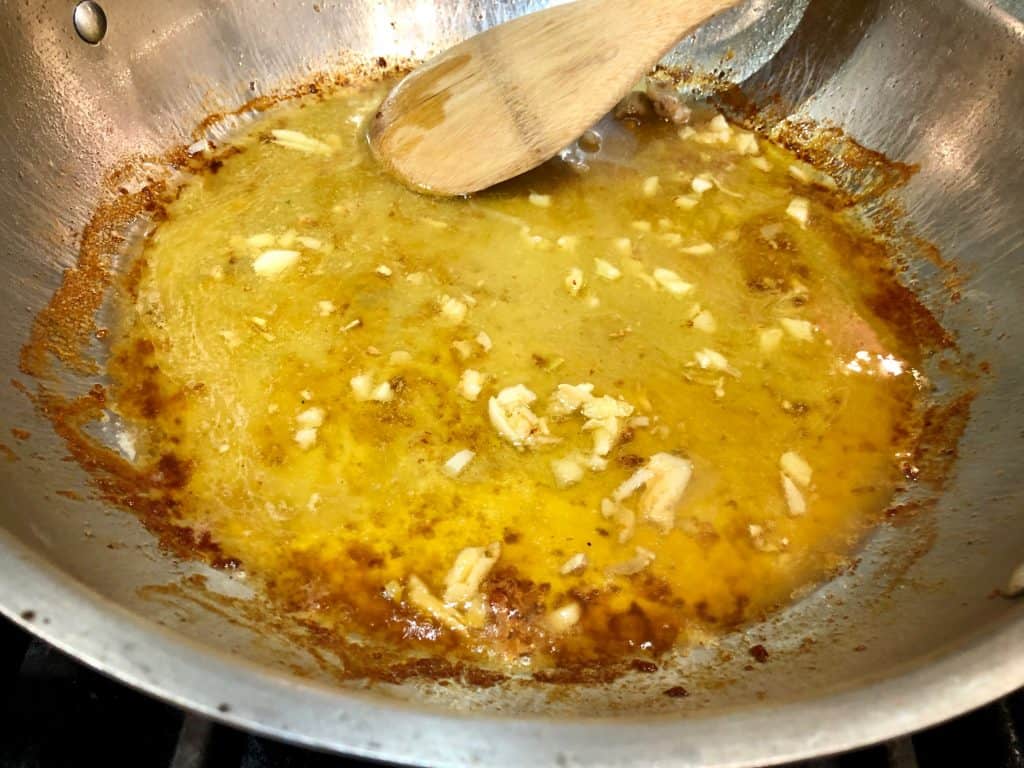 (Optional Step) Add the white wine to the pan used to cook the chicken. Deglaze, scraping up any bits of left over chicken and bring to a boil. Once boiling, drop the heat and add the garlic.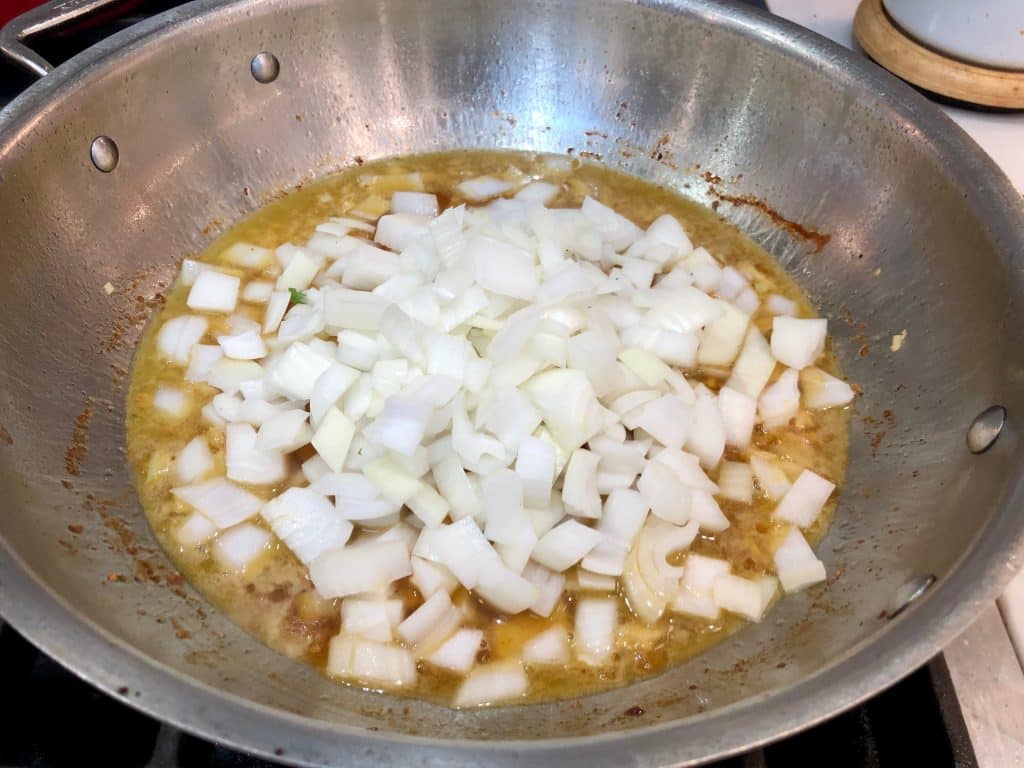 Add the onions and cook for about 2-3 minutes until they begin to soften.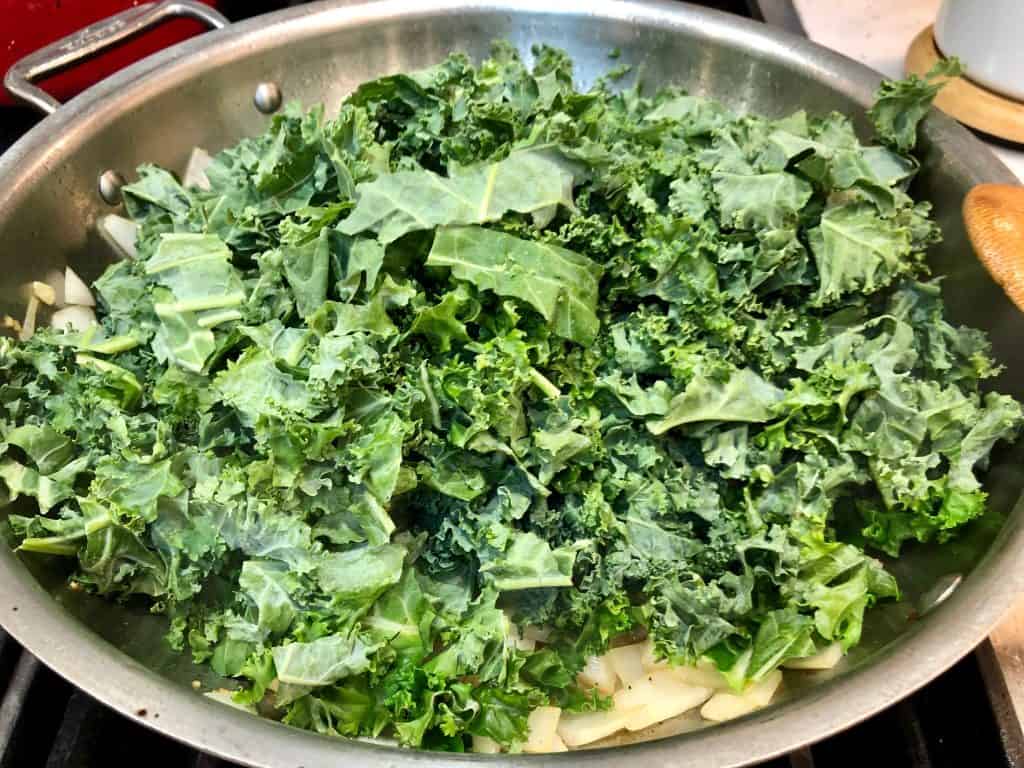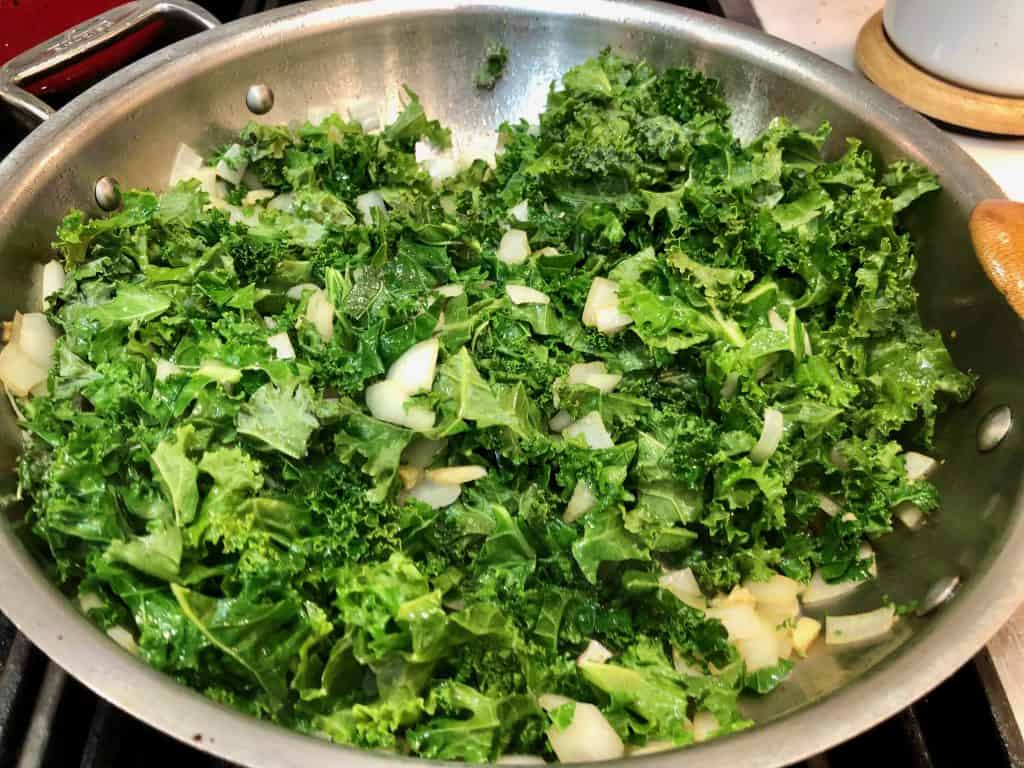 Add the kale to the pan of cooked onions. Cook, mixing frequently until the kale begins to wilt.
Kale is one of my ABSOLUTE favorite vegetables. What's not to love about it? It's healthy, it's versatile, and it tastes great! Mixed in with chicken and brown rice and topped with breadcrumbs…it's hard to imagine a tastier way to eat it!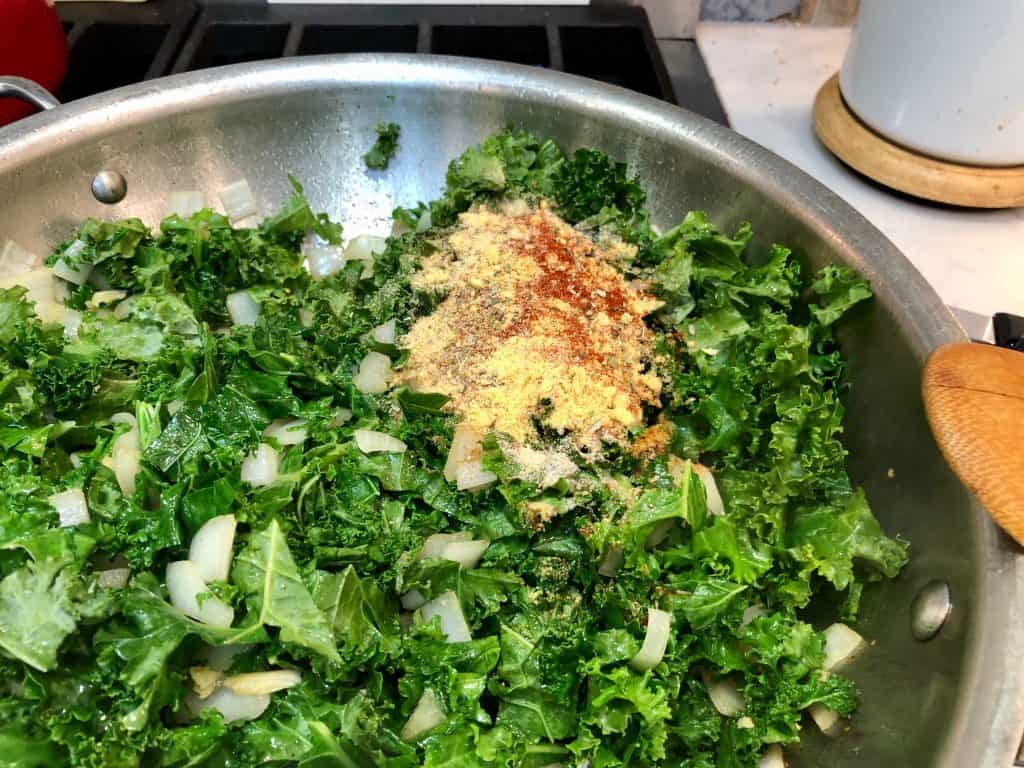 Add the seasoning.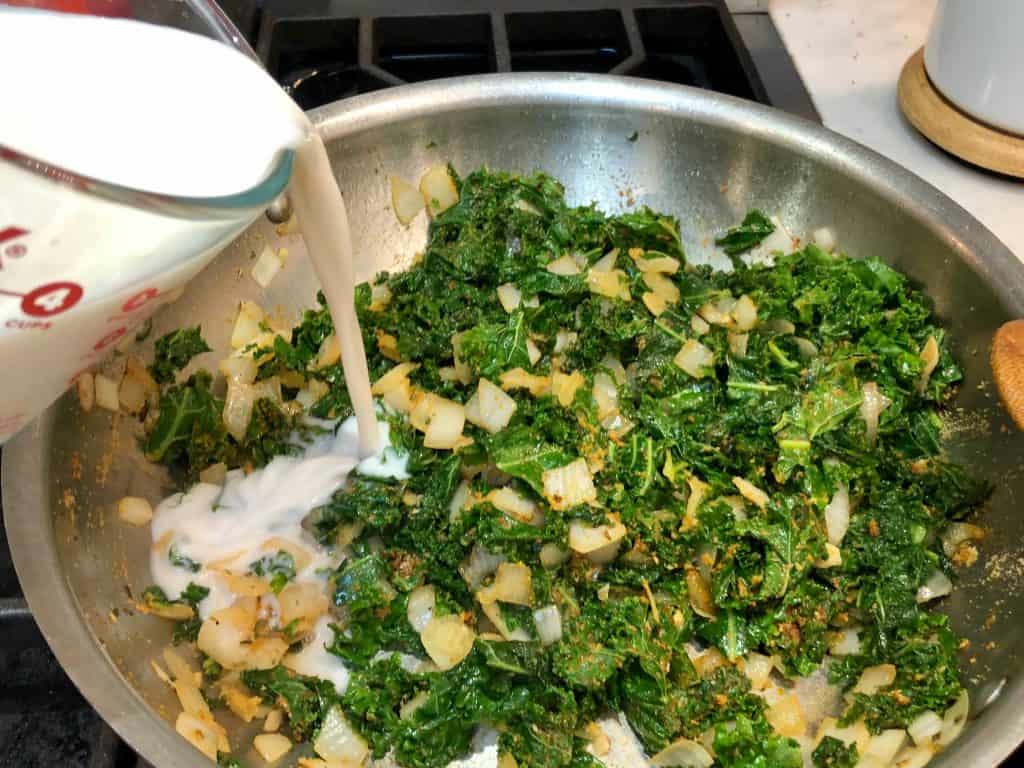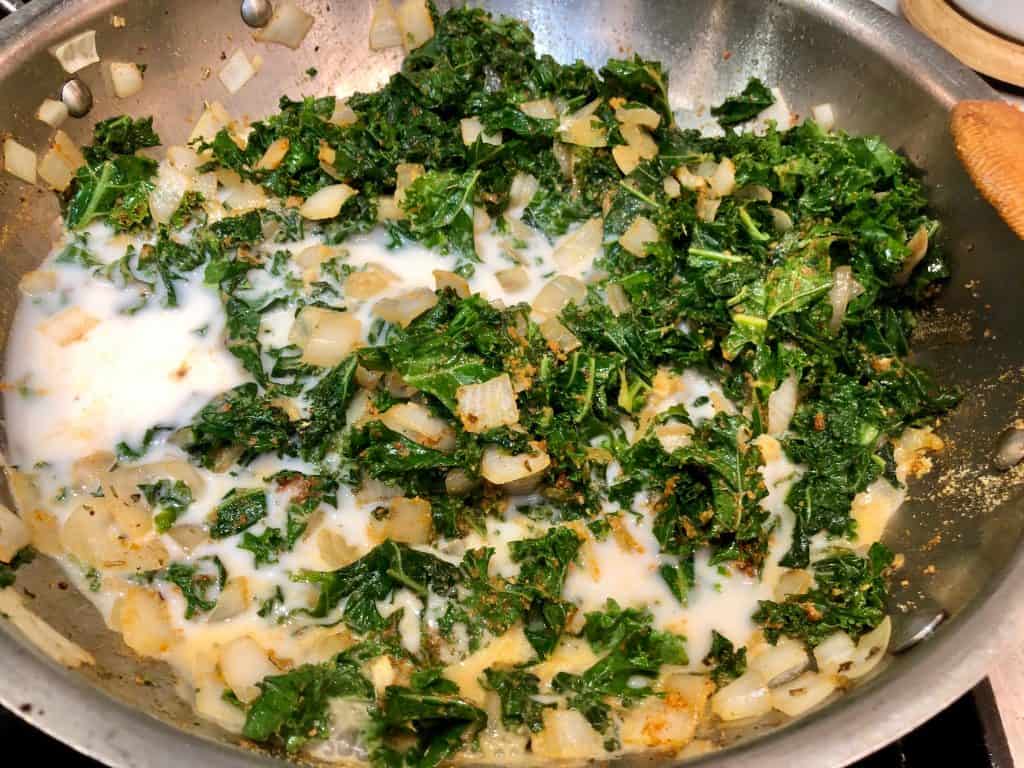 Add the milk, whisking as you pour. Keep on medium heat and cook until it begins to thicken.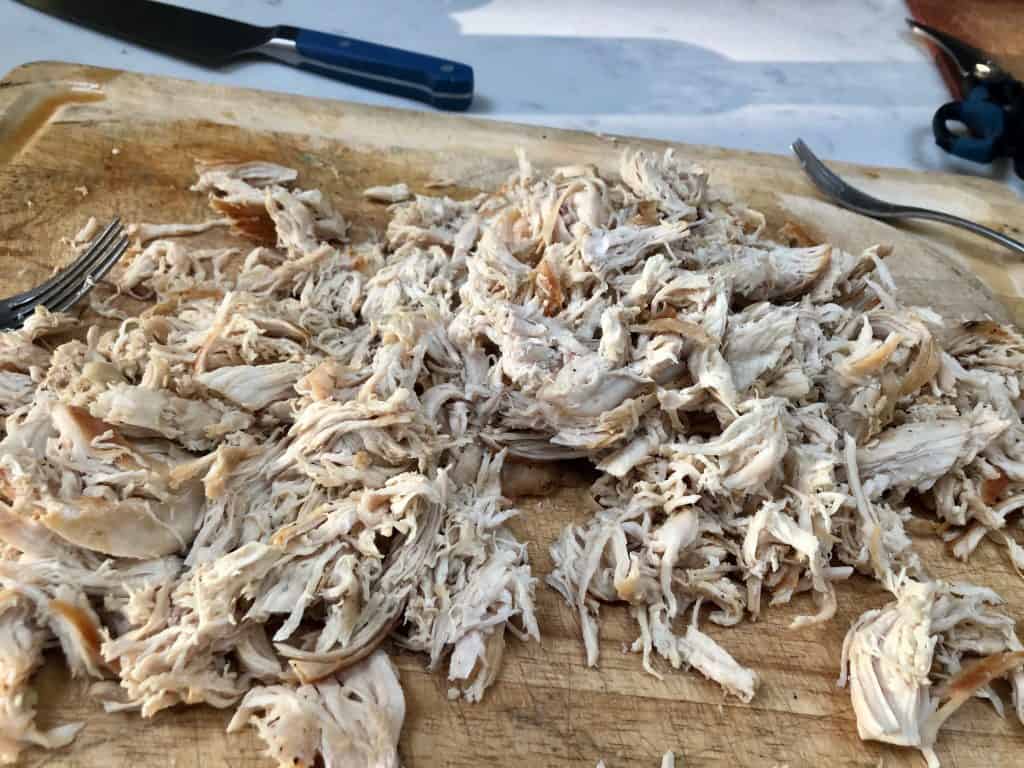 While the kale mixture cooks, using two forks, start shredding the chicken.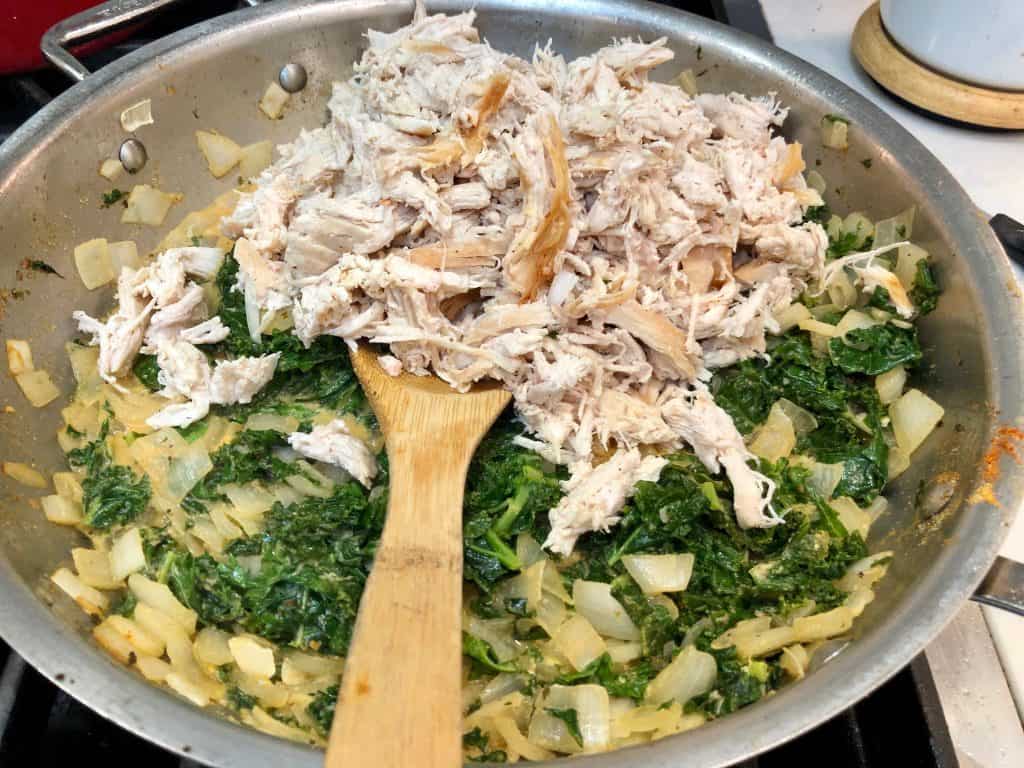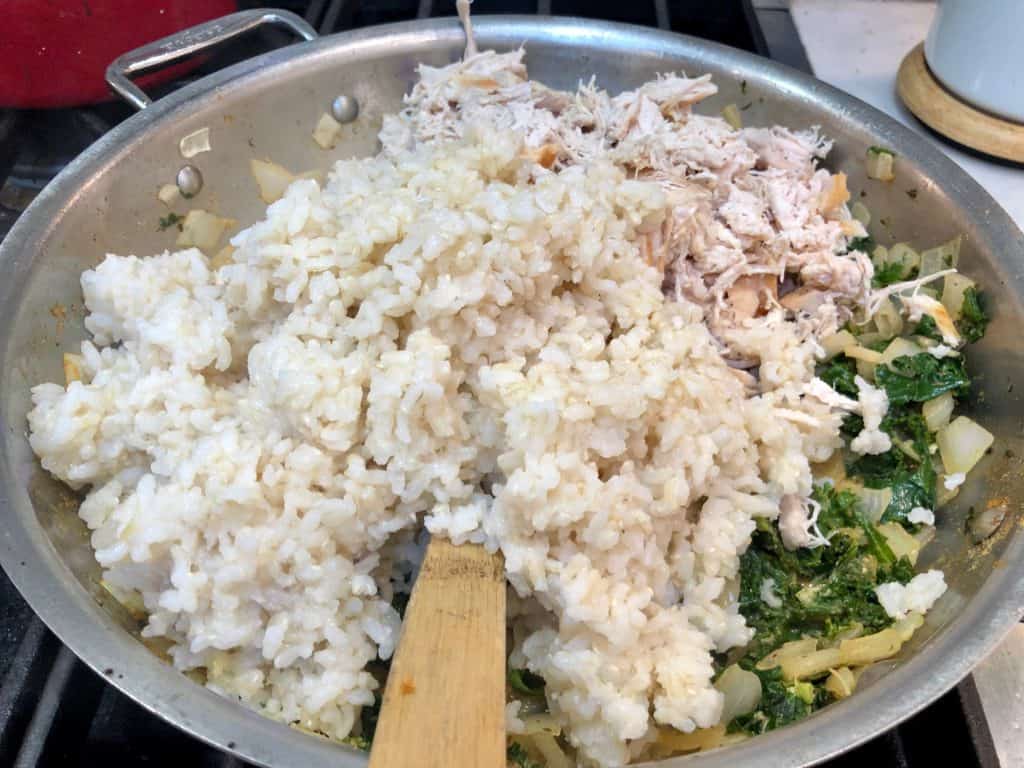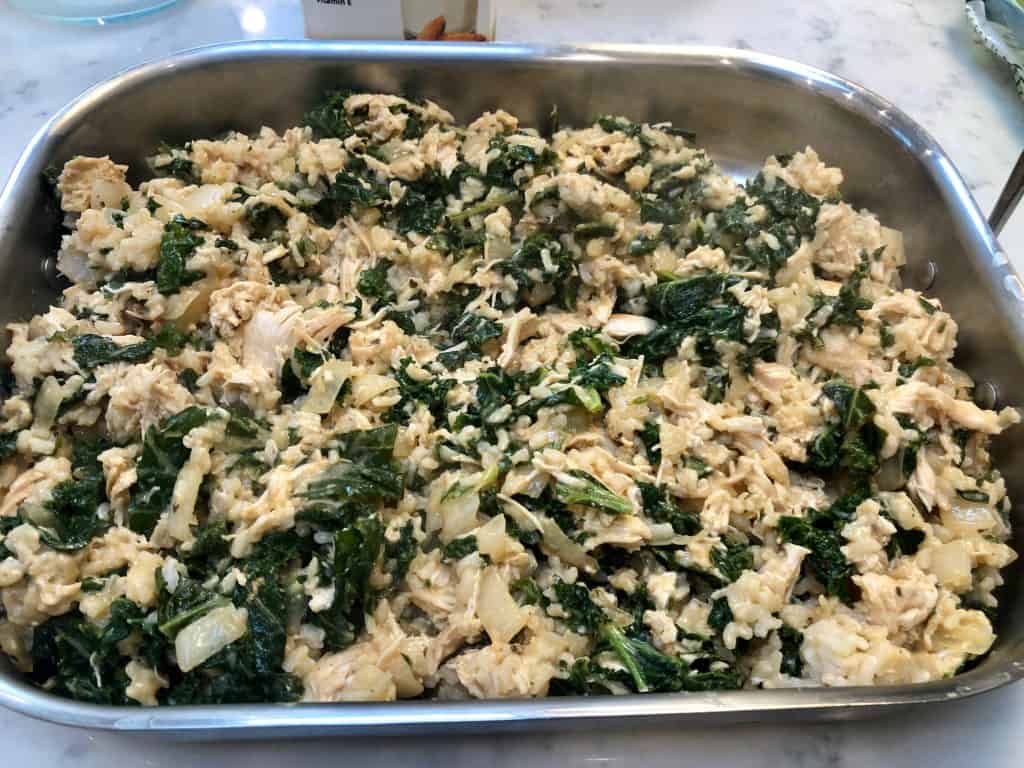 Add the shredded chicken and the rice into the pan and mix until all combined. When it's all combined, add it to a large baking dish or lasagne pan.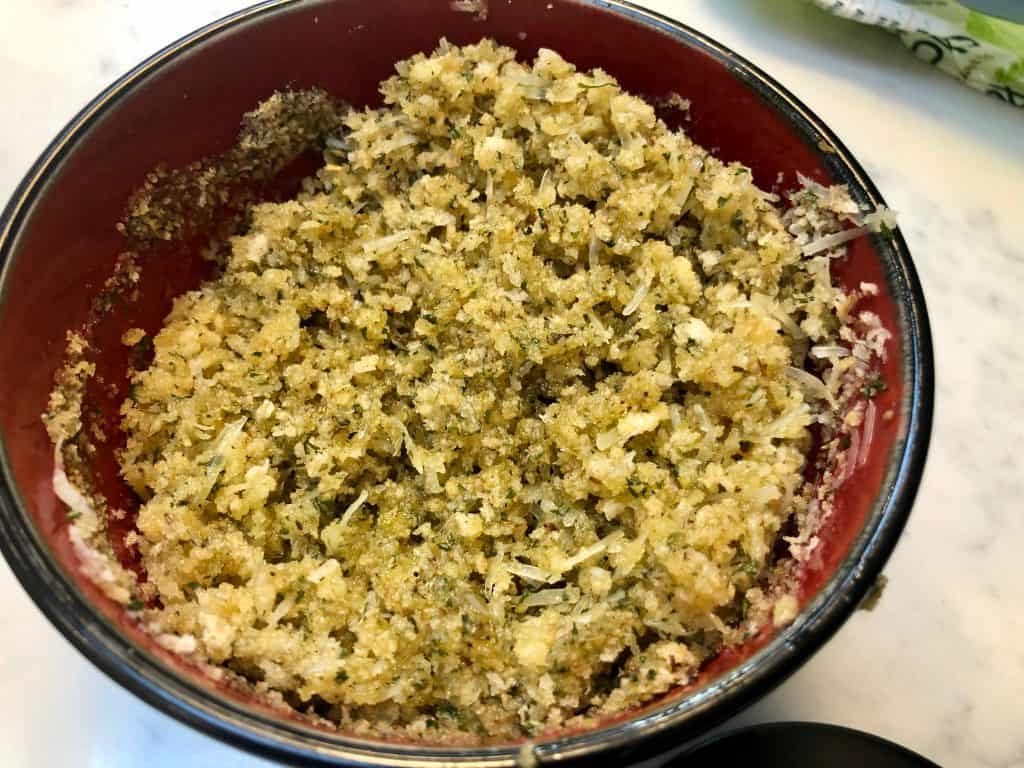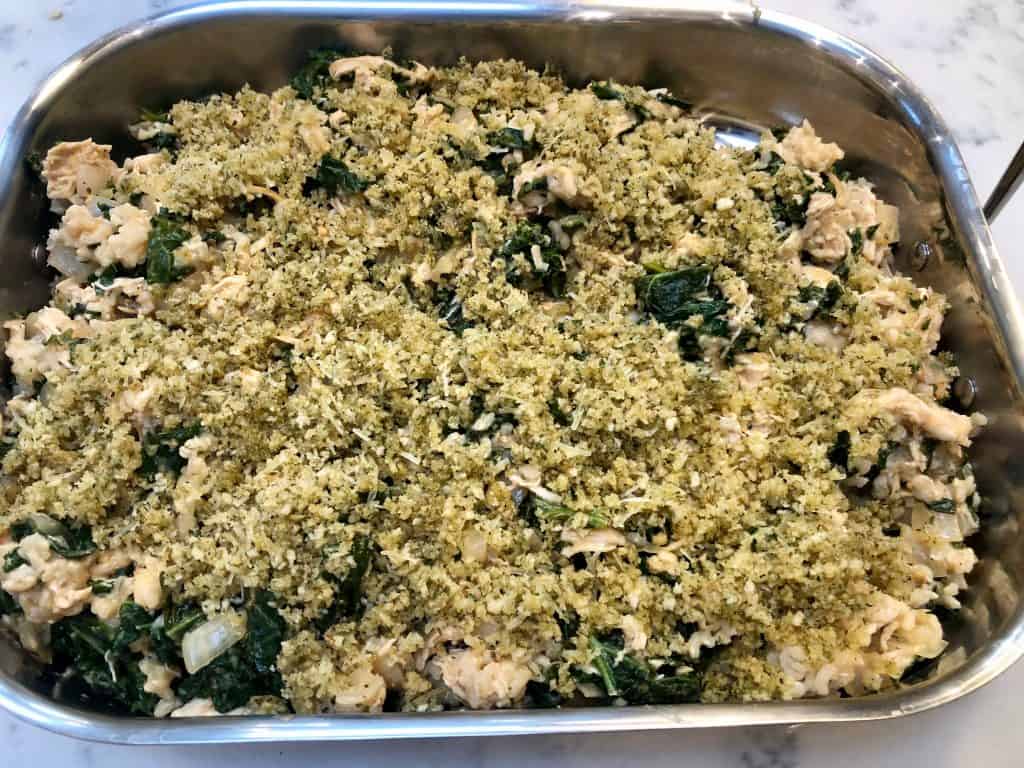 Combine some Panko breadcrumbs and some parmesan cheese and slowly whisk in enough olive oil to give it a nice, moist texture. Sprinkle it all over the top of the casserole.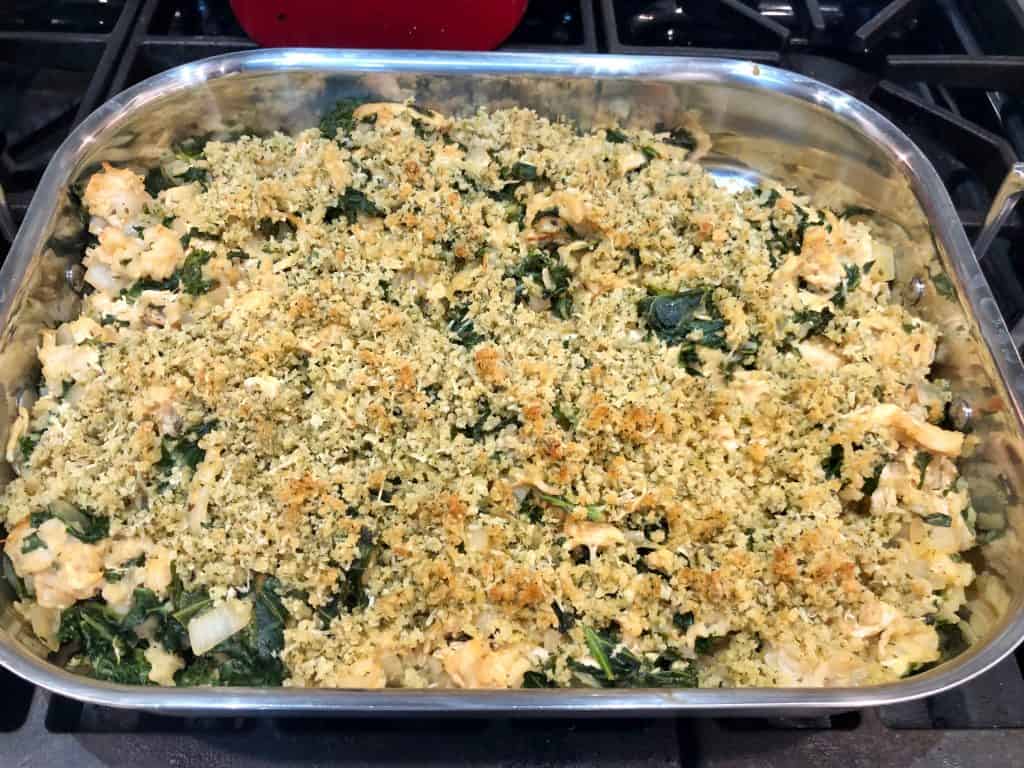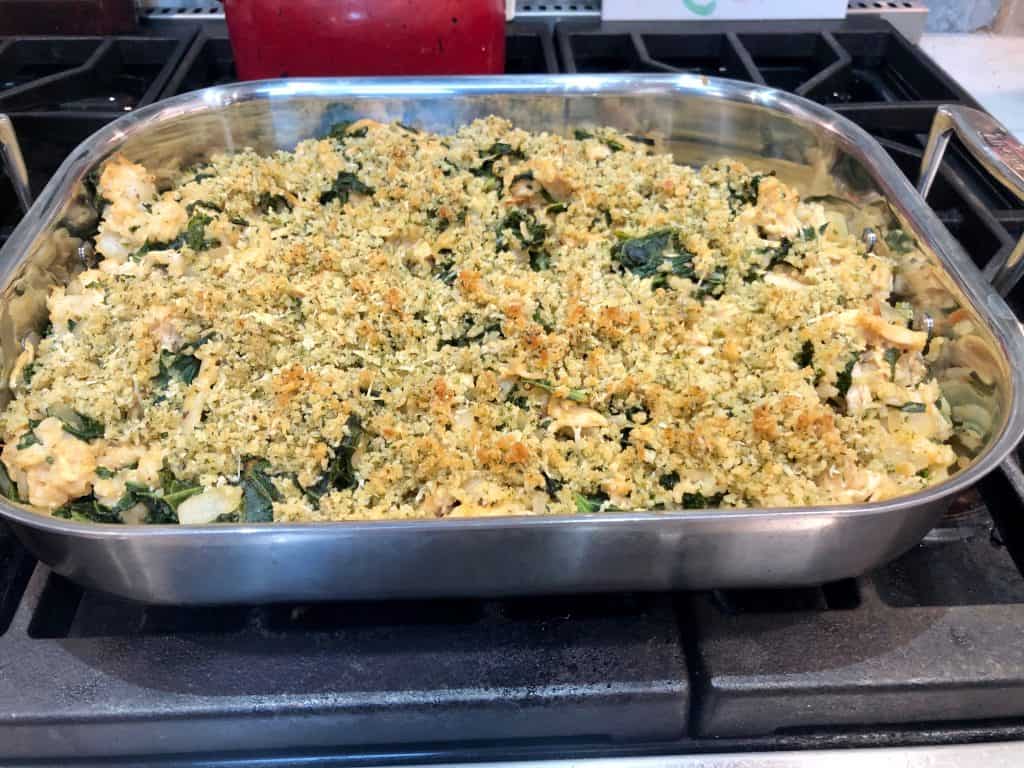 Bake for 10-15 minutes and you're home free!
---
Tools I used in this recipe:
All-Clad D3 Stainless Cookware, 12-Inch Fry Pan with Lid, Tri-Ply Stainless Steel
All-Clad E9019964 Stainless Steel Lasagna Pan Cookware, 15-Inches, Silver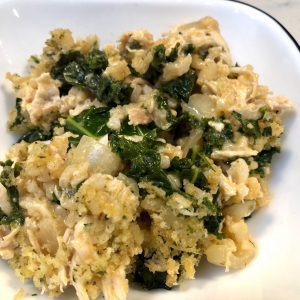 Chicken and Kale Casserole
This quick Chicken and Kale Casserole has been dubbed 'Chicken Quarantini' by my good friend Joe Fortino and his family, and is likely to become a staple in your dinner repertoire!
Equipment
Baking dish

Skillet or Fry Pan
Ingredients
2

lb

chicken breasts

boneless, skinless

1½

cup

brown rice

2

bunch

kale

no stems; chopped

2

cup

onion

chopped

3

cloves

garlic

chopped

3

tbsp

parmesan cheese

grated

1

cup

panko breadcrumbs

2

cup

milk

low-fat

1

cup

water

4

tbsp

olive oil

½

cup

white wine

dry, crisp (Optional)

¼

stick

butter
Seasoning
3

tsp

garlic powder

2

tsp

dried mustard

2

tsp

onion powder

1

tsp

smoked paprika

1

tsp

oregano
Instructions
Preheat oven to 400 degrees.

Cook the rice – in a medium sized pot add brown rice with water (follow cooking directions on rice for water amount). Cook time will vary based on the rice you're using – follow the instructions. Once rice is cooked, set aside.

Cook the chicken – pat chicken dry with a paper towel and season with salt & pepper. In a medium pan, heat about 3 tbsp olive oil. Once heated (working in batches depending on how much chicken you have), add the chicken. Cook through (about 6-7 minutes a side depending on the thickness of chicken). Set aside for at least 5 minutes.

(Optional Step) Using the same pan you cooked the chicken (or a separate one if you want), add the wine. Deglaze the pan, scrapping up all the bits and pieces left over from the chicken. Bring to a boil and drop the heat.

Add the butter. Heat, making sure not to burn, and then add the garlic. Cook for 30 seconds or 1 minute until fragrant.

Once fragrant, add the onion. Cook for about 3-4 minutes until soft.

Once onions are soft, add the kale and spice blend. Cook, mixing frequently for about 3 minutes until kale begins to wilt.

Add the milk slowly, whisking the dish as you do, and then the water. Cook, whisking from time to time, for about 5 minutes.

As the veggies cook, shred the chicken. Taking two forks, start pulling the chicken away from each other until it shreds.

Add the shredded chicken and rice into the pan of vegetables and mix all together, cooking for 2-3 minutes.

In a small bowl, add breadcrumb and grated cheese. Slowly drizzle the remaining olive oil into the mixture and mix all together until the breadcrumb/cheese mixture is fully covered with the olive oil (add more olive oil as needed). Set aside.

In a medium/large baking dish, add the chicken and vegetable mixture. Flatten out, then sprinkle the breadcrumb/cheese evenly over the dish.

Place in oven for about 10 minutes or until the breadcrumb gets toasted (watch not to burn).
Notes
Serve hot in a bowl.  Top with parmesan cheese if desired.  Enjoy!