An awesome cheesy breakfast quesadilla for dinner.
Disclosure: Please note that some of the links below/on the side are affiliate links and I will earn a commission if you purchase through those links. I have used all the products listed and recommend them because they are helpful and are companies that I trust, not because of the commissions that I may earn from you using these products.
Adapted from Favorite Family Recipes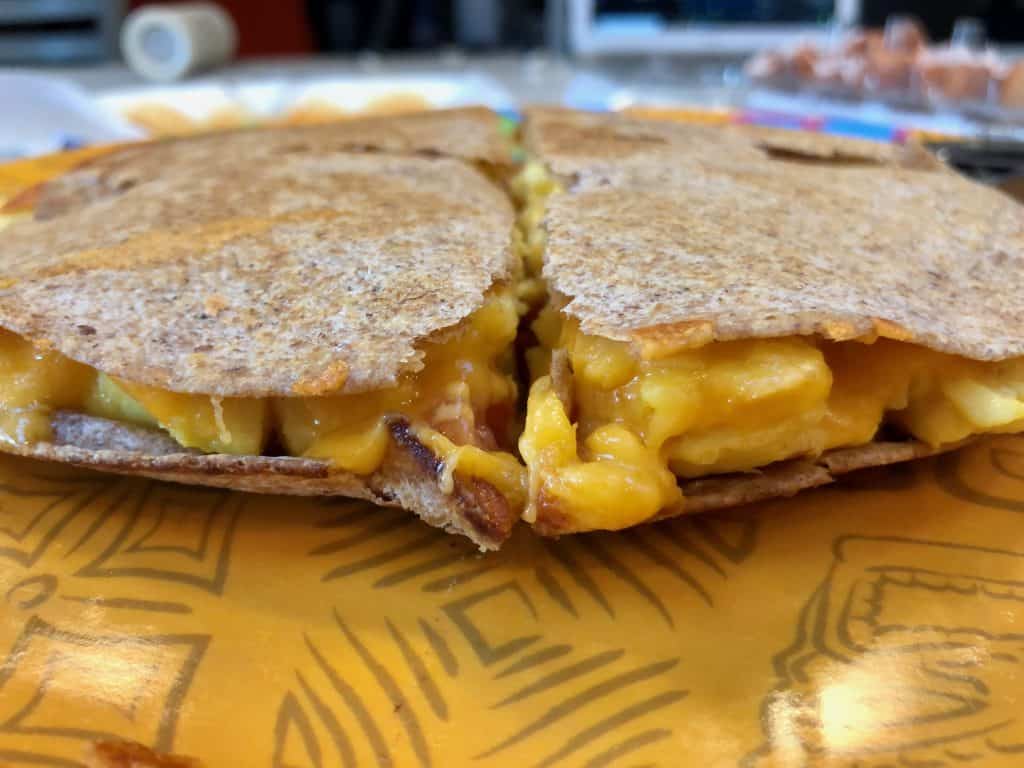 This Cheesy Breakfast Quesadilla from Favorite Family Recipes was right in my wheelhouse. Super tasty and super quick! If you're looking for some breakfast for dinner and want something you can put on your table fast…this is your kinda recipe!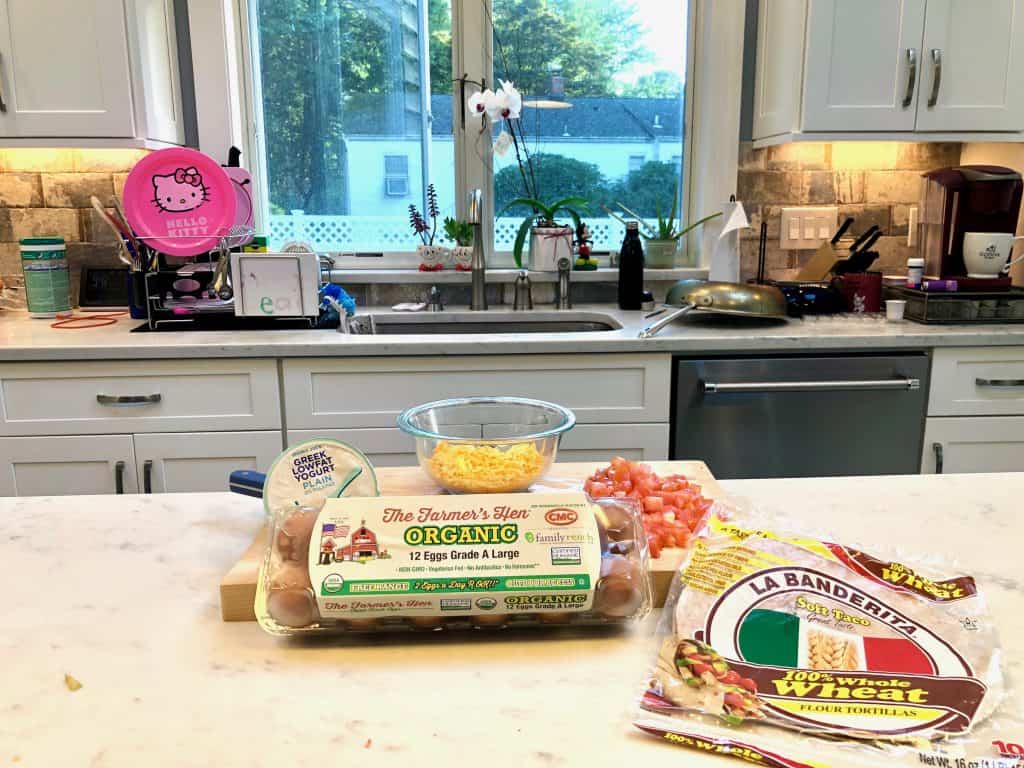 4 ingredients is really all you need to get this breakfast for dinner recipe going. Some eggs, cheese, tortillas, and bacon….that's it! No need to stress over this one…easy peasy!
---
How do you make a breakfast quesadilla?
Whisk the eggs in a large bowl.
Heat a little oil (or cooking spray) in your best non-stick pan.
Add the eggs and cook on low-medium heat.
Every so often, use your spatula to push the eggs to the center of the pan. Start from the right, then the left, then up, then down. Repeat until eggs are cooked. Remove from pan.
Next, while the eggs cook, microwave some bacon (3 minutes or so a side). When cooked, crumble.
Spray some cooking spray on the non-stick pan and heat. Once heated, add a tortilla, then some cheese, then the eggs, and then the bacon. Top with additional cheese.
Cook one side for about 2-3 minutes, then flip and cook the other side for another 2-3 minutes.
---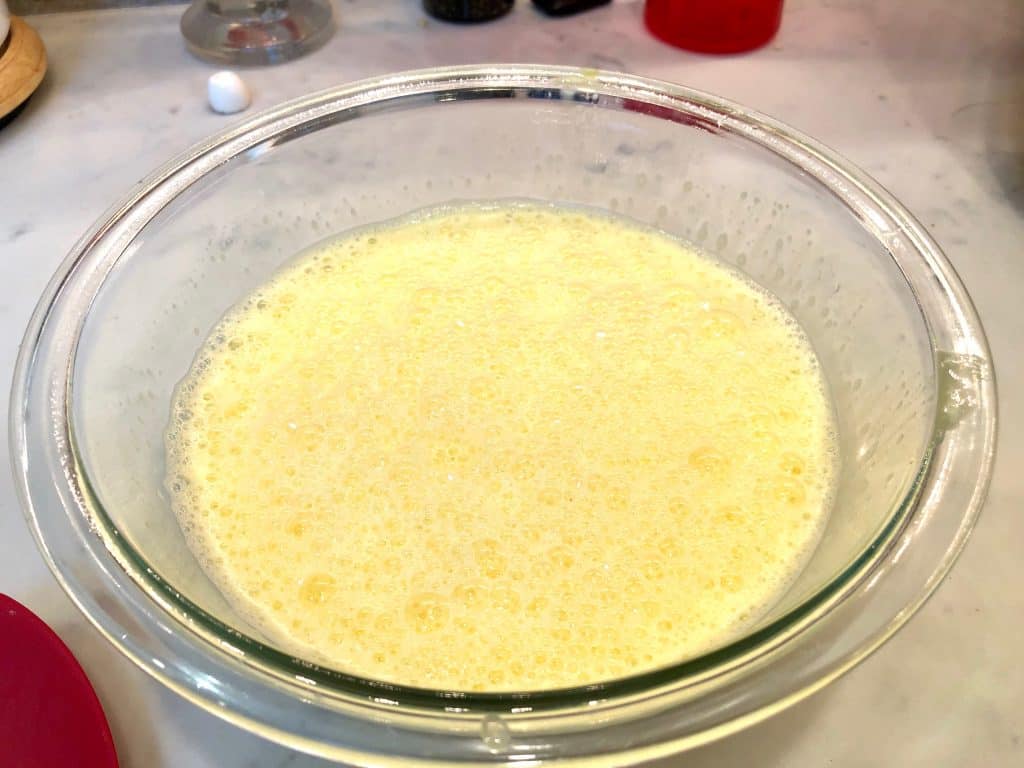 Breakfast Quesadilla step by step
First things first…let's whip up the eggs into a nice frothy mixture so we can scramble them. You can certainly do this by hand (and get a good forearm workout in at the same time) or you can use a stick immersion blender. I have the Cuisinart stainless steel one. It's amazing because it's high-powered and has a detachable head for super easy cleaning.
It's a great tool, and I use it for a lot of my recipes including this Cheesy Potato and Egg Frittata I love to make!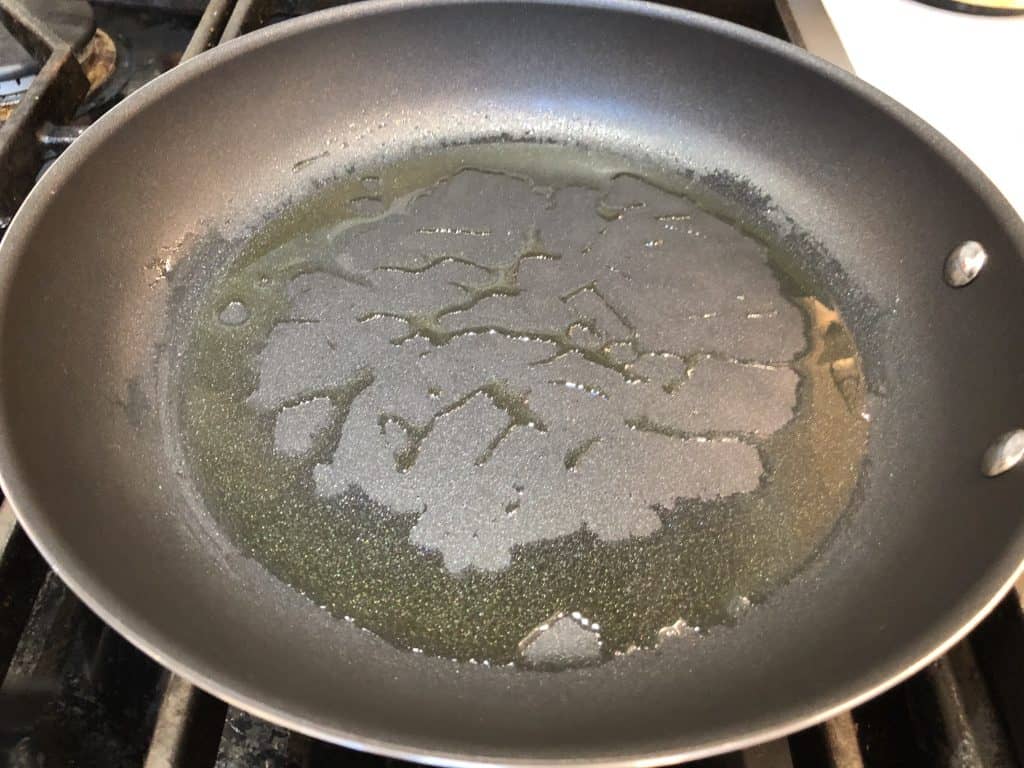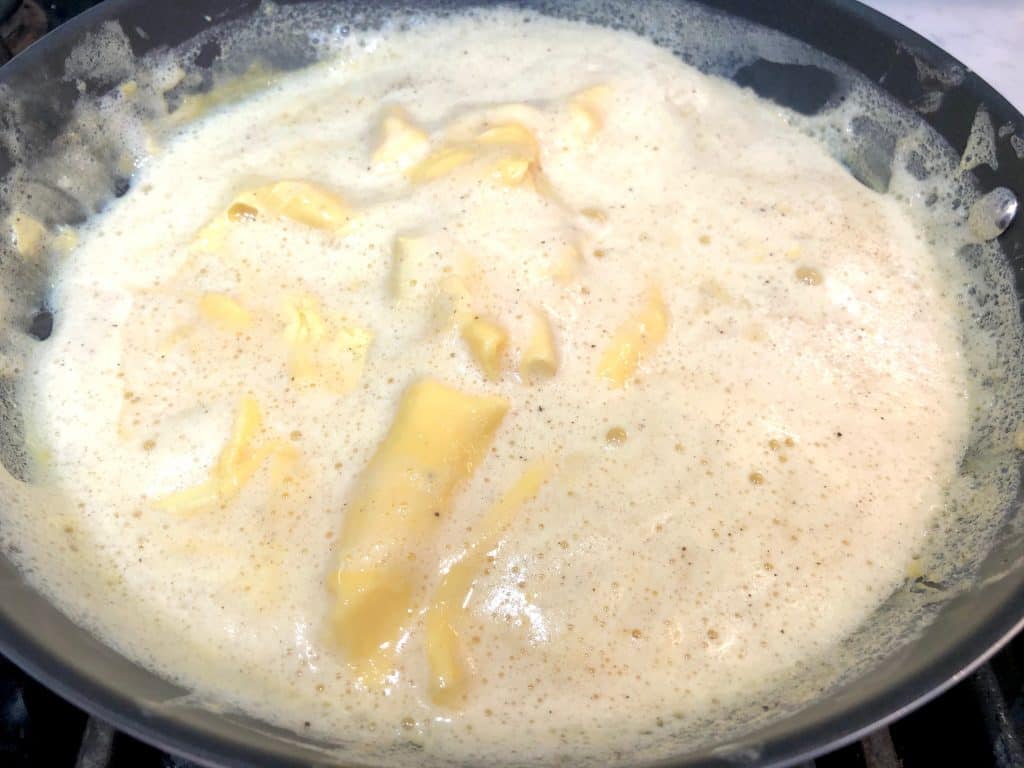 Grab your best non-stick pan and heat a little oil. Next, once it's hot, pour the eggs into the pan and cook on low to medium heat. Don't turn the heat up too high on the burner…you don't want to burn the eggs. Scrambled eggs are best cooked slowly over lower heat.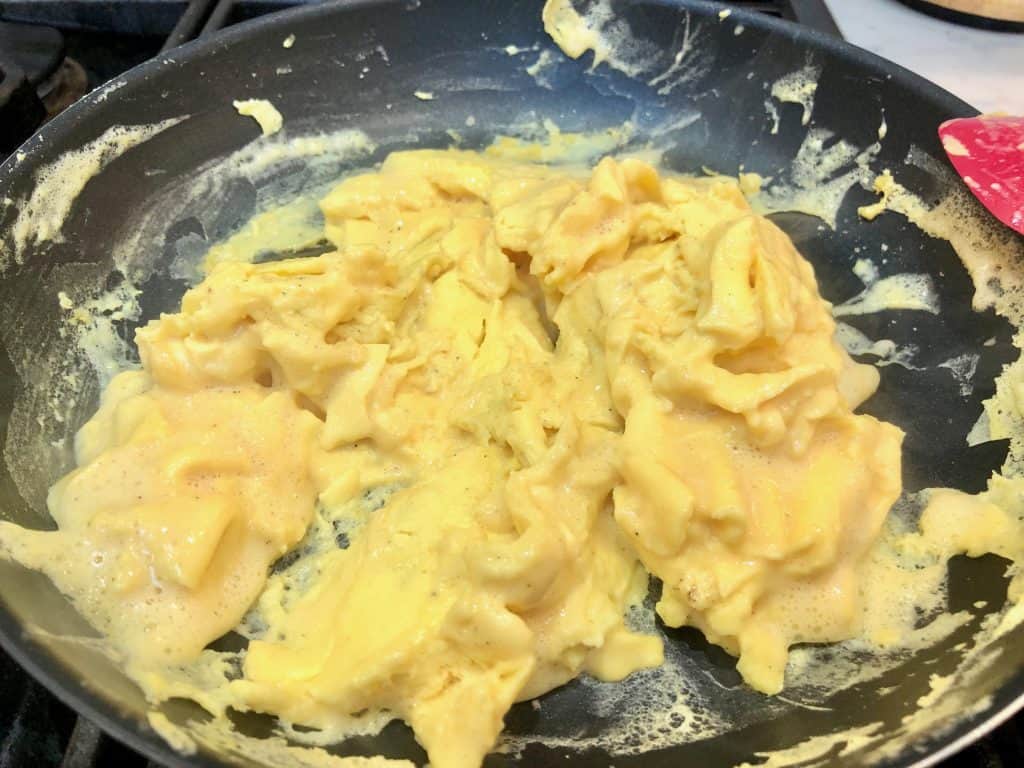 Now, every so often, use your spatula to push the eggs to the center of the pan. Start from the right, then the left, then up, then down. Repeat until eggs are fully cooked.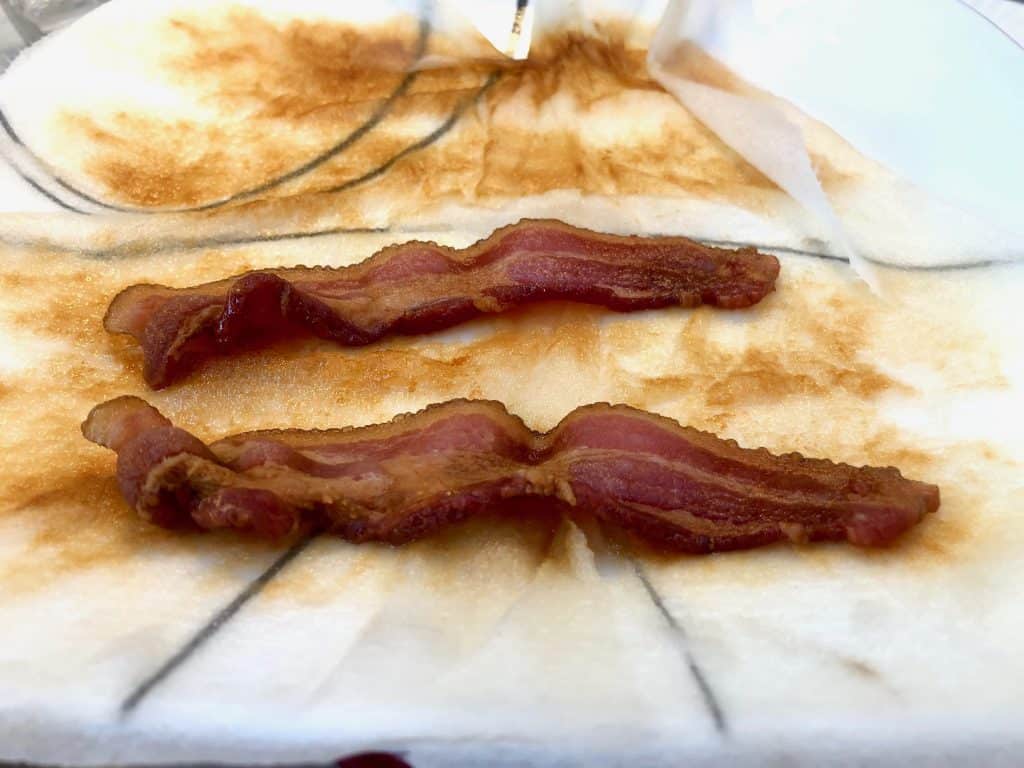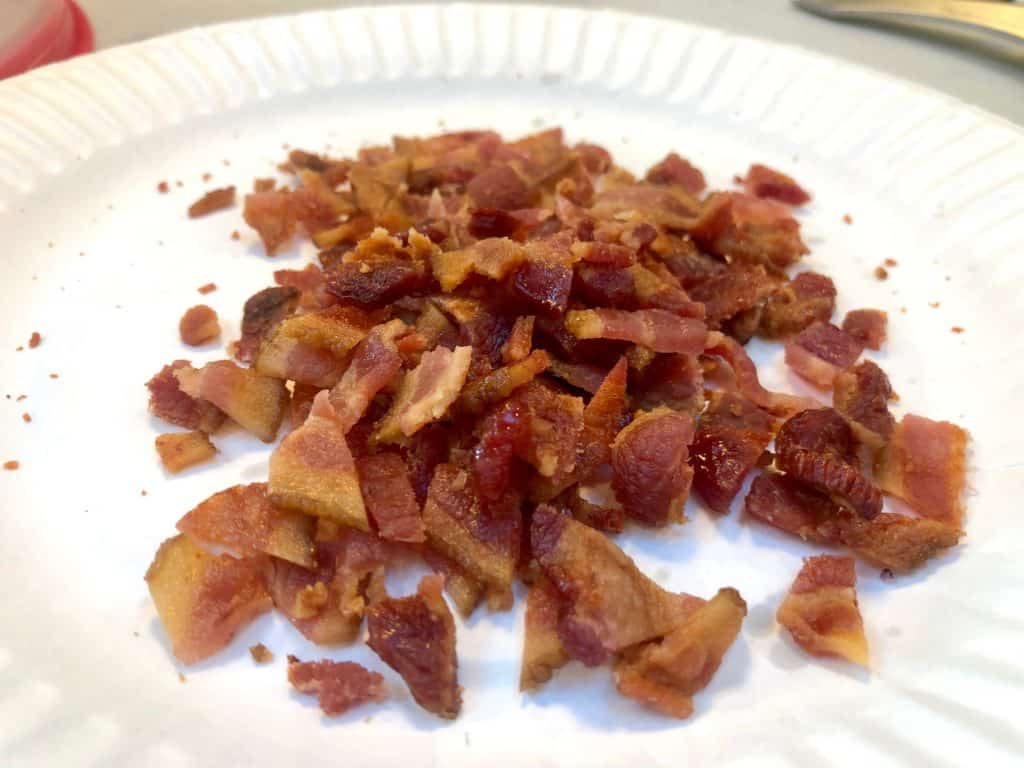 While the eggs are cooking, heat some bacon in the microwave (to save time). When they're done, crumble them up into little pieces.
---
How long do you microwave bacon?
It will vary based on the thickness of the bacon, but generally to get it nice and crispy on both sides, look to microwave it for about 3 minutes or so a side.
---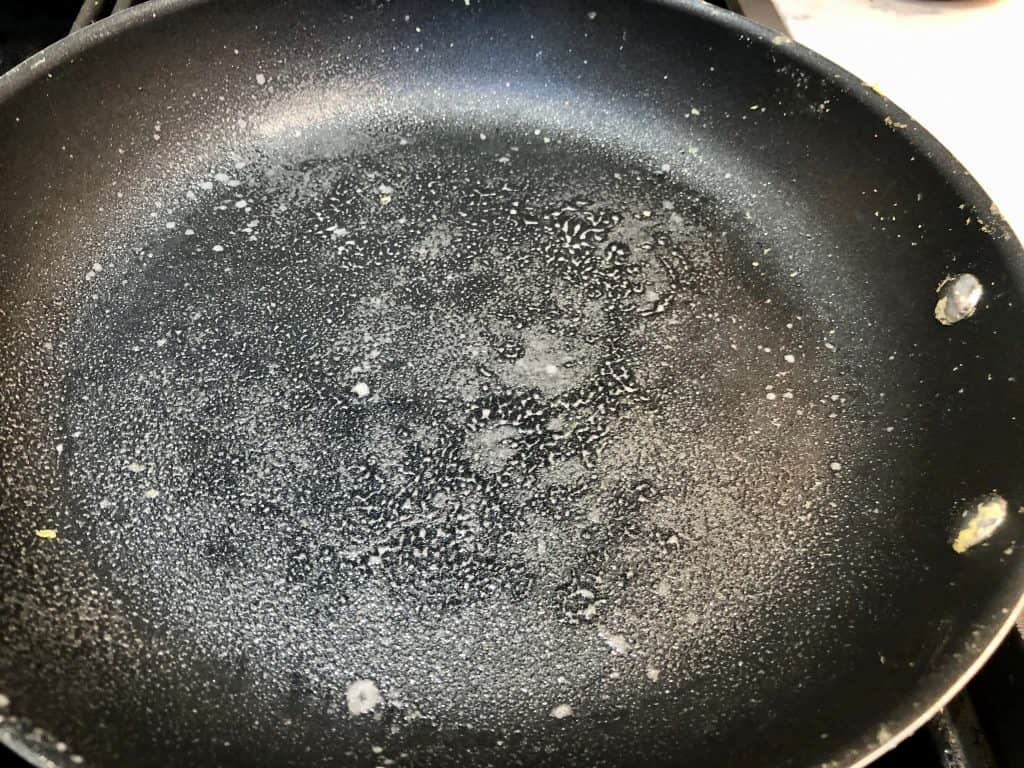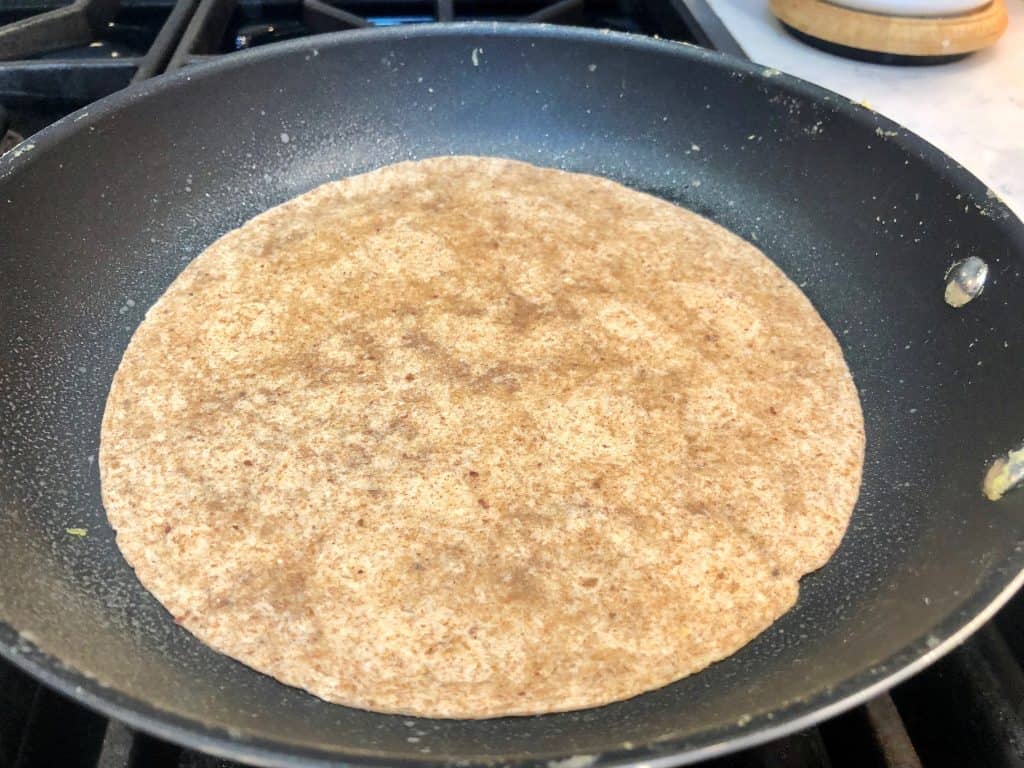 Remove the eggs from the pan when they're cooked and spray the same pan with some cooking spray and heat.
When the oil is hot, add a tortilla to the pan.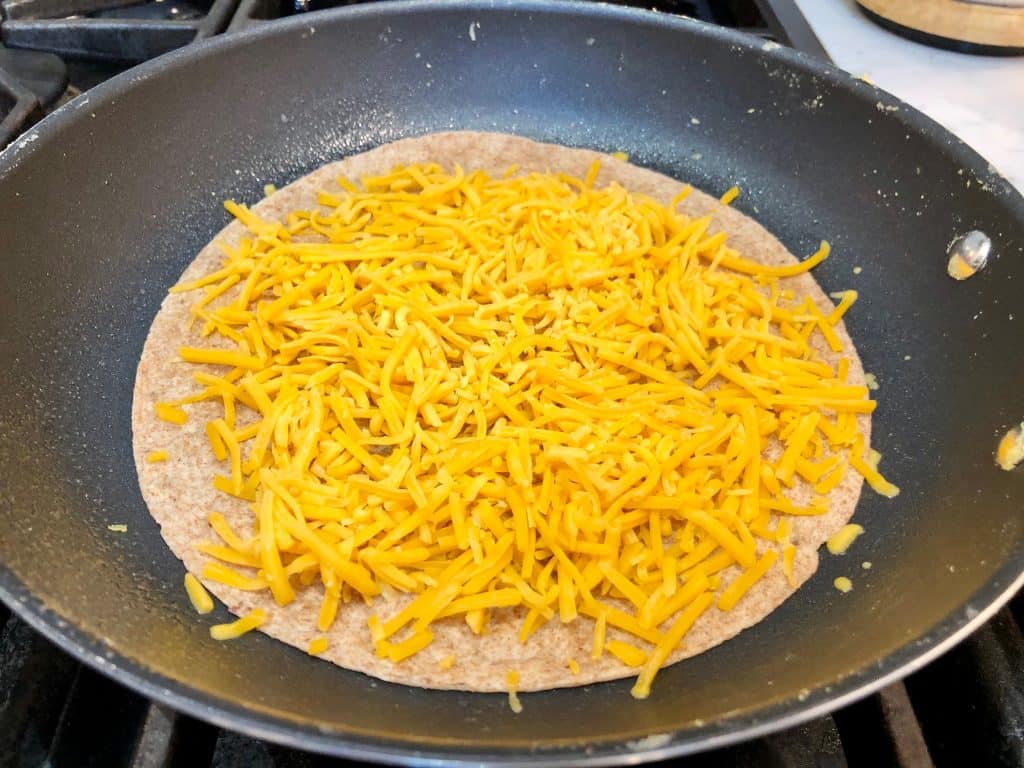 Now add some cheese.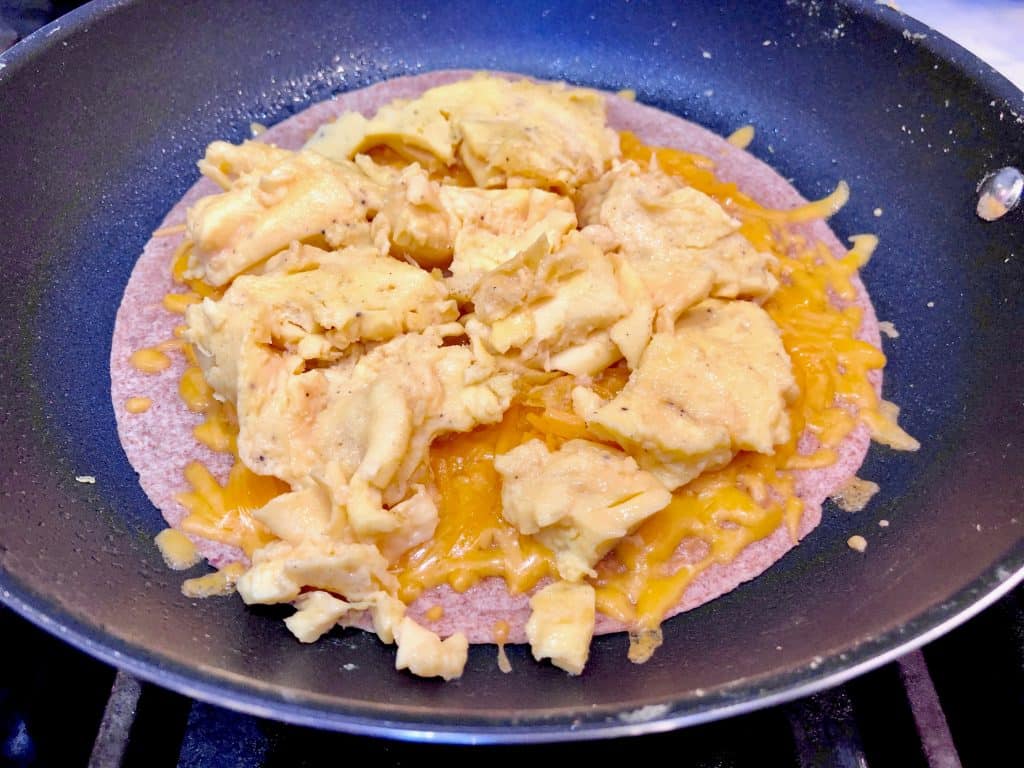 Then the scrambled eggs.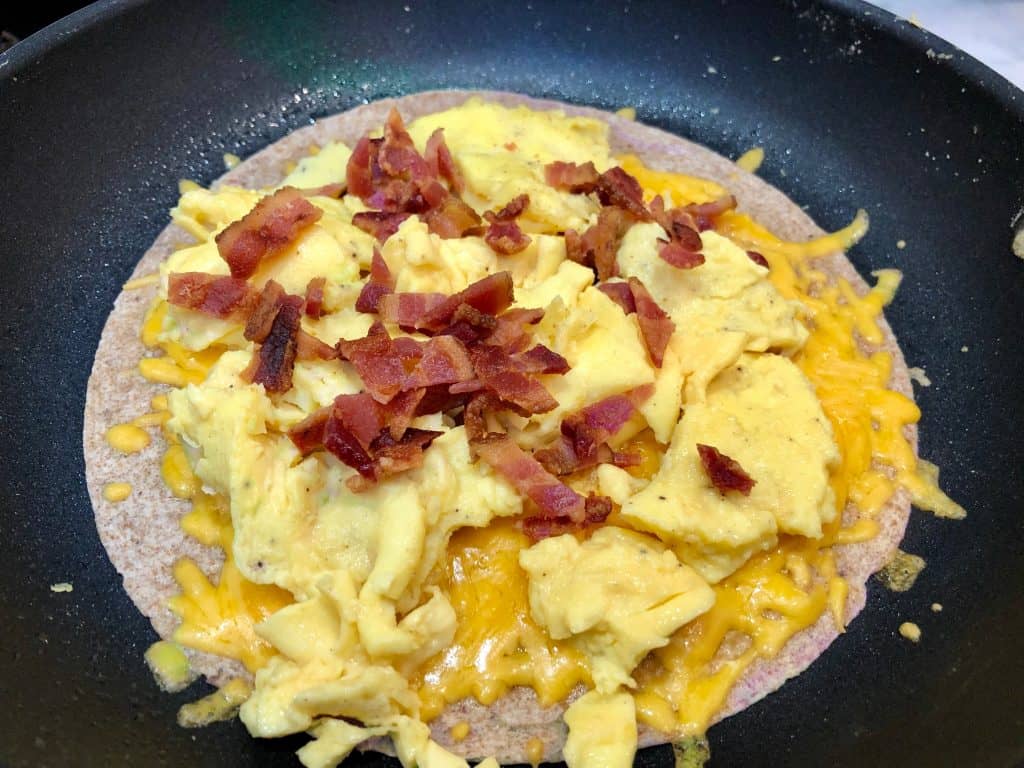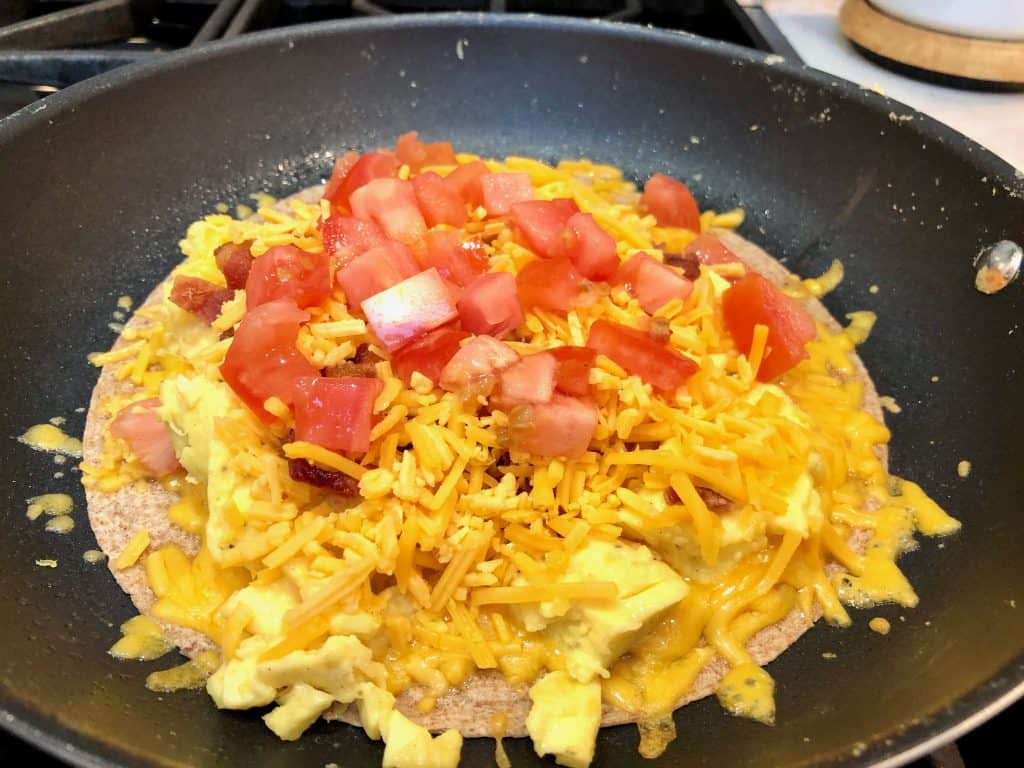 And then the bacon (I added some diced tomatoes too!). Throw a bit more cheese on top and the other tortilla.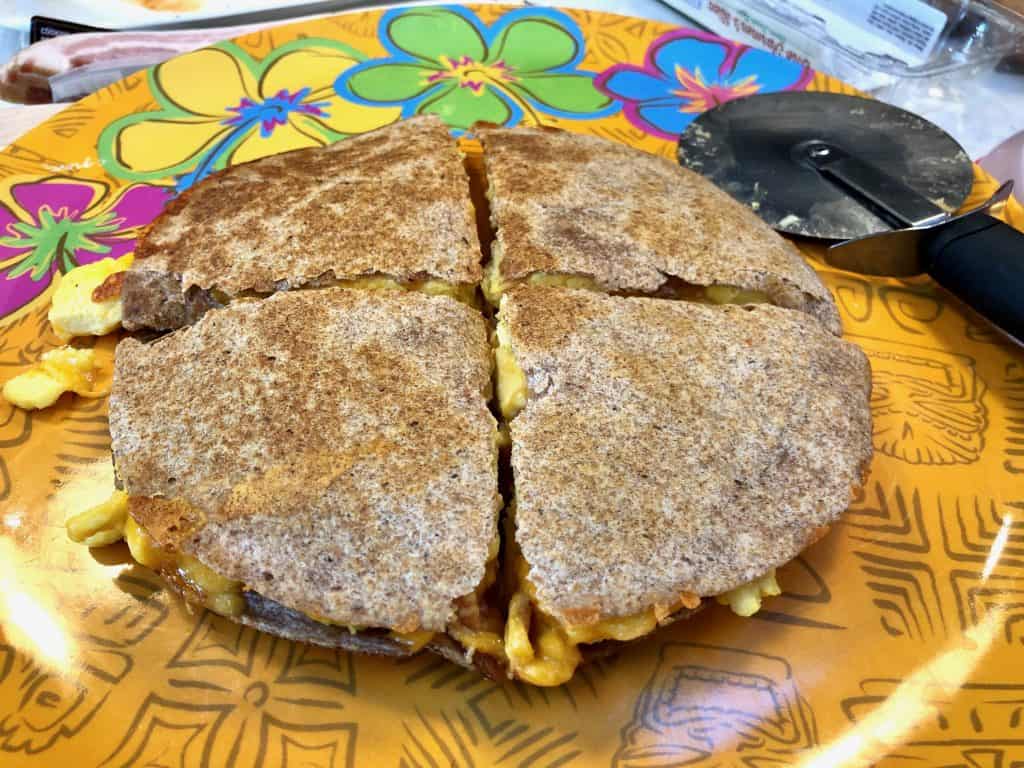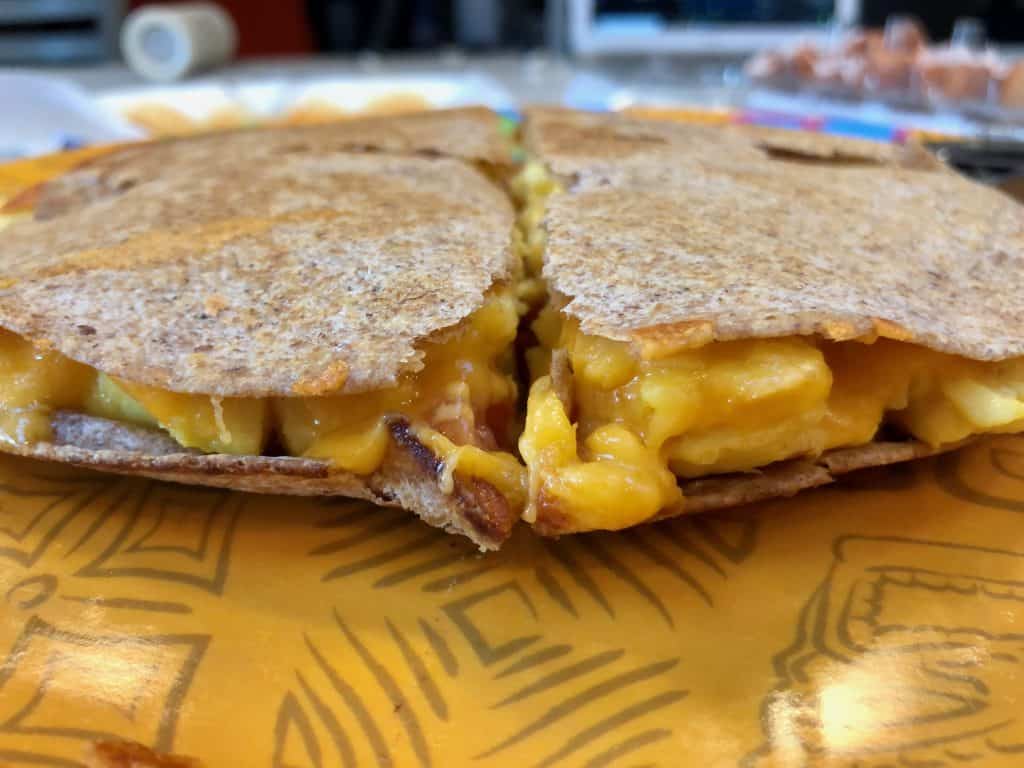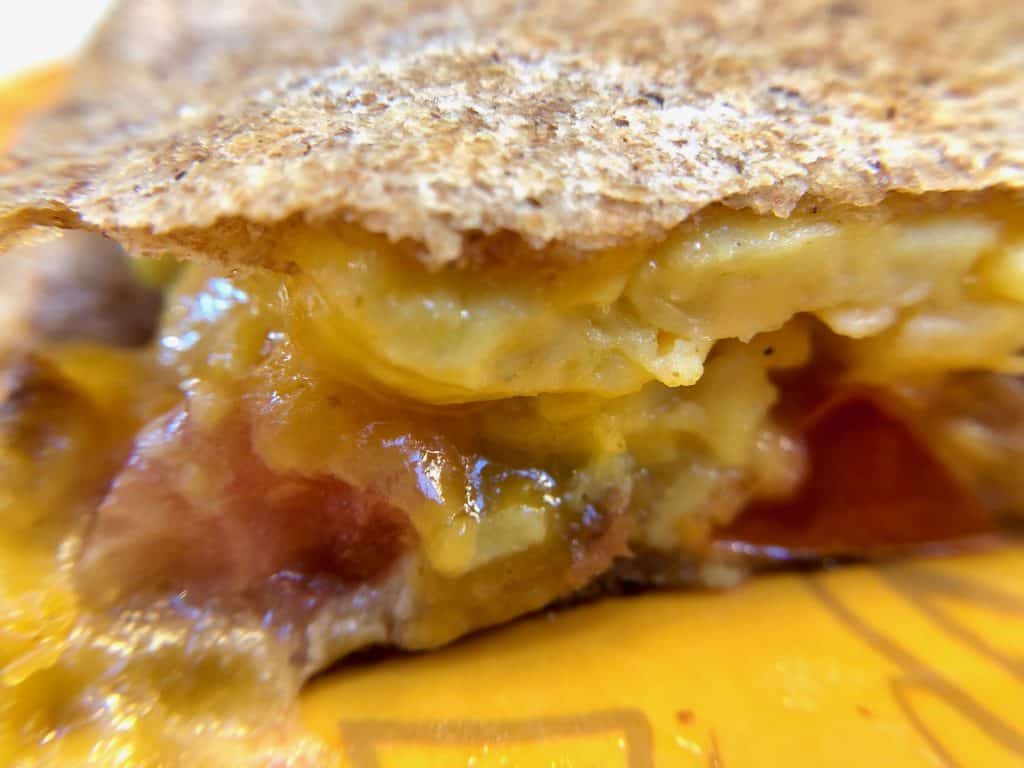 Cook 2-3 minutes a side (watch to make sure you don't burn) and, using a plate large enough to cover the non-stick pan, flip. Slide the quesadilla back into the pan and cook for another 2-3 minutes.
---
Tools I used in this recipe:
---
Get the recipe here.
I added some tomatoes to mine and I did not top with the yogurt/sour cream but to each his own!
---